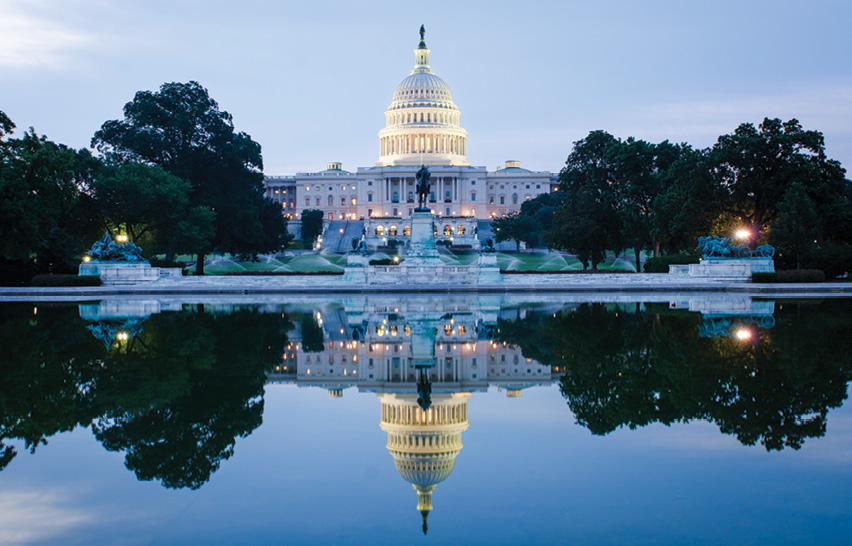 On October 4, after some 120 meetings to work through the language and an apparent late-night flurry of amendments, the Senate Commerce Committee moved its driverless car legislation to the full Senate in just under 20 minutes.
The AV START Act (S. 1885), like its House-approved counterpart, would allow exemptions enabling every auto manufacturer to put hundreds of thousands of unmanned vehicles on public roads in the near future. The Senate legislation is a bit more cautious, however, ultimately dialing back the number of safety-rule exemptions that could be given to Highly Automated Vehicles (HAVs).
The House bill (the SELF DRIVE Act, HR 3388, approved September 6) would allow 25,000 vehicle exemptions per manufacturer the first year, 50,000 the second year and 100,000 vehicles the third and fourth year with the possibility of extensions. The original Senate bill was more generous with 50,000 per manufacturer the first year; 75,000 the second and 100,000 for up to three more years with the possibility of extensions. To put this into perspective, there are roughly 30 auto manufacturers, according to testimony before House lawmakers earlier this year. An amendment proposed by Sen. Richard Blumenthal, D-Connecticut, and adopted by the committee shaved those totals back to 15,000, 40,000 and 80,000 per manufacturer.
The committee also adopted a variety of other safety and consumer measures boosting cyber security and cyber-related information, requiring infrastructure research, more information for consumers and a requirement that cars have alert systems to prevent children from being left in the car inadvertently and dying of heatstroke. Lawmakers also adopted an amendment to establish a motor vehicle privacy database with information from the manufacturers so users can see what information is being collected, how it is being used and what privacy options they have.
"Today's action and the adoption of several pro-safety and pro-consumer changes to S. 1885 are a welcomed development for Advocates and other consumer and safety groups with whom we have worked to improve the legislation," said Cathy Chase, vice president of governmental affairs for the Advocates for Highway and Auto Safety, in a statement.
One amendment that did not win inclusion would have required auto companies to build in the ability for a driver to take over the vehicle.
Blumenthal wanted to mandate that car makers include the option until such time as the National Highway Traffic Safety Administration, or NHTSA, was able to certify that "highly automated vehicles are suitable for driverless operation and that an in-vehicle manual override for such vehicles is no longer necessary."
"Until autonomous vehicles are proven to be safer than human drivers and skilled in all kinds of extreme weather and terrain, autonomous vehicles introduced into commerce must allow a human operator to be able to take control, manually, of the vehicle," Blumenthal said. "There are a lot of predictable scenarios that would necessitate a human being to take manual control whether it's a cyber attack, a disruption of GPS signals or a criminal act such as carjacking."
The nation's infrastructure is years from being able to fully support autonomous vehicles, he said, noting that Germany, Sweden and the United Kingdom had generally agreed on the need for a manual override during their debates on how to integrate automated vehicles.
Sen. Bill Nelson, D-Florida, opposed the amendment because it would allow human drivers to operate a Level 4 or Level 5 automated vehicle. "What the amendment would do would largely undermine the purpose of the bill," he said during the October 4 markup, "as Level 4 and 5 vehicles are not intended to operate with a human driver."
Committee Chairman John Thune, R-S. Dakota, took issue with a different provision of the amendment, which required that a human driver always be in the vehicle to take over if necessary.
"I want to be clear about what passing this amendment would do. This amendment would require that driverless vehicles always have drivers," Thune said. "So the headline tomorrow would read 'Senate mandates drivers in driverless cars.' I don't think that's the thing we want coming out of this hearing."
"It certainly wasn't meant to be as broad as to elicit that kind of headline," said Blumenthal, who withdrew his amendment with the goal of narrowing its scope.
The conversation, however, reflects the difficulties Congress, regulators, and the autonomous vehicle industry face in moving driverless capabilities forward. As with the introduction of drones, the technology offers enormous cost and safety advantages but is complex, multi-layered, unfamiliar and creates safety issues of its own. Should there be an eye-popping accident involving driverless cars the blowback could tie up the entire industry before it gets off the lot.
Not Ready To Let Go
The first challenge is the complexity. Even Sen. Nelson, for example, misspoke about the capabilities of Level 4 automation. A car with Level 4 automation can handle all the driving functions itself but includes the option for a human driver. Only when the technology reaches Level 5 does the vehicle do all the work (see page 66).
The distinction is important because the buying public is intrigued by Level 4 technology but turning against giving up the wheel entirely.
Studies from both Kelley Blue Book (KBB) and the AgeLab at the Massachusetts Institute of Technology found that drivers across all age groups wanted some of the advantages of automation while keeping a person in the loop for safety reasons and for the sheer fun of driving.
Eighty percent of the nearly 2,300 people surveyed online for KBB's 2016 Future Autonomous Vehicle Driver Study agreed: "people should always have the option to drive themselves." While a third said fully driverless cars were appropriate for seniors and a majority (59 percent) believed them to be the right choice for those who drink, a third said they would never buy a Level 5 car and 35 percent said they would wait until they were more comfortable with full automation.
Safety-related concerns—including software problems and hackers, as well as poor vehicle communication and worries about interactions with regular vehicles—were the most cited barriers to HAV adoption the KBB study found. Being able to prove the technology was safe was one of the two most important factors in deciding to shift to a driverless car (the other being price). Those surveyed were U.S. residents and the sample was weighted for age, gender, ethnicity and region. The results were released in September of 2016.
The KBB survey, however, was conducted online in May 2016—about a month before Tesla disclosed that a driver was killed in a crash while using the self-driving features of his car. Though the driver was later found to be overly reliant on the technology, the crash highlighted the risks of automated driving—including, perhaps, the risk of not paying enough attention.
A study conducted in 2016, and then repeated in 2017 by MIT's AgeLab, underscores the risk.
Consumer Confidence
The researchers found that drivers across all age groups were more interested in driver-assist technologies than they were the year before. They also reported in their white paper, Consumer Interest in Automation: Preliminary Observations Exploring a Year's Change, that respondents largely remained as interested in Level 4 automation—that is the highest possible level of automation they could have without giving up control entirely.
Many of those surveyed, however, had lost interest in full automation.
"Comfort or trust in full automation appears to be declining," the AgeLab reported (see Age Differences in Willingness to Use Automation in Vehicles: Maximum Level of Automation, page 65) "While the shift away from trust in automation was observed across all age groups, it was particularly noteworthy in the younger half of the age ranges: this was the demographic that was most open to automation a year ago."
This falloff, especially among the young, is consistent with findings from a nationally representative survey done by J.D. Power and released in April of this year.
"Compared with 2016, 11 percent more Gen Z consumers and 9 percent more Pre-Boomers say they 'definitely would not' trust automated technology," J.D. Power said in a statement.
What people want is safety, J.D Power found, with consumers most enamored of collision protection and driving assistance technology. "Six of the top 10 features that consumers were most interested in before learning the price—smart headlights, camera rear-view mirror, emergency braking and steering system, lane change assist, camera side-view mirrors and advanced windshield display—come from these two categories," according to the firm.
Success Through Safety?
The challenge, then, for those who support HAV is to enable the technology to develop at its own pace while earning the confidence of the public. But the course for autonomous vehicles that regulators and lawmakers are mapping out appears to ease safety protections to speed innovation. The recent guidance issued to automakers by NHTSA, for example, stressed the voluntary nature of compliance. The exemptions being considered by Congress could put millions of driverless cars on the road to be experienced by a public that has already become more cautious after just one highly publicized accident.
"In most cases, as technology concepts get closer to becoming reality, consumer curiosity and acceptance increase," said Kristin Kolodge, executive director of driver interaction and HMI research at J.D. Power. "With autonomous vehicles, we see a pattern where trust drives interest in the technology and right now, the level of trust is declining."
Some lawmakers are calling for a cautious approach as a way to protect the technology's future.
"I think we have to be very, very careful," Frank Pallone, D-New Jersey, told his colleagues during a hearing on the House bill.