Structural facades help buildings resist weather, fire, thermal and acoustic threats, but require regular inspections as they age—and drones can make that process safer and less expensive.
Buildings dot America's landscape. Many contain facades, exterior architectural elements, often with esthetic features that structurally help resist weather, fire, thermal and acoustic threats.
The popularity of facades continues to increase. Yahoo Finance expects the global facade system market to climb from about $314.4 billion last year to $441.8 billion by 2026. Business Market Insights projects the North American market will take a similar trajectory, from $38.3 billion in 2021 to $ 49.8 billion by 2028.
Yet, ironically, facades can pose their own unique safety threats. Glass can break into small pieces, brick may loosen, corroded masonry or fractured terracotta could dislodge and fall down on those below, causing serious harm or even death. For this reason, some local authorities require periodic facade inspections. Legal requirements aside, maintaining a safe structure is always a good idea for a host of reasons. Today, drone mapping has made the case for regular facade inspections, in terms of efficiency and effectiveness.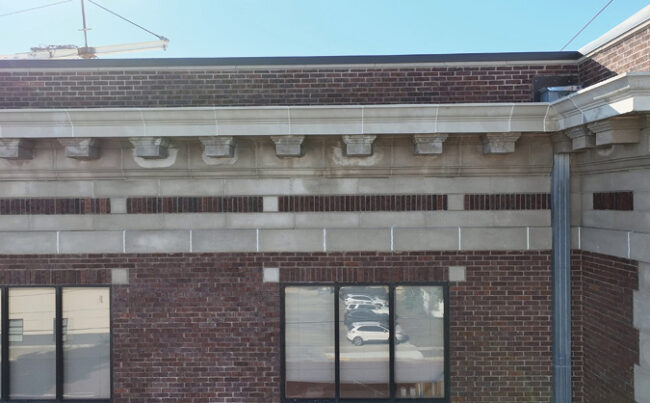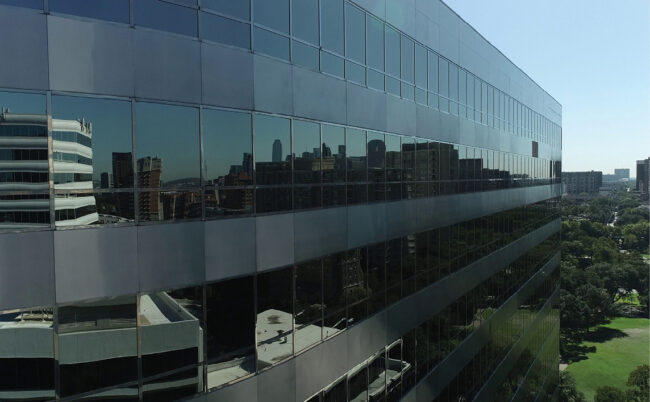 CRUMBLING DOWN
In December 2019, a chunk of terracotta facade fell from a 17-story tower in New York City and killed architect Erica Tishman. Two years later, the building's owner, 729 Acquisitions LLC, controlled by the commercial real estate firm Himmel + Meringoff Properties, faced civil and criminal charges for the incident. The company, which had filed permits for repairs in response to an emergency repair citation, was accused of failing to take timely action.
In Queens, New York, a month after Tishman's death, a piece of plywood that flew off a building struck and killed a 67-year-old woman. That same month, NYC amended its laws to require landlords and owners of buildings over six stories tall to hire licensed professionals to perform facade inspections every five years and to post the status of those inspections in the building's lobby. The city also increased penalties for those who fail to make timely repairs.
NYC is not alone. Thirteen cities across the U.S. now require periodic inspections to protect the public against facade threats.
SAFETY FIRST
Boston, Chicago, Cincinnati, Cleveland, Columbus, Detroit, Jersey City, Milwaukee, New York, Philadelphia, Pittsburgh, San Francisco and St. Louis all have ordinances requiring facade inspections. While many of these ordinances require inspections to be performed under the direction of a licensed architect or licensed professional engineer, some do not. Traditional inspection methods involve workers who strap into harnesses and climb around on expensive and dangerous suspended scaffolding systems from above.
If facades pose risks to the public, their inspections arguably pose even greater risk to the workers who conduct them. The NYC Department of Buildings, which enforces its facade and building codes, issued a worker alert that said, "Facade work performed on scaffolding can be extremely dangerous and proper care must be taken at all times to prevent death or serious injury."
Occupational Safety and Health Administration data backs up these risks. The construction industry has the highest fatality rate. Falls, slips, and trips account for the majority of such fatal incidents.
Not only are these traditional means dangerous, they are expensive. A single suspended scaffolding, mounted with a system of outriggers and counterweights, can average from $3,500 to $7,000 to install, operate and dismantle. Each wall requires at least one scaffold drop. The alternative, using a bucket truck, can cost from $7,500 for smaller buildings, up to $15,000 a day. These only can reach up to 180 feet and, because the trucks are so large, they tend to have access issues.
Drones, on the other hand, can help engineers identify and map out potential problem areas on buildings at low cost, with unprecedented speed and quality data.
VALUE PROPOSITION
Drones can inspect up to 200,000 square feet of vertical facades within a few hours, compared to the days it would take using manual methods. They allow inspectors to analyze a building's facade from unique angles and gain access to difficult-to-reach areas of a structure. This provides drones an advantage over traditional inspection methods.
These inspections are being used for a variety of purposes. Drone mapping expert Jared Janacek, CEO of the Texas Drone Company, said, "We use our drones for concrete crack detection in balconies, warranty work for flashing installation, restoration of facades and even documentation for historical preservation. We work with restoration companies, structural engineers, preservationists and contractors on projects from 100-year old buildings to downtown skyscrapers; bridges to chimneys. It is a growing portion of our business."
Janacek and his crew perform, on average, one to two facade inspections a month. He believes the flight requirements for these jobs can be some of the most demanding. "We fly in very close proximity to the building but also near other obstructions as well such as trees, flag poles, power lines and balconies," he said. Unique environmental factors include blocked GPS signals and unpredictable wind currents, especially around high-rise buildings.
While software such as UGCS and HammerMissions can help make missions more repeatable by enabling pilots to set flight parameters (such as distance from building, maximum and minimum height, overlaps and more), most software relies on GPS positioning. In GPS-denied environments, a skilled pilot with proper manual capture techniques is the best tool. RTK connectivity, vision positioning (or, with vision positioning off, changes in flight stability), all help with flight safety for these complex missions. Janacek has created unique flight checklists and procedures for these types of jobs as a result.
Despite the challenges of these jobs, in Janacek's view, the payoff is worth it. The savings to the clients can be numerous. Not only do drones eliminate the need for costly and time-consuming scaffolding, other benefits include the savings from not having to use specially trained workers at height, the conveniences of not having to install overhead fall protections ("unsightly plywood tunnels"), dangling ropes and alleviating obstructed or distracting views for tenants. He estimates that a few hours of drone flights equate to the time savings of about a week's worth of work by a crew of three.
Frank Segarra, CEO of ConnexiCore, a Volatus Aerospace company, said he agrees. "Current building inspection techniques can't keep up with the unique challenges of towering aging facades. Drones are the better choice, not only in terms of cost, but in terms of data quality," he said.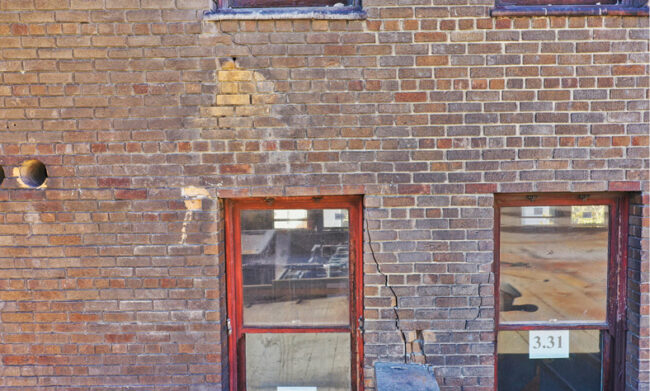 A variety of sensors can collect highly detailed images for analysts that can be used for exact measurements, material identification, problem area detection and more, he said.
"It's easy to see why drones could be such an invaluable tool for inspecting facades now and in the future. With aerial drone surface mapping, commercial building owners, investors, and lenders can gain precise geospatial insight into their properties like never before," Segarra said. This ensures business owners can make their decisions based on the most current information possible, saving them from costly capital needs in the future.
CASE STUDY
Several years ago, an industry client awarded Segarra and his team a project to deploy a drone-based visual scan of all the vertical façade surfaces of a historical 26-story building structure, built in 1895.
This particular building had been restored dozens of times in the last century. It had historic features on the outer skin and extensive ornate cornice work at its top. Above the roof level, a beautiful two-story cupola contained hand-made Italian ceramic tilework installed on a steep-sloped mansard roof. A series of significant patina-worn architectural brass hollowed lanterns and brass turret fencing surrounded this tilework. An eight-inch diameter steel spire and lightning arrestor topped off the cupola and structure.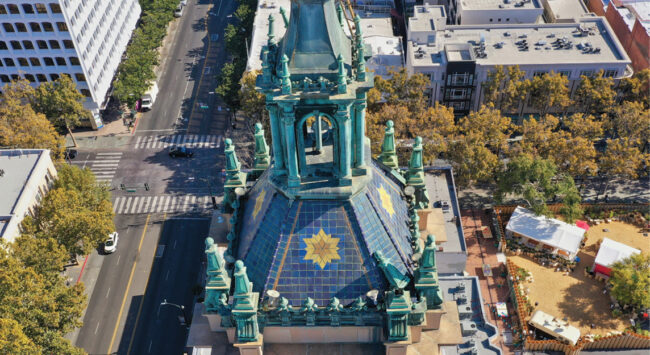 The project was complex. Phase one of the three-month, two-phase plan, budgeted at $110,000, involved erecting a lightweight scaffold system to support a group of engineers who would survey the entire building, perform a physical and photographic analysis and decide where scaffold anchor points would be installed for phase two's heavy-duty scaffolding system. This phase one scaffolding would be disassembled and the phase two system would be erected for the duration of a six-month course of restoration.
The client initially hired ConnexiCore just to identify uncompromised anchor points for the phase one scaffolding contractor to attach their rigging to support the scaffolding from moving or collapsing.
"Upon arriving onsite, our drone project team methodically collected and mapped nearly every square inch of this 26-story tower in just one and a half days," Segarra said."Upon reviewing the data, the engineering group noticed each image's incredible high-resolution detail and a clear georeferenced location point on our orthomosaic map. They found unexpected things that changed the project, and our piece of it, drastically."
During the data review, the team found everything from gaps in the brick mortar, severely rusted lintels and concrete spalling to invasive and aggressive hawk nests scattered throughout the upper portions of the facade work. They discovered re-roof terracotta roof tiles floating and broken away from their original anchors in dozens of locations. The drone also captured images of other loose fragments at 300 level above ground. Most importantly, they learned that a 30-pound copper lantern ornament had been completely severed from its base on the historical cupola.
"This was an incredible discovery. The ornament was literally laying diagonally against the highly pitched Italian tile cupola facade," Segarra said. "Between that and the fragments, the danger to bystanders was at a critical level." The company immediately cordoned off the walking perimeter until the loose debris, and the lantern, could be removed.
ConnexiCore also used its drone to provide situational awareness to the removal effort. The drone flew five feet from the lantern and provided key intelligence to a helicopter that hovered at 150 feet above the cupola, to avoid propeller thrust downdrafts that could cause debris to fall. The helicopter employed a high-powered tethered magnet to retrieve the heavy lantern. "Because of our video capture's superior gimbal stability and resolution, we guided the magnet through radio comms to connect on the first try," Segarra said. Once the connection was made, the helicopter carried the object safely to a local open field.
Besides this, the data ConnexiCore collected also swiftly substantiated replacing the phase one scaffold erection at a savings of three months and more than $95,000.
FORWARD FACING
As the facade market grows, buildings continue to age and cities layer in legal requirements to protect the public from crumbling facades, the use case for drones in these inspections will inevitably continue to expand.
"Whether or not the law requires it, building owners should know that it is vitally important to inspect the vertical surfaces of any building to identify loose, missing, or damaged building facade elements that could potentially endanger the people around the building on sidewalks, streets, or neighboring areas," Segarra said.
As they say, an ounce of prevention is worth a pound of cure. Faster, less expensive and more effective drone facade inspections can enable regular inspections to alert businesses of required remediation. Just ask 729 Acquisitions LLC in New York. A drone inspection is certainly cheaper than staving off wrongful death lawsuits and criminal charges.