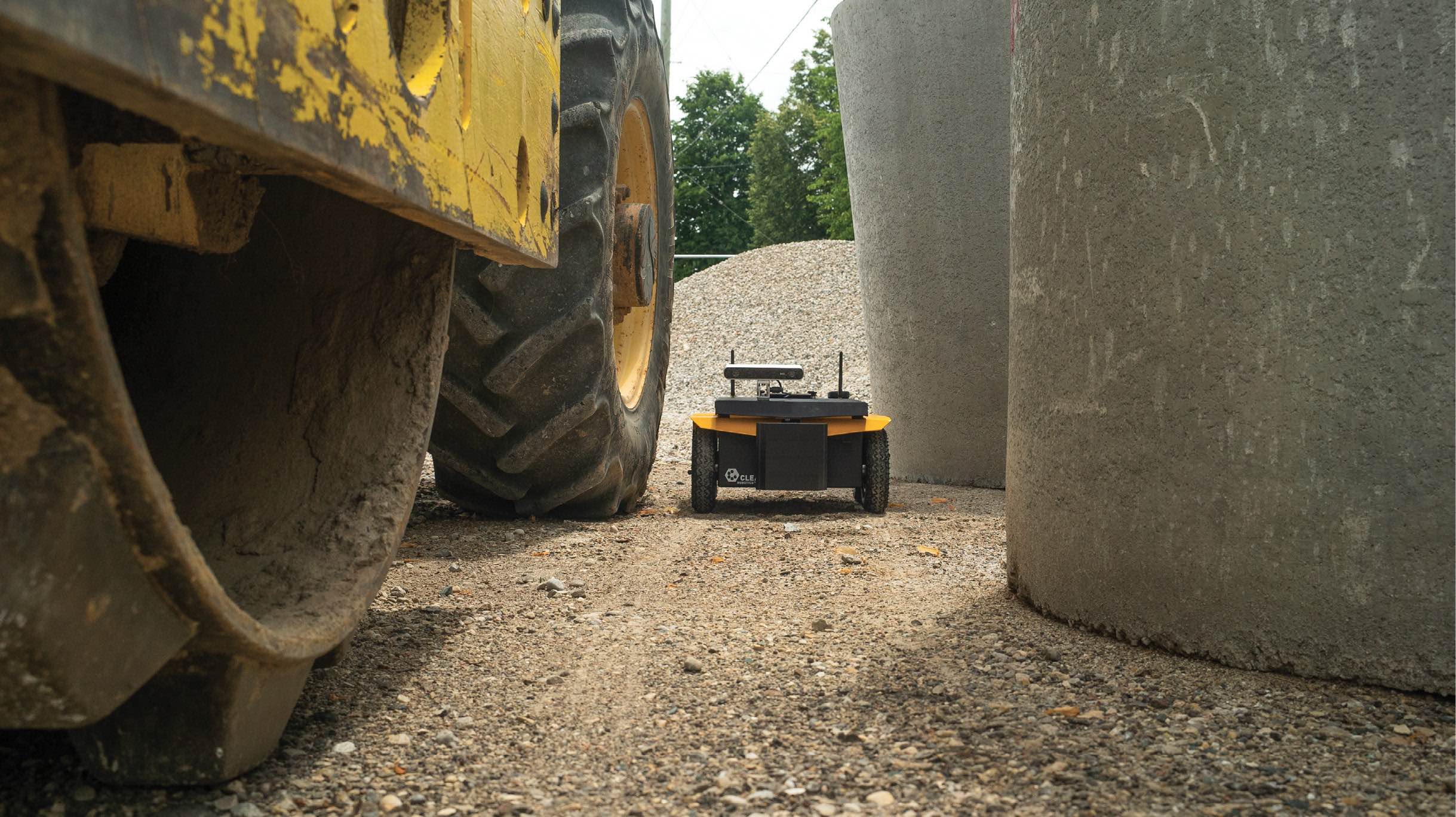 Unmanned autonomous aerial vehicles and mobile robotics platforms equipped with payload sensors and cameras are a valuable—even necessary—tool for the construction business. Compared to traditional manned data acquisition methods, these intelligent machines enable construction companies to regularly monitor project progress and inventory, offering clients a real-time "big picture" snapshot via convenient mobile devices so they can make informed strategic decisions.
In that context, the term "a picture is worth a thousand words" has never been truer. Drones equipped with flight planning software capture aerial data with unparalleled accuracy through an array of sensors such as GPS, high resolution RGB and multispectral cameras, radar, lasers, photogrammetry and LiDAR options. One drone flight alone can produce thousands of measurements and critical outputs such as point clouds, geo-referenced orthomosaics, CAD, BIM, digital elevation and 3D models. Similarly, ground-based robots are roaming jobsites leveraging machine learning, AI and enhanced sensors to track progress and inform decision-making.
"Right now, it's all about the construction industry's hunger for data collection," said Brian Ringley, construction technology manager at Waltham, Massachusetts-based engineering and robotics design company Boston Dynamics. "Companies are trying to create efficiencies on the jobsite as they deal with challenges such as skills gaps and cost overruns by going over schedule. All those things benefit from more comprehensive data collection on site."
A DATA-DRIVEN APPROACH
One leading company that recognizes the importance of data collection is Siegen, Germany-based Microdrones, which is widely known for a range of high-quality hardware and software solutions for complex surveying, mapping and construction applications.
Microdrones offers a robust end-to-end solution that allow customers to select the right drone, equip it with a LiDAR or photogrammetry payload that meets specific application needs, and navigate the stages of mission planning and post-processing.
"Our unique approach lies in our ability to master every point, from mission planning to the collection of quality data," said Microdrones President Vivien Heriard-Dubreuil.
The company's fully integrated workflow helps customers quickly and reliably generate point cloud visualizations in the field through an array of mdMapper models made for surveying missions on open sites and mdLiDAR platforms that can penetrate tree canopies in densely forested areas. Yet, at the end of the day, Heriard-Dubreuil said this process is not just about the platform at all—it's about the data.
"We want to make sure we're producing the best data and best quality results in terms of resolution and accuracy," he said. "When it comes to our construction customers' mapping needs, they don't care about the drone; they want the right tool to get the data they want and the end product they need." (For more on Microdrones solutions, see the Enerparc story on page 56.)
In May 2020, the company decided to make its solutions accessible to a broader base of those customers with the launch of Microdrones as a Service (mdaaS). Bundling competitive pricing and conveniently tailored options allows customers to select plans according to their needs.
For Microdrones COO Frank Darmayan, an evolving business model and investing in innovation while enabling streamlined workflows and far richer layers of data constitutes the way of the future.
"I strongly believe we've just scratched the surface," Darmayan said. "As good as we know our hardware is today, it's nowhere close to what it will be in a year, two years or three years. We continue to gain more intelligence that allows our customers to make better and better decisions."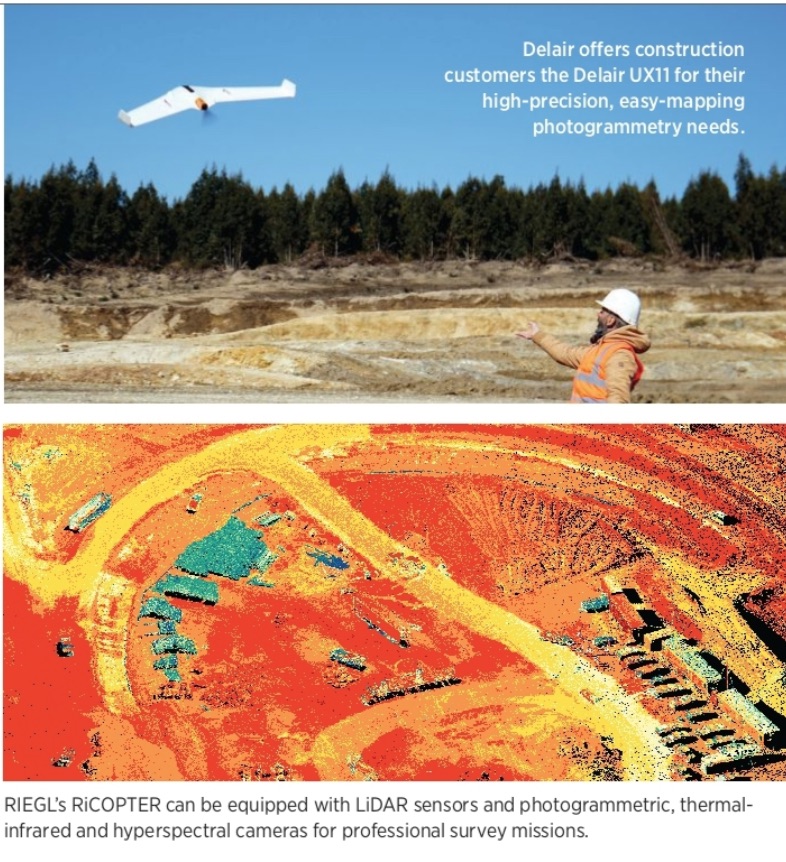 NEXT-LEVEL AUTOMATION
Drone-based aerial intelligence provider Kespry, headquartered in Menlo Park, California, offers a complete streamlined solution for construction companies looking to better manage mapping and inspection efforts for active earthworks operations. The company boasts 1.36 million acres surveyed over the last year alone and 4.83 million acres since it was founded in 2012.
Taylor Seabaugh, product manager at Kespry, said this success lies in a "drone to data…touchless" solution that runs from iPad mission planning to autonomous flight to the rapid and automatic generation of 2D and 3D models sent to the Kespry cloud. Customers can accurately determine distances, elevations and volumes that once took days with traditional mapping and inspection missions—all within 30 minutes.
"One of Kespry's core value tenets is you don't have to worry about data uploads or processing," Seabaugh said. "We handle that entire workflow. Once you set up the flight plan, you're off to the races. When the flight is over, the data is available in the cloud. That's an important value driver we offer."
This "field to finish" automation process, Seabaugh noted, ensures tight integration across the full stack, from highly accurate hardware and payloads that accurately captures photogrammetric data to processing and follow-on analytics.
Kespry's system supports the DJI Phantom 4 RTK, a compact, high-accuracy mapping drone that can cover 5,000 acres. It uses a single local base station with RTK technology to deliver survey-grade accuracy. Once imagery has been collected, satellite log files are pushed to the Kespry cloud for post processing.
These data sets result in photogrammetric outputs, including digital surface models and high-resolution orthomosaic imagery with positional accuracy of two to 10 centimeters, that can assist customers with their inventory needs.
For mapping users who don't need that level of precision, Seabaugh said the Mavic 2 Pro is highly flexible, accommodating various platforms and payloads that can be tailored to customer needs.
When asked what's in store for Kespry's offerings and for the industry as a whole, Seabaugh believes it all comes down to the continued evolution of automation.
"The industry has evolved from, 'How do we fly drones," to, 'How do we automate the flight?'" Seabaugh said. "It's a process of going up the stack of automation—from automating the flight to automating the photogrammetric processing. Now, we're really getting to that next layer of automating the analytics. Reaching the full evolution in this field to finish vision is where the market is going."

MANAGING MOUNTAINS OF DATA
Chase Fly is the global sales manager and product manager for the geospatial market at Delair, the Toulouse, France-based provider of end-to-end visual intelligence solutions, from drones to software analytics. As Fly put it, he "manages the mountains of data collected from the clouds," ensuring current and next-generation products suit the needs of mapping applications like construction.
Fly points his construction customers to the Delair UX11 for their photogrammetry needs. The fixed-wing professional geospatial drone offers precise and easy mapping via an embedded global shutter camera, a centimeter-level precision GNSS sensor and PPK capabilities for survey-grade results.
"This is not a 'jack of all trades' drone," he said. "It's really focused on topography, mapping and surveying. The mission planning is intuitive via the Delair Flight Deck, and the rest is automated."
Customers can enter in a geofence to make sure the drone doesn't fly out of a permitted zone, and a cellular modem on board provides redundant communication. That's rare, Fly said, and it enables the drone to transmit over cellular, making it usable virtually anywhere in the world. It also has both 2.4 GhZ wireless and 3G/4G cellular connectivity, opening it up to BVLOS flights.
"Imagine a project like a corridor, pipeline or powerline, which involves flying 10 miles from where you're taking off—you can't do that with most commercial drones of this category out of the box today," he added. "With cellular, you can easily stay connected even though you're flying far away. That BVLOS capability becomes a reality and that's a big deal for larger infrastructure construction projects."
DIGITAL DIRT MOVERS
When it comes to construction, Topcon Positioning Group, headquartered in Livermore, California, helps customers create affordable and accurate aerial maps for 3D models, digital twins, DEMs, ortho-photos and cut/fill analysis through automation.
"We have a construction business unit that provides a multitude of machine control solutions for earthmoving and paving," said Dave Henderson, Topcon's director of GeoPositioning sales-Americas. "So it was a natural fit for us to be able to get into the UAV business and create another tool to help feed those machines with accurate data to move dirt and earth. We're always looking at our customers' applications to understand the tools they're using and how to make them more successful."
To do that, the company uses the Sirius Pro and Intel Falcon 8+ Drone-Topcon Edition platforms to deliver aerial mapping results. Sirius Pro is a fixed-wing UAV that can autonomously fly up to 50 minutes at speeds up to 40 miles per hour and is RTK-scalable. The hand-launch system has automated flight planning and landing, carrying a Sony A6300 24-megapixel camera, and a Sony RX1R2 42-megapixel payload for higher altitudes.
"The Sirius is a very robust product that caters to large areas of 200 acres or more," Henderson said. "As with most fixed-wing platforms, it's a great way to do larger areas very accurately, and it really shines for those projects."
The Intel Falcon 8+ Drone-Topcon Edition is tailored to projects of less than 50 acres or for instances when a customer needs very detailed information, such as for a bridge inspection or to create a digital twin. It has three redundant flight controllers and use Intel Mission Control Software for advanced flight planning, project management, and 2D and 3D data handling.
"Topcon sells commercial products; we don't try to take toys and turn them into commercial tools," Henderson continued. "These are high-level products used by construction, surveying and engineering firms to obtain quality data. Some people may say it's not about the drone, and I disagree. If you don't get accurate data, then it's a waste of time. It's all about getting the correct data."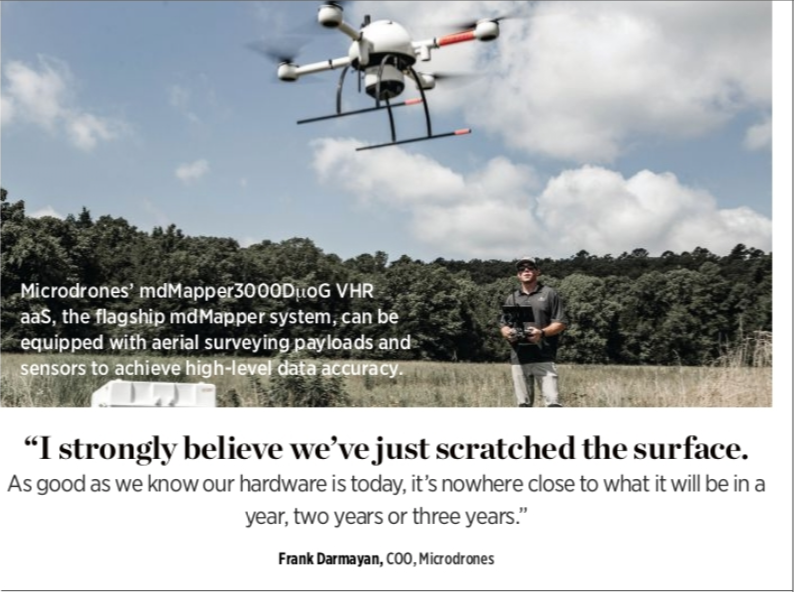 LASER-FOCUSED LIDAR
According to Jillian Kreider, TLS sales specialist at RIEGL USA (globally headquartered in Horn, Austria), the construction industry has been slower to adapt to new technologies than other industries—but that's rapidly changing.
"Construction companies are starting to become more openminded to the use of LiDAR technology, not just terrestrial but unmanned," she said. "Drones are a hot commodity right now and having that kind of LiDAR with the survey-grade accuracy we have makes us a great contender in the market to produce some amazing results for people."
Stephen Maciong, who's on the ULS Technical Sales and Integration team at RIEGL USA, agreed: "As commercial UAVs have evolved and become more cost-effective, RIEGL USA has evolved with it. We see this evolution happening in the construction industry, which is now looking to utilize a UAV platform like this to save time and money. A UAV LiDAR solution will capture data for these construction companies in a fraction of the time."
To do that, RIEGL uses the RiCOPTER, a high-performance unmanned multi-rotor aircraft built for construction site and corridor mapping that can be equipped with payloads such as LiDAR sensors and photogrammetric, thermal-infrared and hyper-spectral cameras. According to Maciong, RIEGL's VUX-1UAV and the miniVUX series sensors are unmanned LiDAR data capture solutions for construction applications.
"What we're able to derive from the point clouds that we're generating are reflectance values off objects, and when it comes to construction, it's the accuracy and precision," he said.
While Maciong notes that photogrammetry is considered a cost-effective solution, a RIEGL LiDAR software has a higher data-capture to data-processing ratio, saving customers time and money. LiDAR sensors, he said, are also active and don't require ambient light to capture data points; they're able to penetrate vegetation whereas photogrammetry cannot.
"LiDAR is able to give extremely tight accuracy and precision. When it comes to construction it's a matter of absolute safety and certainty, so you need to be able to rely on that accuracy," Krieder agreed. "We're just touching the tip of the iceberg in terms of using LiDAR in construction sites. We're finding more uses for the data, and our customers are finding new ways of utilizing it. I think there are many possibilities ahead of us."