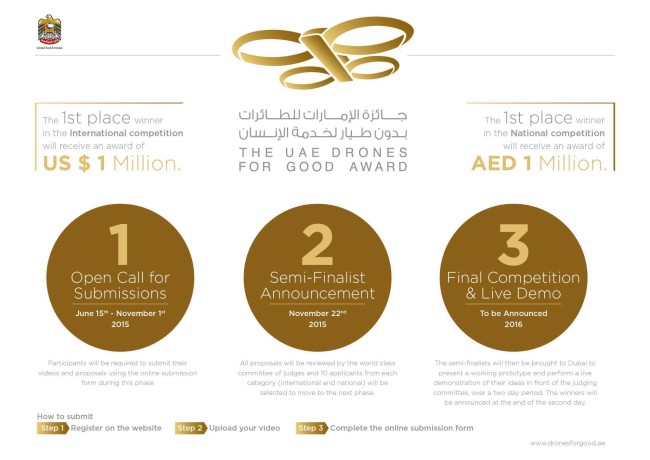 Think you know of a way drones can make the world a better place? You might want to develop a proposal for the second UAE Drones for Good Award.
Entries will be accepted through Nov. 1, with the international winner receiving $1 million, according to a news release.
The award was developed to "encourage innovation in the civilian application of drone technology and promote the development of legal frameworks in the area." Individuals, teams, universities and companies from around the world are invited to participate.
Categories include environment, logistics, education, transport, health care, civil defense, tourism, economic development, construction and infrastructure, social services, and humanitarian aid and disaster relief, according to the release.
A panel of experts will review the submissions, and determine which 10 applicants from each category to invite to the international and national competitions. This will be announced Nov. 22. Semi-finalists will travel to Dubai to present a working prototype of their drone and give a live demonstration for the judges. Winners will be honored at a special ceremony before the fourth Government Summer, set to take place in Dubai in February.
When submitting proposals, applicants must suggest new ways drones can improve an existing service or offer new services. Projects should be semi or fully autonomous, as well as both economical and safe.
Last year, more than 800 applicants submitted projects from 57 countries, according to the release. A collision resistant drone from the Swiss team Flyability won the $1 million prize at the international competition, while Wadi Drones by Matt Karau won the AED 1 million prize in the national competition.
His Highness Sheikh Mohammed bin Rashid Al Maktoum, Vice President and Prime Minister of the UAE and Ruler of Dubai, launched this award during the second Government Summit in February 2014, according to the release.
For more information or to register, visit the Award website, where you can also submit videos and proposals.