The European Union and its Member States have worked for years to reduce the impact of humans on the planet, and new efforts are intended to provide clear guidance to European cities on how they can improve mobility while reducing omissions.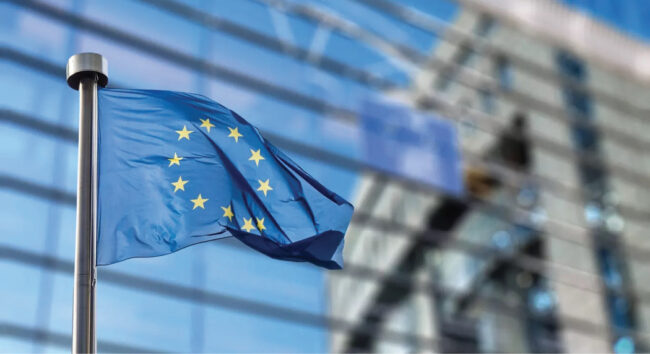 According to the European Commission, the European Union (EU), its Member States and the European Investment Bank are together the biggest contributor of public climate finance to developing economies, providing EUR 23.4 billion in 2020. It is also a staunch supporter of autonomous systems, which it sees as a crucial means for going green, particularly in the transport sectors.
As expected, the European Union expressed clearly and forcefully its position on environmental responsibility at the UN Climate Change Conference (COP27) in Sharm El-Sheikh. The Union's concern in that area is not recent. For decades, the EU has supported important policy and research initiatives aimed at increasing efficiency while reducing human impact on the environment, and it continues to do so today. Indeed, it is now putting more resources than ever into the fight.
Of interest to today's unmanned and autonomous systems communities is the European Commission's Sustainable and Smart Mobility Strategy, adopted in December 2020. It lays the foundation for how the EU transport system can achieve the union's goals for green and digital transition and be made more resilient. The strategy sets out a series of concrete and measurable milestones. One of its overarching goals is to see automated mobility deployed on a large scale by 2030.
Meanwhile, the New EU Urban Mobility Framework, part of the Efficient and Green Mobility Package, adopted in December 2021, is working to deliver clear guidance on how European cities can cut emissions and improve mobility. Connected, Cooperative and Automated Mobility (CCAM) is recognized as one of the key areas of action in this context, given its potential to improve the functioning of the whole transport system while contributing to global sustainability goals. In the near future, the union expects to see the emergence and wider use of new, game-changing mobility technologies, including, for example, automated and connected vehicles in the framework of mobility as a service (MaaS).
There are several ongoing EU efforts to accelerate deployment of CCAM, notably the recently created CCAM Partnership, under the EU's multi-annual framework Horizon Europe. The CCAM Partnership aims at harmonizing and integrating European research and innovation efforts to accelerate the implementation of innovative CCAM technologies and services.
MONEY WHERE THEIR MOUTH IS
Of course, the European Union, and the European Commission in particular, are not just about making statements and setting goals. Horizon Europe makes available a budget of €95.5 billion (USD $98 billion) for research and innovation over seven years, from 2021 to 2027. Of that amount, €500 million (USD $513 million) is allocated to CCAM research. Under the CCAM Partnership, the private sector will contribute an additional €500 million of its own funding.
Meanwhile, numerous EU-supported research initiatives involving green autonomous technologies, funded by the EU's previous Horizon 2020 framework, are currently up and running.
"Today, we are making sure that our rules
enable us to safely introduce autonomous and driverless vehicles in the EU in a framework that puts the safety of people at the center."

Margrethe Vestager, executive vice president, Europe Fit for the Digital Age
PAVING THE WAY
Tomorrow's connected, cooperative and automated road vehicles will require a host of advanced and state-of-the-art technologies to function safely and efficiently, but not everything that makes them run will be found under the hood. These autonomous cars, trucks and taxis will also require sound, basic road infrastructure, and that starts on the ground.
Imbalanced usage contributes to the degradation of road surfaces, leading to safety risks, especially for connected and automated vehicles. The problem becomes worse with harsh weather conditions, as seen on beautiful but cold and mountainous European highways.
The solution proposed by the Horizon 2020-funded ESRIUM project (which stands for EGNSS-enabled Smart Road Infrastructure Usage and Maintenance for increased energy efficiency and safety on European road networks) is a highly precise digital map of road surface conditions that will enable route adjustments through infrastructure-to-vehicle (I2V) communication, free of charge.
The key innovation is a new data platform, presenting a highly detailed, European global navigation satellite system-referenced map of road damage and associated safety risks, at centimeter-level resolution. The ESRIUM map will include unique and valuable information for road operators, who will use it to save on road maintenance costs through optimized planning and routing, especially of heavy vehicles.
With the imminent market introduction of partly automated truck fleets, ESRIUM aims to enable precise adjustment of vehicle routes, within and across lanes. In addition to extending the life of road surfaces, for truck fleet operators this could mean increased safety for their vehicles.
To capture the state of road surfaces, the ESRIUM system combines data coming from cameras, sensors and European GNSS-enhanced localization devices. The project consortium, led by Graz-based Joanneum Research, unites expertise in the fields of European GNSS localization, mobile mapping, autonomous driving and I2V communication, as well as in-depth knowledge of the transport sector from road operators and logistics providers.
At the ESRIUM project workshop in Graz in August 2022, Wolfgang Schildorfe, professor of transport logistics and mobility and vice-dean for research at the University of Applied Sciences Upper Austria, emphasized the strong involvement in the project of road operators, with field testing of the ESRIUM system being undertaken on Austrian highways. "With this, we have a valid, user-centered approach to developing a close-to-market solution," Schildorfe said.
Selim Solmaz of the Virtual Vehicle Research, said, "It has been demonstrated in high-fidelity simulations that infrastructure-assisted automated driving functions in the form of strategic routing are realizable. These shall be demonstrated on the Austrian A2 Motorway in the form of use case demonstrations for lane-offset and lane-change with our own prototype automated vehicle in the final year [2023] of the ESRIUM project."
While on the subject of infrastructure, it would be hard to exaggerate the utility of Europe's GNSS systems, Galileo and EGNOS, in empowering green, autonomous operations. Specifically, and this comes directly from the EU's Agency for the Space Program (EUSPA), European GNSS provides the necessary accurate positioning, navigation and timing, for example, for many automated smart farming and precision agriculture operations. These allow farmers to save fuel, pesticides and fertilizers and limit water waste. Similar benefits are enjoyed in many sectors, encompassing emission reductions for road transport, and route optimization in the maritime and aviation sectors. As the European Union Space Program is continuously expanding its offer, with more data, signals and services, more and more applications are enabled for government authorities and businesses, many of which support the common goal of a greener economy.
THE SKY IS NO LIMIT
In addition to new road transport technologies, the European Union anticipates the appearance, on an ever-increasing scale, of unmanned aerial vehicles for public and commercial applications, notably in the areas of agriculture, energy and transportation.
Readers will know that drones are now a global phenomenon and a global business opportunity. They are also one of the first pervasive platforms in which multiple positioning, navigation and timing technologies are commonly and effectively integrated, including GNSS, inertial navigation systems, vision-based systems and signals of opportunity. A number of GNSS receiver manufactures now offer chipset and OEM receiver boards for drones in a wide range of performance grades and prices.
The objective of the EU-funded DEGREE project (Droneborne Galileo Receiver), led by Italy's Qascom, is to develop a dual-frequency receiver for drones, leveraging the strengths of Europe's Galileo satellite navigation system and targeting technology readiness level 7, at a competitive cost. The DEGREE GNSS receiver will be extremely flexible and adaptable to risk assessment processes to enable the safest possible flight operations. It is designed to satisfy the requirements set by the European Union Aviation Safety Agency (EASA) for high robustness and to meet operational safety objective No. 13, required for specific assurance and integrity level IV and beyond, thus unlocking all possible risk levels for operations in EASA's "specific" operational category.
The DEGREE consortium is specifically targeting the commercial user market, which requires a high-end customizable product for professional applications, such as infrastructure monitoring, oil and gas pipeline inspection, emergency management, delivery and transport and aerial photography. The DEGREE project is also active in standardization activities related to GNSS security.
"What we are witnessing today…
is actually a glimpse of what driving will look like in the near future, and this is a key milestone, bringing us ever closer to full automation."

Carlo des Dorides, former executive director, GSA
CITY STREETS AND UPWARDS
The EU vision sees CCAM vehicles playing an integral role in the ecosystems of smart cities, reducing carbon footprints by increasing existing road infrastructure capacity and reducing congestion and pollution, and by enabling shared mobility services.
The Union's Urban Air Mobility Initiative is concerned with promoting the use of drones in the urban environment. It is part of the European Innovation Partnership in Smart Cities and Communities (EIP-SCC), which works to study, demonstrate and support new mobility solutions. As with many EU initiatives, a key strength of the Urban Air Mobility Initiative is its active solicitation of a variety of stakeholders, including city authorities, responsible for spatial and infrastructure planning necessary for drones, and especially for the promotion of the social acceptability of drones in the urban environment.
There are further challenges to be met. For the full deployment of CCAM in Europe, there is still a lack of harmonization and coordination of relevant traffic rules and liability provisions for automated vehicles. For drones, a key challenge is the development and implementation of a comprehensive digital environment and automation of the processes of airspace control, so-called U-space or unmanned traffic management (UTM), and e-identification of drones and electronic identification of all airspace users. Other needs include more advanced safety features, such as detect-and-avoid technologies, and full harmonization of the rules for drone use in all EU Member States, especially in terms of assessing ground risks arising from drone operations.
The European Commission wants to see scaled up investment in the establishment of a European UTM. This should encompass a set of new services relying on a high level of digitization and automation of functions. Specific procedures need to be designed to support access to airspace for large numbers of drones, for the purposes of delivery services and rescue forces and for the transport of goods and people.
RULES MATTER
The regulatory framework for road vehicles in the EU is laid out in the EU General Safety Regulation (GSR). It defines safety standards for all road vehicles, including type-approval requirements. The current revised GSR was adopted in 2019, and particular requirements for safety features, including automated features such as intelligent speed assistance, have been applied since July 2022. On the occasion of the new GSR adoption, Margrethe Vestager, executive vice president of the EU group Europe Fit for the Digital Age, said, "Today, we are making sure that our rules enable us to safely introduce autonomous and driverless vehicles in the EU in a framework that puts the safety of people at the center."
The GSR establishes the legal framework to allow automated and fully driverless cars to operate on European roads. A new implementing regulation under GSR, adopted in August 2022, sets the technical specifications and administrative requirements for type approval of fully automated vehicles, which is a first EU legislation of this kind. The regulation applies to a limited series of vehicles designed and constructed for use in predefined areas, such as robot taxis, automated shuttles or automated valet parking systems.
Since December 2020, a new European regulation for drones has been in force, aimed at harmonizing rules across EU member states and increasing the safety of drone operations, while at the same time supporting the growth and development of drone-based businesses.
The EU drone regulation requires all drone operators and owners using drones with a camera or weighing more than 250 grams to register with the relevant national aviation authority. Drone operations are divided into three categories, according to the risk level, each with its own rules and restrictions—"open" for amateur drone flights, "specific" for professional drone flights and "certified" for transport of people and goods.
LOOK BACK AND LOOK AHEAD
In November 2019, the University of Technology of Compiègne hosted a live demonstration of the first autonomous vehicle to use Europe's Galileo satellite navigation system for positioning and navigation. Attendees at the event watched as a Renault ZOE electric car drove autonomously on tracks and on public roads. Then-GSA Executive Director Carlo des Dorides said, "What we are witnessing today…is actually a glimpse of what driving will look like in the near future, and this is a key milestone, bringing us ever closer to full automation."
Today, with its European Green Deal, the Union has set Europe on an ambitious path toward becoming the first climate-neutral continent by 2050, and clearly it sees smart and clean mobility, including automated road and air transport, as a powerful means of reaching that end.
As always, the European Union, through its executive arm, the European Commission, and with its agencies, such as EUSPA, is eager to include research and innovation partners from all sectors, including, under specific circumstances, non-EU third parties. A current batch of calls for proposals has placed literally a wealth of opportunities on the table for developers and entrepreneurs who may have a contribution to make toward Europe's green, digital and autonomous transport goals.