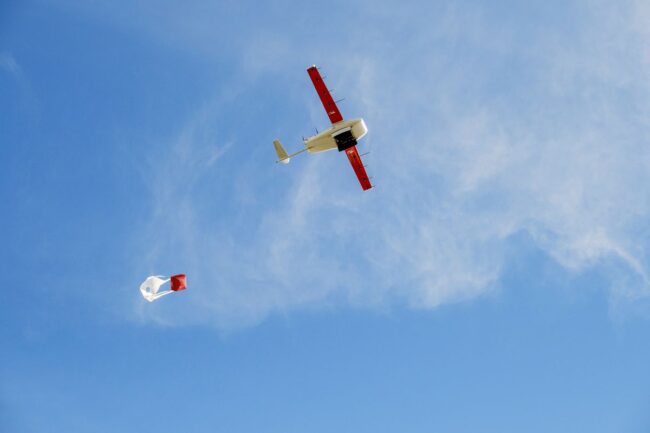 The FAA has authorized Zipline International Inc. to deliver commercial packages around Salt Lake City, Utah, and Bentonville, Arkansas, using drones that fly beyond the operator's visual line of sight.
The authorization seems to mark the first use of what the FAA has dubbed a "summary grant," meaning it's similar to BVLOS waivers already approved.
"The FAA has previously issued a grant of exemption in circumstances similar in material respects to those presented in your petition," says the agency's letter to Zipline, signed by Associate Administrator for Aviation Safety David Boulter.
The FAA said Zipline's request is similar to exemptions already granted to UPS Flight Forward and Matternet, and the FAA's reasoning in granting those exemptions "also apply to the situation presented in your petition."
Zipline is an FAA-certificated Part 135 operator and will use its Sparrow drone to release payloads via parachute, the FAA said. Data collected from these operations will inform the FAA's ongoing policy and rulemaking activities, with a BVLOS Notice of Proposed Rulemaking now scheduled for August 2024.
Comments supporting the Zipline came from the North Carolina Department of Transportation, AeroX, AUVSI, DroneUp, the Small UAV Coalition, the Michigan Department of Transportation, the Aircraft Owners and Pilots Association, the General Aviation Manufacturers Association, the Commercial Drone Alliance and the Consumer Technology Association. The exemption was opposed by the Air Line Pilots Association and the National Agricultural Aviation Association, both of which said they hadn't seen enough data to support Zipline's safety case.
"Zipline has proven its ability to provide critical services to the public with the highest degree of safety. We commend the FAA for issuing this approval, which will address key needs in the health care and commercial delivery sectors," said AUVSI Chief Advocacy Officer Michael Robbins.
"The approval demonstrates the forward momentum of the U.S. commercial drone industry. As BVLOS exemptions become commonplace, it will unlock time-sensitive delivery, support health systems' reach to patients, and address equity gaps. Americans nationwide will benefit from this new future of health care logistics."