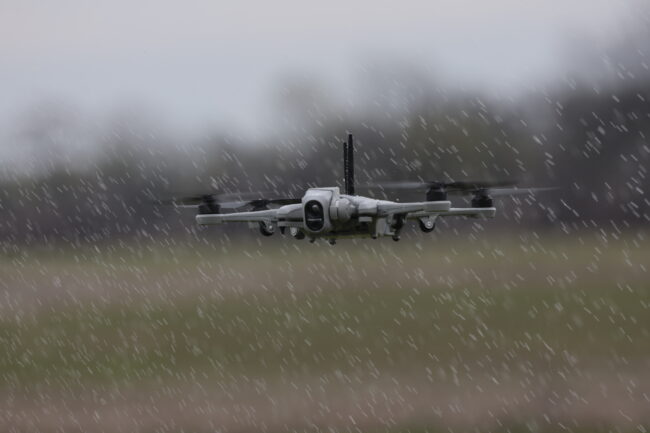 SAN JUAN, Puerto Rico—Red Cat Holdings Inc. announced that subsidiary Teal Drones has signed $1.8 million in contracts with U.S. Customs and Border Protection to provide Teal 2 systems to U.S. Border Patrol.
Teal will deliver 106 Teal 2 drones plus spare parts and training. Border Patrol is using the Teal 2 to provide supplemental airborne reconnaissance, surveillance and tracking capability, enhancing situational awareness for U.S. field commanders and agents.
The single-source contract is part of a Blanket Purchase Agreement between CBP and five drone companies, announced in December 2021, with a total estimated value of $90 million over a five-year period.
Last October, CBP had initially ordered 54 Teal drones for U.S. Border Patrol in a contract worth just over $1 million.
"We are honored to provide this important U.S. agency with drones that help enable their mission," said Red Cat CEO Jeff Thompson. "The Border Patrol pilots are some of the best and their feedback has been instrumental in Teal 2 enhancements. This brings our current backlog to over $7.5 million as the Teal 2 revenue continues to accelerate. Red Cat has invested in a manufacturing facility in Salt Lake City, Utah, and we're confident in our ability to meet order delivery deadlines for military, government and commercial customers."
Support Partnership
In other Red Cat news, the company has partnered with ESAero to have that company assist with fast-tracked, customer-specific projects, allowing Red Cat to remain focused on its core hardware and software offerings, including the Teal 2 sUAS.
"We're proud to be working with ESAero," said George Matus, founder and CEO of Red Cat subsidiary Teal Drones. "We've been impressed by their engineering skill set and understanding of market requirements. Having them lead important ad-hoc projects benefits our customers by rapidly giving them what they need and benefitting Teal by allowing us to focus on production ramping and core R&D."
In addition to ESAero's competencies in design and manufacturing, the company's Designated Secured Facility—a government–accredited site where secured information can be stored, discussed or electronically processed—enables ESAero to work on sensitive projects in collaboration with Red Cat, including payloads designed for future use cases.
"Like Red Cat, we're focused on innovation and elevating what's possible in the field of manned and unmanned aircraft," said Andrew Gibson, president and CEO of ESAero. "We're looking forward to further developing our partnership with Red Cat through future projects."
The first product of the companies' partnership is an ESAero-designed multi-battery charger, which will be offered as an accessory to the Teal 2 sUAS. This multi-battery charger makes it possible
to charge backup batteries while the aircraft is in operation to support persistent ISR missions. Because the Teal 2 drone and its ground control station use the same battery pack, the multi-battery charger provides an all-in-one solution. In developing the charger, ESAero leveraged the company's deep experience in electric aircraft technology and batteries to develop robust and efficient technology for the Teal 2 sUAS.