Requests and approvals for emergency COAs, better known as Special Government Interest (SGI) airspace authorizations, are on track to nearly double in 2019 from last year.
The Systems Operations Support Center (SOSC), part of the Federal Aviation Administration's (FAA's) System Operations Security Directorate, issued 708 Special Government Interest (SGI) airspace authorizations in 2018 for law enforcement and major events from fires and hurricanes. As of July 2019, the organization already had issued more than 600 SGI COAs.
Talwyn (Tal) Haley, who is with the System Operations Security Directorate within the SOSC, confirmed the increase, noting, "More first responder groups are taking advantage of UAS in airspace outside their area of responsibility to support emergency activities, which is likely a reflection of the greater use of UAS in emergencies and raised awareness about our group."
The roots of Haley's organization began in 2016, following the 2015 Tennessee shooting at marine facilities in Chattanooga, Tennessee. In that instance, the FBI used UAS for forensic gathering. "There was some miscommunication and the UAS tasks weren't accomplished
in a timely manner," Haley recalled. "We realized during that event that there was a gap in the way UAS were cleared for operation in the National Airspace and that we, the FAA, needed an on-call group with the authority to authorize access to airspace. That's us."
The SOSC operates under the umbrella Air Traffic Organization (ATO) Office in the FAA.
"We understand airspace, as we're all air tra c controllers. And we're available 24/7 to support emergencies and have verbal authority to grant authorizations, if needed." – Talwyn (Tal) Haley, System Operations Security Directorate, SOSC; Systems Operations Support Center, FAA
HURRICANE OF RESPONSE
The SOSC's primary responsibility is airspace protection for the U.S. President and Vice President outside the Washington D.C. area. The group also provides airspace authorizations for large national events such as the Super Bowl, United Nations General Assembly, Department of Defense operations and the State of the Union, as well as for law enforcement such as in the case of barricaded suspects.
"It makes sense that we provide emergency support for UAS," Haley said. "We understand airspace, as we're all air traffic controllers. And we're available 24/7 to support emergencies, and have verbal authority to grant authorizations, if needed."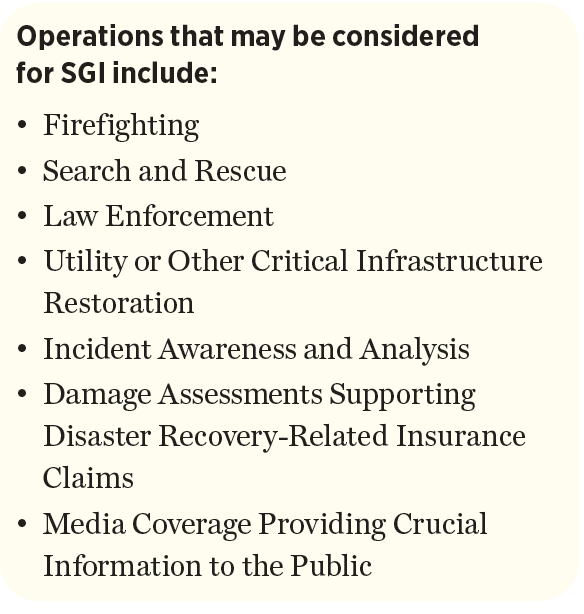 On August 25, 2017, Hurricane Harvey made landfall near Rockport, Texas, as a Category 4 hurricane with wind gusts exceeding 150 miles per hour. The event affected an estimated 13 million people in Texas (largely the Houston metropolitan area), Louisiana, Mississippi, Tennessee and Kentucky. Beyond the emergency responders coordinating search and rescue activities, municipalities, telecommunication companies, utilities and insurance agencies relied on thousands of drones to support rescue, relief and recovery.
Haley observed, "Our group approved over 100 SGIs for this one event, enabling multiple agencies and organizations to fly thousands of missions in support of communities, with activities that ranged from evaluating flood damage to facilities and infrastructure to search and rescue."
It would prove to be the first of many.
FAST AND FOCUSED
An SGI allows for a one-time operation based on eminent risk to life where a manned aircraft is deemed too hazardous. Specifically, first responders need an SGI if UAS operations are within a Temporary Flight Restriction (TFR) area, a National Security UAS Flight Restrictions area, Non-Class G airspace, or do-not-fly areas as defined by the agency COA.
While the SOSC's greatest support thus far is needed during disasters, other first responder requests are more common. For instance, accessibility to airspace authorizations has helped Colorado's Larimer County Unmanned Aircraft System (LCUAS) Team in a number of emergency response situations.
Founded in June 2017, the LCUAS team includes Fort Collins Police Services, the Larimer County Sheriff's Office, the Loveland and Colorado State University police departments, the Poudre Fire Authority and the Loveland Fire Rescue Authority. Individually and as a team, LCUAS agencies have relied on UAS to support a range of activities, such as wildfires, vehicular crashes and backcountry search and rescue operations. The LCUAS team operates under a blanket area COA, which allows for flying over all-but-especially-restricted airspaces.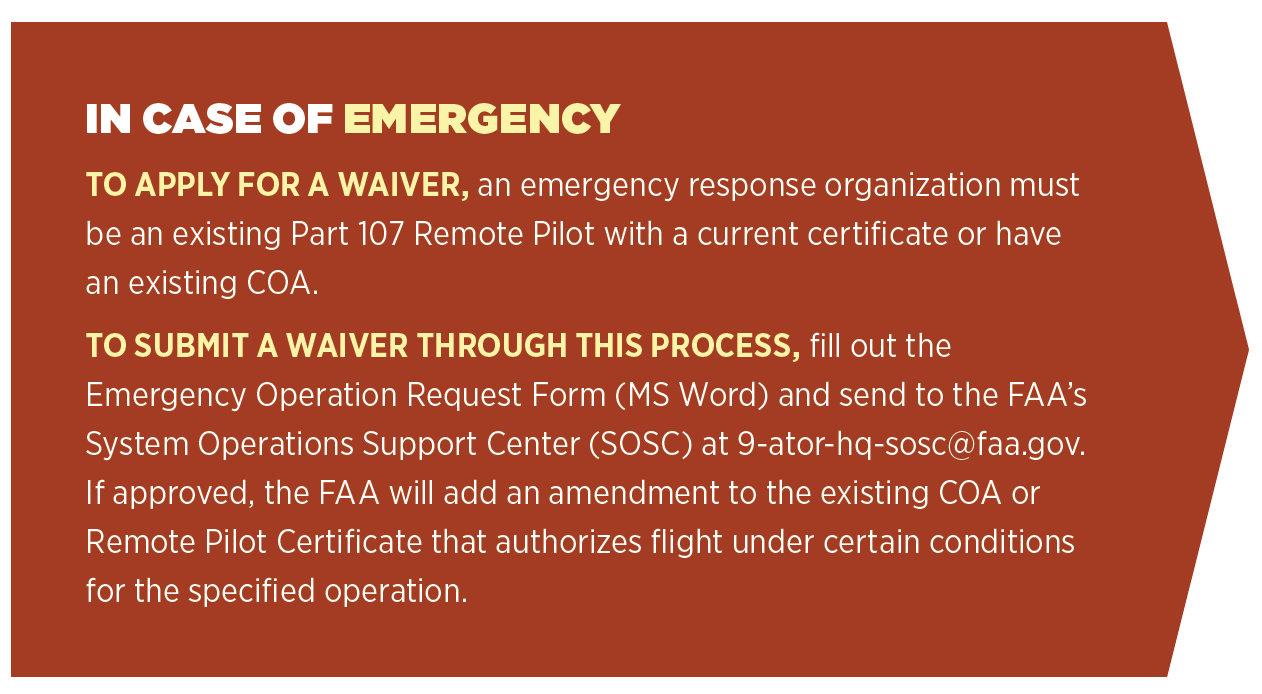 Drew Jurkofsky, a police officer in the Traffic Enforcement Unit at Fort Collins Police Services, explained how operations work within this approval: "For the most part, everything we fly is in the 80-150 ft range; rarely do we need to go above the 400-ft limit. When we need to fly beyond our COA limits, such as near the Northern Colorado Regional Airport, which is a Class E airspace, we get an FAA SGI airspace authorization."
For instance, in September 2018, parts of the LCUAS team—the Poudre Fire Authority, Fort Collins Police Services, and the Larimer County Sheriff's Office—joined forces to support firefighting efforts at the Milner Mountain Fire, which burned 3.5 acres in rough terrain to the south of Horsetooth Mountain Park. According to officials, the UAS provided an aerial view of the fire that was burning in steep and rocky terrain, and thermal imaging data to guide ground crews to still-burning hot spots.
Just last month, a driver of a vehicle hit a motorcycle and then fled through an open field off I-25 at about 1:00 am. Jurkofsky shared the department's SOSC interaction: "We got the call from the officers on site that they needed help finding the driver who had fled the scene. I submitted the SGI and followed up with a call to my contact at FAA's SOSC office, and had approval within 40 minutes."
In the meantime, the UAS team had already deployed to the site and was ready to fly when approval was granted. Shortly thereafter, the UAS camera spotted the driver in the field at about the same time the canine unit tracked him down.
"While we don't need them regularly," Jurkofsky noted, "SGI airspace authorizations are always time-critical. The SOSC has been very responsive, helping our county emergency responders resolve issues with the help of UAS very quickly and safely."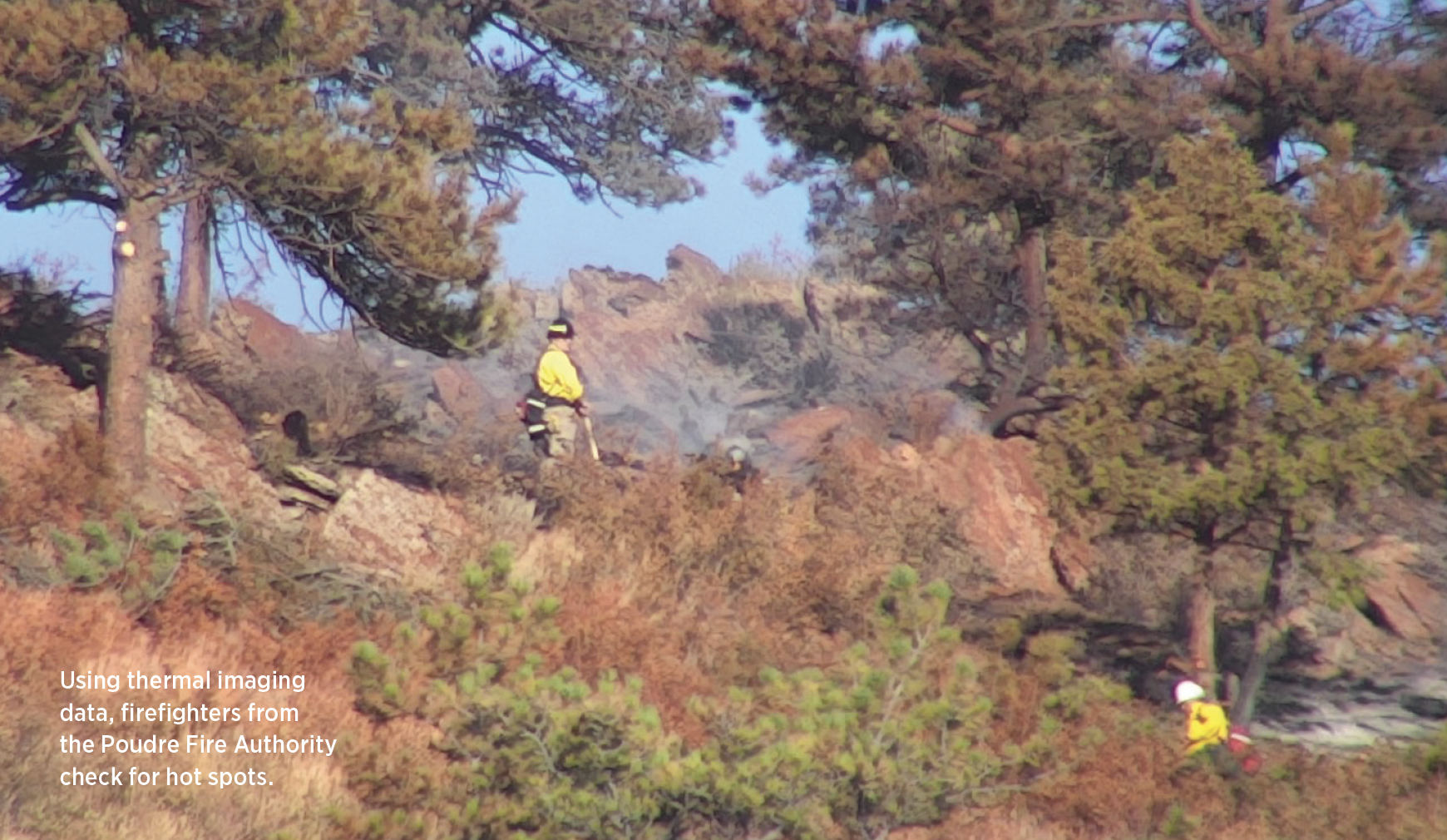 Multiple organizations requested SGIs during the recent flooding in the Midwest. The St. Joseph (Missouri) Police Department regularly uses UAS to support emergency response. With its Part 107 and Part 91 COA, the police department currently has four UAS that it uses to render scale diagrams of outdoor crash and crime scenes, search for missing and endangered persons, and track wanted persons and stolen property. Because of the nearby Rosecrans Memorial Airport, the city is about half Class D airspace and half Class G airspace. Class D airspace is regulated from the ground to a particular height; class G airspace is unregulated to 700 feet.
SOSC has provided expedited SGIs to the Austin Fire Department, the Michigan State Police, the Menlo Park Fire Department, the Alameda County Sheriff's Office, the Grand Forks Sheriff's Office, the New York Fire Department and the Los Angeles Sheriff's Office, to name a few. As well, the Department of Interior has relied on SGIs to use UAS for natural resource management and wildland firefighting.
Haley noted, "I've authorized the use of a drone outside approved airspace to run a line to a person on a river, though the more common use is response and recovery during floods, fires and tornadoes."
Waivers not only empower operations but save lives.