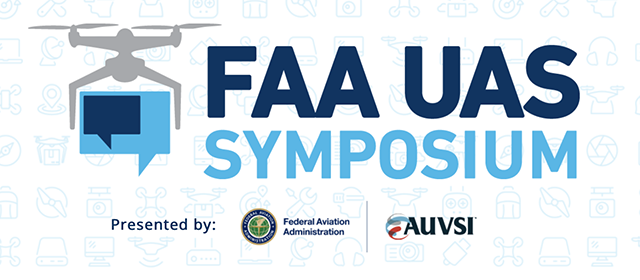 Presented by the Federal Aviation Administration (FAA) and AUVSI, the FAA UAS Symposium will be held June 3-5, 2019 at the Baltimore Convention Center.
The FAA is bringing stakeholders together from all sectors to help define the rules and concepts that will govern the future of drone operations. Discover how we are working together to establish partnerships and identify the responsibilities, education and tools our partners need to be successful in their roles.
WHAT'S NEW
Registering and flying your drone has never been easier—or safer. The FAA has cut the red tape and increased efficiencies by streamlining its processes and providing online access to them. Learn all about how the administration increased its customer service efforts through live, interactive webinars, video tutorials, and social media.
WHAT'S NEXT
Hear the buzz about what's next in drone technology and what it means for the future of flight. As urban air mobility, package delivery and beyond visual line-of-sight (BVLOS) operations are taking off, the FAA is making continuous progress toward safely integrating drones into the National Airspace System. Learn what is happening that will help you conduct more complex operations that will bring economic growth to your business and our communities.
To view the symposium program, click here.
Special rates are available to all government and active duty military personnel. To register under this category, you must have a .gov or .mil email address. You will need to present a government or military photo ID to obtain your badge and symposium materials. Additionally, special rates are available to all public safety personnel. This includes offices of police, sheriffs, EMS, fire service, hazmat and park rangers from federal, state, city, county, campus, and tribal agencies, and members of the armed forces. To qualify, the recipient must work for the government or a public safety agency and will be required to show their credentials upon arrival.