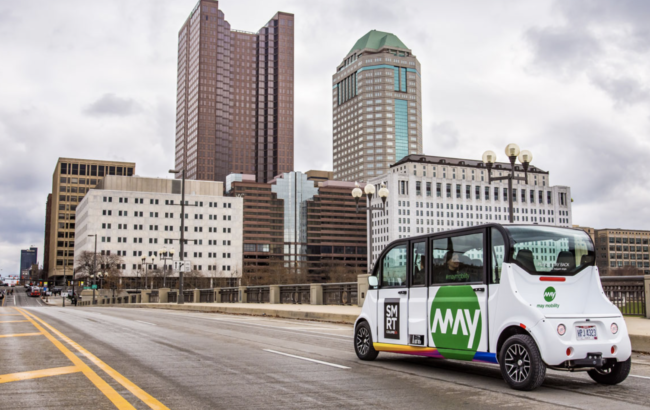 Self-driving shuttles began traveling around downtown Columbus in December, marking a first for the state of Ohio.
The low-speed shuttles are operated by May Mobility, a self-driving vehicle start-up, according to a news release. The vehicles completed route mapping around the Scioto Mile as part of the first phase of a project designed to test, operate and evaluate autonomous vehicles. The project has three phases, with these shuttles eventually carrying passengers along multiple routes.
"We're proud to have the first self-driving shuttle in Ohio being tested on the streets of Columbus," said Mayor Andrew J. Ginther, according to the release. "This pilot will shape future uses of this emerging technology in Columbus and the nation. Residents win when we add more mobility options to our transportation ecosystem—making it easier to get to work, school or local attractions."
The all-electric vehicles can reach speeds of up to 25 miles per hour. They come equipped with a variety of sensors, cameras and intelligent software. As many as 10 vehicles are expected to service routes in downtown Columbus. There will be operators in every shuttle to oversee the vehicles and take over if necessary.
Columbus won the Smart City Challenge in 2016, which brought a $40 million U.S. Department of Transportation grant and a $10 million grant from Paul G. Allen Philanthropies to the city. The self-driving shuttle project is a direct result of that. For more on the Smart City Challenge, read: Connected and Autonomous Vehicles to Play a Major Part in Smart Columbus Projects below.
"This is an important project for Columbus, but this pilot is a big step in our statewide plan," said Jim Barna, executive director of DriveOhio. "We want to enable other local governments throughout the state to safely test, operate and evaluate these self-driving shuttles so they can help their constituents move more easily from place to place."
Connected and Autonomous Vehicles to Play a Major Part in Smart Columbus Projects