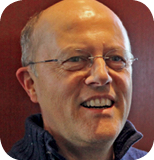 MARK BATHRICK is the director of the Office of Aviation Services at the U.S Department of the Interior (DOI). He oversees the safe operation of more than 1,200 contracted and government-owned manned and unmanned aircraft.
Q: What was the biggest challenge in implementing DOI's new call-when-needed contracts for drone services?
A: The most challenging thing, I think is this is the first services contract in unmanned. …Most of the companies that were responding to our first solicitation, that was back in 2016—this
(new contract) was our third try at this—they were more accustomed to working with the Department of Defense. …I think it was companies understanding Interior, certainly our mission, but also what our expectations were and what was the environment we were asking them to operate in.
Q: Do you think there will be more drone service contracts, perhaps in other mission areas?
A: I think that there certainly will be more services contracts coming out. We'll have to see where the water level sits.
Q: Is there a drone technology you are longing to see?
A: Number one on my wish list is what I call the holy grail of drone technology and that would be a self-contained, non-cooperative, fully autonomous sense and avoid system. I don't want to go talk to the drone. I want the drone to fly where I've programmed it to fly; do what I want it to do. At the same time I want it to see everything and miss everything. And if it's made too many course corrections, and it can't make it to where I want to go, I want it to know to come home.
Q: What results have you had from using the Current Wildland Fires database to alert UAS operators to avoid certain areas?
A: I am very happy to report that in 2017, which by the way was an extraordinarily vigorous fire year—many more fires, a lot costlier, a lot more acres burned than in previous years—we saw a 14 percent decrease in the number of incursions on wildfires. So while we had more fires, we saw fewer incursions.
Q: Has your team had any particularly memorable missions?
A: I think this one that just happened May 27 was particularly memorable. So to recap we had a joint Office of Aviation services, our organization, and USGS (U.S. Geological Survey) team of UAS operators on the Big Island supporting the volcano operations down there (in Hawaii). …During one of those flights they were asked to come back and look at a particular area—a lava pool the geologist was worried was possibly going to overflow. As they came back they saw that it was overflowing and there was a fast moving lava flow headed toward one of the neighborhoods. They contacted the emergency operations people and started that evacuation. During one of their subsequent flights they learned that there was a resident trapped at their house on the property and they used the drone to find the individual and helped lead the individual out of the jungle and the first responders to that person's location to rescue him. …When the first responders were on the phone, they just said, "Do you see the drone? Follow the drone."