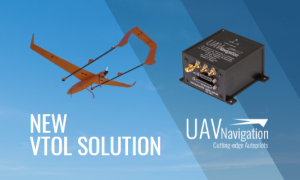 Madrid-based UAV Navigation has released a flight control solution designed to automate and secure VTOL operations.
"One of the main challenges with VTOL platforms is the transition from vertical to horizontal flight and vice versa," explained Miguel Ángel de Frutos, CTO of UAV. "With our flight control solution for VTOL, we not only facilitate and automate this critical moment as much as possible but also managed to optimize the use of the battery and incorporate a series of safety and emergency procedures that allow the aircraft to always reach a safe landing zone and overcome possible errors in the engine."
Other system capabilities include software flexible enough to customize through a ground control station, and hardware that carries MIL-STD-810F and MIL-STD 461F independent certification for ruggedness.