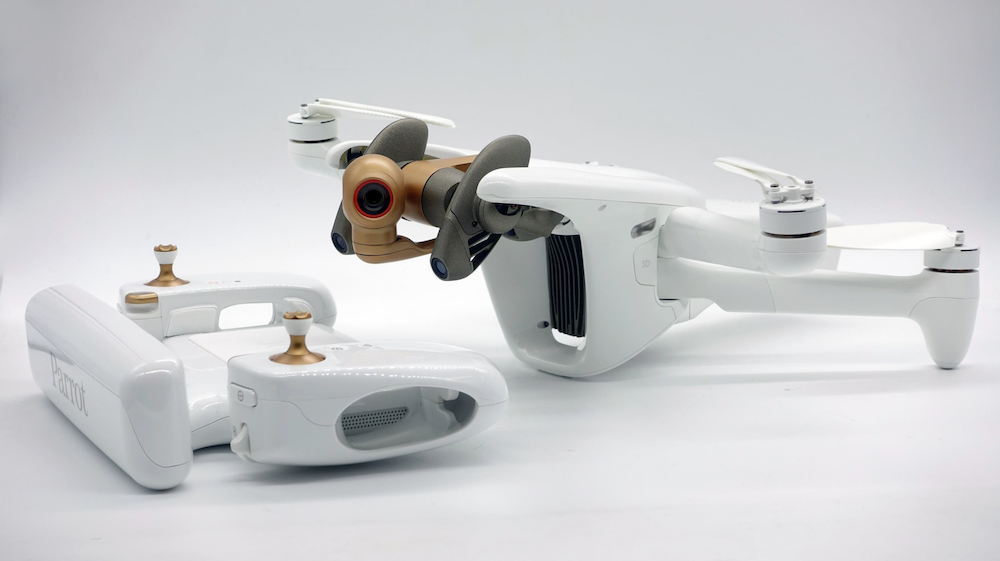 On June 30, French drone manufacturer Parrot unveiled its new ANAFI Ai. This under-900 gram vehicle's key features include 4G connectivity, a tremendous camera, object avoidance and enhanced cyber security.
4G enables long-range transmission at low-frequency bands, making it possible to pilot the vehicle even at great distances and around obstacles like buildings. Parrot CEO and founder Henri Seydoux, speaking in an online presentation, said drone operations beyond visual line of sight (BVLOS), though not yet allowed in all countries, are the wave of the future.
Pilots do not need a special subscription to operate the ANAFI Ai, but can use a smart phone or tablet with any SIM card, set into a game-style controller. The 4G link is in fact optional, so operators can still connect to the drone via a smart phone and the radio in the controller. Switching from radio to 4G is seamless, so momentary 4G failure is not a problem.
The big 48 megapixel main camera with HDR10 processing sits on a three-axis gimbal, enabling survey-grade photogrammetry, with both mechanical and electronic stabilization. The camera shoots video at 60 frames per second. Two additional cameras, one to each side of the main unit, serve the drone's unique obstacle-avoidance system, so the machine won't crash into anything while flying BVLOS.
Privacy Meets Open Sourcing
During his presentation, Seydoux emphasized the new drone's privacy features. Issues have been raised in recent years around privacy and hidden data sharing by drone makers. The U.S. government has acted against at least one of Parrot's main competitors, which it claimed was collecting sensitive information unbeknownst to its customers.
The ANAFI Ai will not automatically transmit any data to Parrot, although users will be able to opt into data-sharing for the purposes of improving ANAFI Ai performance. The company implements what it calls "privacy by design," with no obfuscated or hidden features in its software. Only mission-relevant data is processed, and no other data is collected from any Parrot device. The ANAFI Ai data link is fully encrypted so photos and videos can be securely uploaded in flight, and there is also a WISeKey Secure Element to further protect information.
Parrot's FreeFlight 7 software is open source, and there is an easy-to-use software development kit, "Air SDK," for both iOS and Android apps. This makes it easy to write custom code to run on the ANAFI Ai. A developer can write code, for example, to completely automate a bridge inspection. Air SDK enables easy access to all of the drone's systems, including all sensors, connectivity interfaces and autopilot features.
The new ANAFI Ai is expected to reach the market, at a not-yet-specified price, in the second half of 2021.