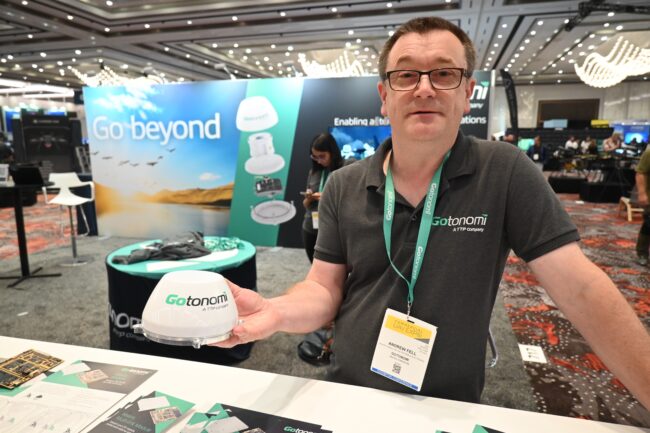 LAS VEGAS—Gotonomi is a new geostationary satellite communication system for unmanned aircraft and other vehicles, small enough to hold in the palm of a hand, that launched at the Commercial UAV Expo here last week.
It's the result of a collaboration between Cambridge, United Kingdom's TTP and Viasat and is compatible with Viasat's Velaris global connectivity network.
"We're here [at the show], we've got this new brand, we just want to get the brand name out there, get it seen, so people know we can do this stuff now," said TTP's Andrew Fell.
The company is conducting flight trials in Europe and the United States with partners, providing them the hardware and support to fly.
"We're literally building tens of units at the moment, we've got a small number of people that we're working with, but the aim into next year is to build more," Fell said, adding that the supply chain shortage for electronic parts has taken its toll.
We're still a little bit suffering from the global component shortage. It's getting better but it's still difficult," he said.
The unit is offered as an all-in-one, plug-and-play device, or it can be separated to meet size, weight and power needs for unmanned systems.
"It's all really nicely integrated…all nice and lightweight," Fell said. "Satellite terminals have not been like that until now. It's now the smallest, lightest thing you can get."
The small integrated unit holds the radio, modem and omnidirectional antenna. The unit operates in the L Band and can include a high-speed 4G cellular connection.
"With hybrid connectivity, users have the benefit of low latency, high-speed 4G communications backed by a resilient satellite connection almost anywhere on the planet—providing seamless connectivity through the intelligent routing of data," TTP said in a late August announcement.