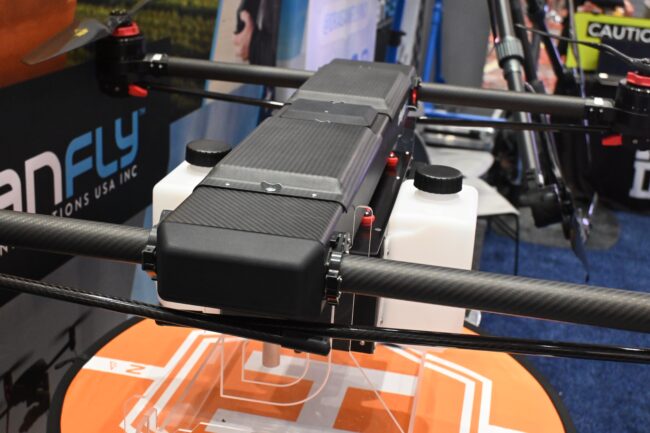 LAS VEGAS—Canada's Draganfly drone maker is highlighting the truck-like utility of its Commander 3 XL drone, showcased at the Commercial UAV Expo here last week with the Promo Drone, an LED digital display that could be used for advertising or emergency notifications.
"We're really excited about that and really excited about the reception it's getting. It's a category maker," said Draganfly President and CEO Cameron Chell told Inside Unmanned Systems.
The Commander 3 XL has been on the market for less than nine months, but Chell said "wer'e getting some great action and traction," with additions such as the Promo Drone. The Commander platform weighs only 22 pounds but can carry a payload of up to 23 pounds. "We're getting some great reception and we've got all kinds of applications that are happening with it," he said.
Hybrid Power
There is another new wrinkle to the Commander 3 XL that was highlighted at the show: hybrid gas-electric power.
"Along with one of our partners, we've developed a combustion engine, a 70cc engine that works alongside the battery power plant," he said. "And, it actually gives our Commander 3 XL drone over three hours of flight time," although the weight of the fuel does drop the payload capacity to nine pounds.
The engine, developed with fellow Canadians Pegasus Aeronautics, is liquid-cooled and fuel injected, with onboard diagnostics and "class-leading fuel efficiency," Chell said in a video introducing the system. It can fly on gasoline or heavy fuels, the company said.
Using just fuel as a payload ups the flight time to eight or nine hours and still leaves some wiggle room for an RGB camera or other lightweight sensors, Chell said.
"The nice thing about this particular drone, and the reason it's designed the way it is, it's one big battery pack, right?" he said.
With its flat-body design, it can accommodate nearly 100 payloads that can be adapted to it or are already integrated, including any payloads that fit on a DJI Matrice 600.
"The reason that we went also with the hybrid was because we had so much demand for all the different payload capacities this could handle, but [customers said] we just want to fly it more. So, whether it was military or industrial customers, they want more than 50 minutes of flight time. They, want a few hours," Chell said.
Ukraine Use
The Commander 3 XL battery-powered drone has seen action in Ukraine, using its precision delivery system and a thermally managed cargo box to ferry insulin into hard-hit areas.
"The primary use case that we were doing in the Ukraine for deliveries was insulin delivery, so it was temperature sensitive. That worked out really well," he said.
As the needs of Ukraine have shifted as the war has continued, the Commander is now mostly flying anti-mining missions for international and non-governmental organizations, Chell said, using a multitude of sensors, including multispectral, hyperspectral, ground-penetrating radar, magnetometers and more.
"They fly those missions with this, and then we process the data and provide the anomalies before the de-mining crews go in there," he said. "…So, we've had this technology for a while, but it was really developing standard operating procedures. You can't make a mistake."
Although the company is feeling customer pull for smaller drones, Chell said its strength is in larger, more powerful systems.
"We're getting a significant amount of demand for smaller drone systems to do ISR [intelligence, surveillance and reconnaissance] and such, but our sense is it's a pretty crowded space and a lot of people trying to play in that space. And so, uh, I think we'll continue to move to more to the industrial, kind of a bit more of the military-grade logistics, heavier lift type products," he said.