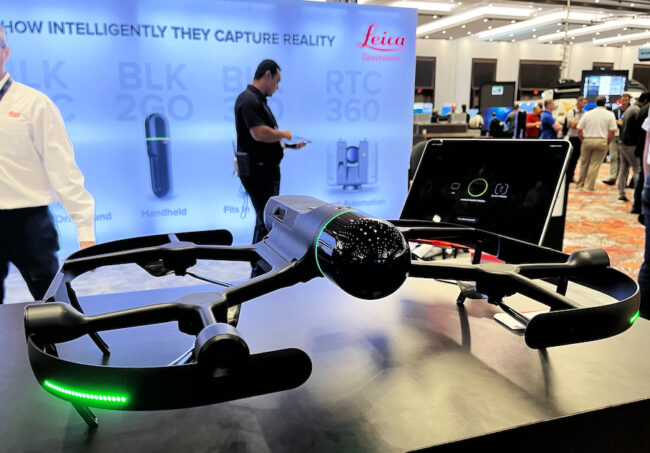 Leica Geosystems showed its fully integrated LiDAR UAV addition to its BLK product line, at the Commercial UAV Expo in Las Vegas last week.
Brian Baker, UAS sales manager of the Heerbrugg, Switzerland-based company, said: "The Leica BLK2FLY is the world's first autonomous flying laser scanner. It utilizes multiple sensors, including LiDAR, imagery, GPS and radar for data collection as well as advanced course obstacle avoidance. The LiDAR data actually is fed into the flight controller. So, the aircraft can not only detect but figure out the best path around or over an obstacle to continue collecting. You just point it at the structure that you want it to collect. And it goes and collects it on its own."
Hexagon owned Leica notes the value of the product, launched last January, to scan inaccessible areas such as rooftops and building facades. "Simply tell the BLK2FLY where to go and watch it…capture an accurate, uniform scan," the company says. The Leica software allows a user to select an area on a tablet and the BLK2FLY will create its own flight path to scan it quickly and safely. It also allows a user to use their tablet to pilot with a virtual joystick.
Frank Collazo, sales engineer, said that "A lot of drones take photogrammetry and create a point cloud. But this is true LiDAR. LiDAR point clouds are more accurate."
"The LiDAR scan head spins at 42,000 points per second. The accuracy is 1-2 cm," Collazo said. "It has GNSS, not just GPS, and as the drone is flying, it also collects panoramic images every meter. The colors from the cameras can be added onto the pixels in the point cloud," he added.
At the show, Leica also demonstrated the BLK ARC, introduced last year, an autonomous laser scanning module for robots, designed to be integrated with robotic cameras. On the show floor, the unit was mounted on a robotic dog manufactured by Boston Dynamics.