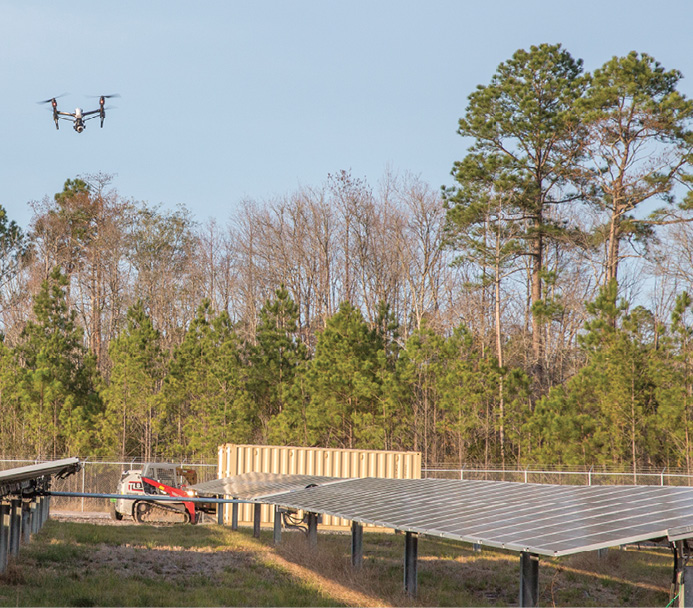 Like most things do when they are relatively young, the commercial drone industry is changing rapidly.
"We're seeing increased pressure on some of the smaller, less financed companies simply because there is so much competition," said Philip Finnegan, Teal Group director of corporate analysis. "You have some larger, well financed players coming into the market, like Intel, making acquisitions. That's shifting the dynamics of the market. What we're seeing is the beginning of consolidation."
Competition is being driven by user communities coming to grips both with the potential value of unmanned aircraft systems (UAS)—their potential to reduce costs, boost safety, save time, or all of the above—and how they really want to tap into this new set of tools. What drone firms are finding is their customers aren't so much interested in the hardware these days; they're looking for solutions that quickly provide the data they need to make better decisions. Those customers may be managing mining operations, overseeing flare stack inspections, or maintaining expensive wind turbines—and for most of these and other emerging commercial UAS applications, the still images and videos early solutions provided typically aren't enough.
This push for more sophisticated information is prompting manufacturers to not only change their offerings, but to join forces with other companies in an effort to make their products more robust. While there are companies flourishing in this competitive environment, others are struggling to stay afloat, which is why some industry leaders and analysts say we can expect to see even more consolidation of the industry in the months and years to come.
That trend is being reflected by big changes in where investment money is going, said Kay Wackwitz, CEO and founder of Drone Industry Insights, a market research and analytics company based in Hamburg, Germany. In the last year or so, most of the money has gone into mergers instead of ventures. The number of transactions decreased by almost half, but the size of those deals increased considerably—a sure sign the market is maturing.
There's no doubt the business behind the drones that many companies rely on has changed over the last few years—and that will only continue as the industry grows up.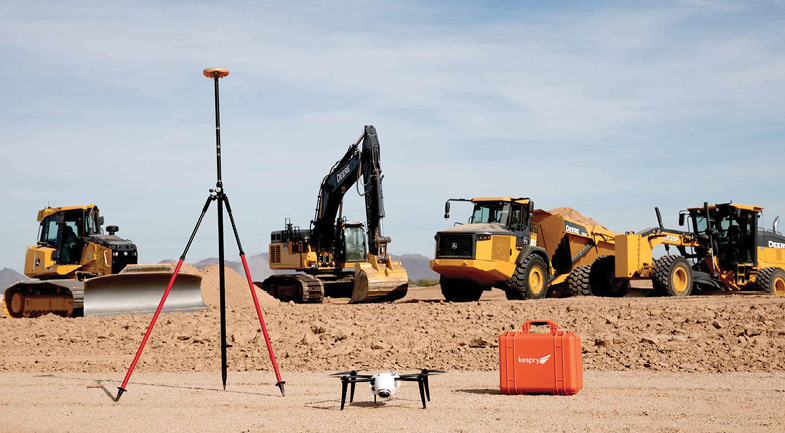 One Is Not Enough
If one fact has become clear to drone manufacturers it's this: selling one product simply is not enough, Wackwitz said. That's why so many hardware and software companies are coming together to offer customers solutions that include everything required to obtain the actionable data they're after, from flight planning to data processing.
"This is something almost no company can create from scratch, and is the major reason we're seeing an increase in partnerships and a consolidation of the market," Wackwitz said. "Everyone needs strategic partners if they're going to provide the end-to-end solution all their customers have been looking for."
It's no longer just about data capture, PrecisionHawk Executive Vice President Thomas Haun said. Today, customers want a solution that answers a specific, often complex, question, which might require intermingling different types of data sets from sensors with multiple capabilities, such as thermal imaging, LiDAR and 3-D mapping, depending on the application. For drone manufacturers to deliver what their customers want, it requires working with companies with proven solutions in areas that fall outside their expertise.
PrecisionHawk has formed a number of strategic partnerships and alliances in recent months, including one with PCI Geomatics that was announced last fall. PCI develops remote sensing and photogrammetric software and systems—technology the PrecisionHawk customer base is requesting more and more.
PrecisionHawk has worked with PCI tool sets for quite some time, Haun said, and forming the long-term partnership just made good business sense for both companies. PCI entered the UAS market about a year before the partnership was announced. Working with PrecisionHawk gets them in front of customers faster as well as gives them more exposure in the industry. For PrecisionHawk, the partnership advances their UAS capabilities and enables them to provide a technology they know their customers want.
microdrones also has been busy forming strategic partnerships in recent months. Last Spring, the German-based drone manufacturer merged with UAS service provider Avyon. Initially, microdrones partnered with Avyon to handle the payload and post processing side of the business, Avyon founder and now microdrones president Vivien Heriard Dubreuil said. That merger also brought microdrones operations to North America. The company then formed an alliance with Delair-Tech and Trimble Navigation in the fall, expanding their North American footprint even more.
As part of the deal, Trimble Navigation sold its UAV manufacturing entity Gatewing to Delair-Tech and will now focus its energies on developing software. The transition of the hardware UAS business from Trimble to Delair-Tech and microdrones is still on going, said Jacek Pietruczanis, director of marketing for the GNSS and Imaging portfolio at Trimble, and should be finalized within the next months. That said, the move has already allowed Trimble to refocus development efforts to UAS data processing, leveraging software solutions such as INPHO UAS Master, eCognition and the Trimble Business Center Aerial Photogrammetry Module.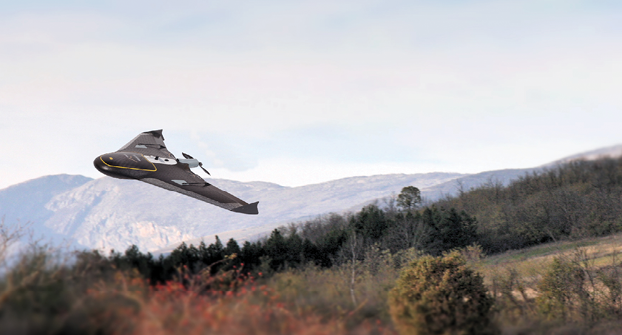 Initially, Trimble's UAS partnerships were focused on hardware, Pietruczanis said, but that has shifted to relationships that allow the company to deliver end-to-end solutions quickly, and at a low cost.
"We're not selling drones anymore," Dubreuil said. "We're selling solutions. We're selling a tool for a specific application. So it's mission software, it's sensors, it's an aircraft and it's a processing solution. That's the main focus and the main change that we made last year in microdrones."
Mergers and Acquisitions
When the commercial drone industry first started taking off, many different players entered the market, but not all of them came in with well thought out business use cases, said Alex Niehenke, an investor at Scale Venture Partners, a firm that funded DroneDeploy's Series B last summer. Now, a few years later, some of those startups have completely closed their doors or have folded into other more established, and more successful, companies.
And that list of established companies includes some pretty big names. Major, well-known players are starting to take notice of the UAS industry and are finding ways to enter the market. Last year, for example, Intel acquired German drone company Ascending Technologies. The acquisition came after the companies partnered to combine Ascending Technologies' sense-and-avoid algorithms with Intel RealSense's real-time depth-sensing capability. Earlier this year, AirMap, an airspace management platform for drones, received Series B funding from Microsoft Ventures and Qualcomm Ventures, among others.
"This year and certainly the year after you're going to see a deepening of industrial investment or institutional investment into the drone software space," said Scott Lumish, vice president of business development at DroneDeploy. "I expect we will start to see other drone hardware vendors, maybe Intel- or Qualcomm-based, make a play for the market that DJI has the majority share in. Drones become mainstream when companies like Microsoft invest and big players like Intel and Qualcomm get more involved."
Beyond the Drone Industry
Drone companies aren't just looking within the industry for partnerships; they're also joining forces with leaders in the industries they serve.
Kespry, for example, recently entered into an exclusive global strategic alliance with John Deere, Kespry Vice President of Marketing David Shearer said. John Deere Construction & Forestry dealers will provide the Kespry Aerial Intelligence System to their customers on job sites worldwide. John Deere chose Kespry based on its interoperability with John Deere WorkSight technologies. Through the agreement, Kespry will work with John Deere dealers to train and certify them on the Kespry 2's platform.
Many of John Deere's construction industry customers have an interest in implementing UAS for the business benefits they provide, but don't want to spend time learning how to be drone pilots, Shearer said. Like many professionals looking to add UAS to their workflow, they need a seamless end-to-end solution.
"John Deere recognized the value but didn't really want to get into the hardware development business of drones. They decided the best way forward was to find a drone company to build an alliance with," Shearer said. "The construction industry wants tools that can help them be more effective and productive, without having to spend time and energy learning a technology that takes them away from doing their job."
These types of alliances ultimately benefit the end user. Drone manufacturers can't be experts in everything, so working with industry leaders in the markets they serve gives them more credibility, while also enabling them to offer a better solution.
"It doesn't matter if you're a billion dollar company or a brand new company, you can't cover the entire space," Lumish said. "There's too much to know and too much to do to allow for a very specific knowledge base to translate into overall usefulness."
This trend will continue as systems become more sophisticated and customer needs more complex, Haun said. To help better serve precision ag clients, PrecisionHawk recently partnered with A&L Canada, the largest independent agronomy lab in Canada. Through the partnership, farmers will not only have the ability to view and analyze high resolution aerial data collected by a UAS, they'll be able to order and view ground data from A&L, including soil and plant tissue analysis, directly within the PrecisionHawk software.
"As the ag vertical gets more sophisticated in the solutions they need and the questions they want answered, we see the need to bring together what was disparate data sets," Haun said. "We are moving from very simple applications to what tend to be very tailored, specific applications. Because they are so tailored, often a given company doesn't have the multiple areas of expertise needed in-house, so they look to leverage that expertise from a partner. That's driven by customer demand more than anything else."
CNH Industrial, a leader in agricultural equipment and other capital goods, recently selected DroneDeploy's cloud-based platform as the software for its all-in-one drone and entered into a North American distribution agreement, Lumish said. The bundle includes a one-year Standard or Premium DroneDeploy software subscription, the DJI Phantom 4 Pro drone with RGB camera, and other drone accessories.
Partnering with companies outside the drone industry means companies like DroneDeploy don't have to try to specialize in one area, Lumish said. They can offer their product to a variety of markets, leveraging the relationships to optimize their offering for each one.
"We find ag customers, growers and farmers, are pushing our software and capabilities and asking us to do things we had not previously thought of doing. Ag is rewarding from a revenue perspective, but equally, if not more interesting, it's rewarding from the growth the product is seeing as a result of these sophisticated use cases," Lumish said. "CNH has hundreds, if not above a thousand, well-qualified dealers in North America. It's a well-served and efficient way to get to growers that fits the way they normally purchase. CNH was willing and excited to empower these dealers with training and special packaging options for a fully functional, full featured product offering to be sold from these dealers directly to their end customers."
A Focus on Service
While professionals in many industries are eager to implement drones into their operations, most don't want take the job on themselves.
That's one of the reasons many firms are beginning to focus on offering services rather than just selling clients a product or suite of products, Finnegan said. It also helps alleviate some of the competition among manufacturers. A service market, by nature, is much more fragmented and decentralized, offering room for more players.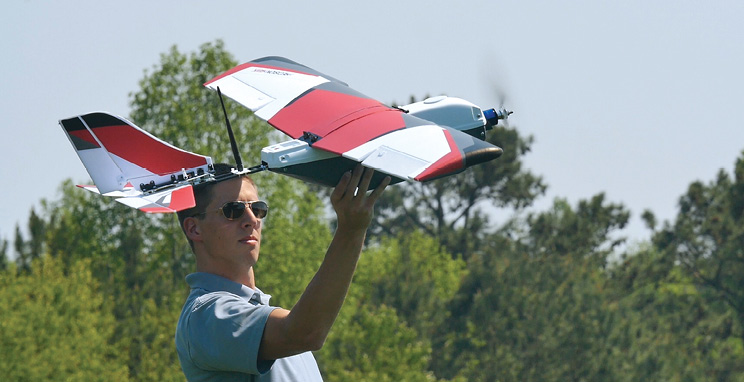 Measure is one of the largest drone as a service providers, working with existing hardware and software solutions to help their customers better integrate UAS into their operations—legally, safely and efficiently, Chief Operating Officer Jesse Stepler said.
Measure has taken this a step further and plans to roll out a franchising initiative this year, Stepler said. The territory-based franchises will enable the company to provide services for customers with nationwide requirements.
"The franchise model lends itself well to our industry," Stepler said. "Customers are concerned with safety and legality. Franchising is about standardization and doing things in a very specific way. When you talk to risk averse Fortune 500 executives, they like this idea rather than the idea of a vendor using an independent local operator. They know this is part of a standardized system. Whoever shows up will have the same training, same standards, same insurance and same data products as if it were a direct Measure flight team providing the service."
Right now, Measure is focused on recruiting and launching qualified franchisees, Stepler said, and expects to introduce their first few later this year.
While providing drone services certainly is becoming more popular, Niehenke said there are still some situations where it makes sense for companies to own and operate their own UAS.
"If I'm in the construction industry, I might be working on a building in Southern California and need weekly images of the evolution of that building. I have a technology capable foreman so I do the work myself," he said. "But I'm building another building in Portland that's a little more predictable. I have a foreman who is a good construction guy but not good with technology. In that case, I'm going to send a service provider by once a month because I don't need that weekly data. So it really depends on the organization. There are use cases evolving in both directions."
From Hobby to Commercial
Today, China-based DJI dominates the consumer drone market, Finnegan said, and is leveraging that success to capture its share of the commercial market. DJI, and other hobby-focused companies, are developing more sophisticated, more expensive systems that can be used in a variety of commercial applications. They realize that, at some point, the consumer market will be commoditized. Prices will start to go down and growth will stagnate.
"The commercial market is going to grow much more quickly than the consumer market and will be larger," he said. "They're investing some of the money they've gotten from the consumer market to take a share of the commercial market. That offers the potential to hedge their bets to get into a new growth area."
The Future
The commercial drone industry is in a strong growth phase, with new players continually entering the marketing, said Jean-Thomas Celette, senseFly's head of marketing and sales. But at the same time, there's a lot of restructuring with companies merging, partnering and even shutting their doors, a trend Celette and other industry insiders don't expect to change any time soon.
"We will also continue to see partnerships, M&A (mergers and acquisitions) activity and overall consolidation in the industry," Celette said. "It is likely that this consolidation will also help drive acceptance and overall market penetration of UAVs, as there will be fewer small players with unreliable, imprecise or unsafe products."
The FAA's Part 107 regulations released last year gave more clarity to the market and also lowered the barrier to entry for new drone manufacturers and providers, Pietruczanis said. This, along with companies like DJI bringing consumer solutions to the commercial market, has put pressure on prices and helped drive them down. As a result, selling prices for drones will decline in the next few years, he said, although the total revenue will grow significantly.
To be successful, companies will need to adapt to the changes, Dubreuil said, and provide customers with the end-to-end solutions that will truly change the way they run their businesses.
"At the beginning, everyone wanted to buy a drone and play with it. They don't want to play anymore," Dubreuil said. "They want a solution that reduces costs or increases reliability or has better results so they can make better decisions. The players are changing. You can't be the best in inspection or cinema and provide the same system for mapping or package delivery."
And of course technology will continue to evolve, with a bigger focus on software solutions that provide clients with actionable data that helps them save time and money.
"The drone industry is a big melting pot of technology," Wackwitz said. "Every time there's a breakthrough someone will adopt that breakthrough, even if it's in a different field. The speed of drone technology development is so high because there's so much input from so many industries. You see the disruptive potential and we're just on the surface. We're two minutes into the game of the whole drone market."