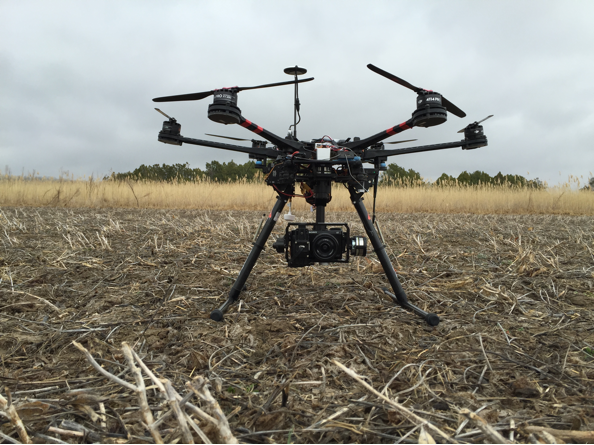 Typically, when farmers test for pests or emerging diseases in their crops, they're relying on luck and educated guesses. While this method might work, it certainly isn't time effective—especially when you're talking about farms with several thousands of acres.
If farmers could use remote sensing to detect potential problems, it could save them a lot of time, money and frustration—and save them from dealing with an outbreak that went undetected.
Researchers at Kansas State University and in Australia are looking for ways to quickly and efficiently detect infestation and disease early, and the use of unmanned aerial systems is one option they're exploring through the "Optimizing Surveillance Protocols Using Unmanned Aerial Systems" project. The Kansas State University Manhattan and Salina campuses have teamed up with Australia's Queensland University of Technology, the Victorian Department of Environment and Primary Industries, and the Queensland Department of Agriculture, Fisheries and Forestry for this three-year, $1.74 million project.
Australia and Kansas share similar agricultural systems and concerns, said Brian McCornack, associate professor of entomology and U.S. principal investigator for the project, and the institutions want to learn more about how UASs can help detect invasive insects and emerging diseases, and how to optimize the information they collect.
The Project
The team at Kansas State will fly UASs over commercial wheat fields during the growing season to determine how accurately this technology can detect two evasive species already present in Kansas, the Russian wheat aphid and wheat stripe rust. These species have not yet found their way to crops in Australia, and early detection is key to keeping it that way.
"You want to respond appropriately to make sure that particular evasive doesn't spread," McCornack said. "Response time to that first detection is really important. If the only time you see it is when the field is infested and the pests are moving on to other fields, you might miss that window to manage it."
Researchers also will have to determine how to use the information and images UASs collect to come up with the best course of action to treat any problems discovered. For instance, the data may show pests are isolated to one area of the crop, meaning the farmer will be able to target insecticide application in one area rather than spraying the entire field.
The team will use two UASs during the project—a fixed-wing to give them more of a bird's eye view of the wheat fields and a multi-rotor that will give them the ability to capture higher-resolution images of smaller sections. The university recently received a Certificate of Authorization to fly anywhere in Kansas as long as they follow rules established by the FAA. Researchers in Australia will also conduct flights to collect supporting data, though McCornack said they face similar regulatory "growing pains" as we do in the U.S.
Another key part of this project is using UASs to retrieve samples for testing, McCornack said. You can't rely on images alone to determine how to treat problem areas; you need a physical sample to test. He'd like to use UASs to remotely retrieve those samples, making the process easier and less time consuming for farmers.
The Challenges
The data these UASs collect won't do any good if farmers don't know how to access it. Researchers must find a way to make that data easily accessible to the end user, McCornack said.
"That's a lot of data we're collecting," McCornack said. "The sooner we can get that information to the end user so they can make a treatment decision or perform more sampling, the better off we're going to be. Right now that's a limitation, but it won't be for long."
Battery life is another issue—right now the multi-rotor's battery only lasts for about 25 minutes—but that's another challenge McCornack doesn't envision having for long as the technology continues to evolve.
Broader Applications
The key to detecting infestations and disease early is looking at how they change the architecture of the plant, McCornack said. Infected plants might show up differently on certain types of sensors, or might reflect infrared energy differently—whether you're talking about wheat, corn or any other crop.
The researchers are interested in broader applications, and using UASs to detect invasive species and diseases in a variety of crops, enabling an earlier response and reducing the impact these insects have on their production.
If this technology had been available 10 or 15 years ago, farmers might have known more about the invasive soybean aphid—and been able to stop it from spreading before it changed how they manage 75 million acres of soybean in the North Central U.S., he said. Through this research and by working closely with farmers and scouts, he hopes they can reduce the chances of new pests establishing themselves in crops like this one did, and to know how to handle them before they get out of control if they do.
"They (pests and diseases) happen in almost every commodity. The sooner we understand it and can respond to it, the lesser impact it will have on that food production system in the long run," McCornack said. "I'm not saying UASs will solve the problem, but they're a valuable tool in helping us understand what the problem is."