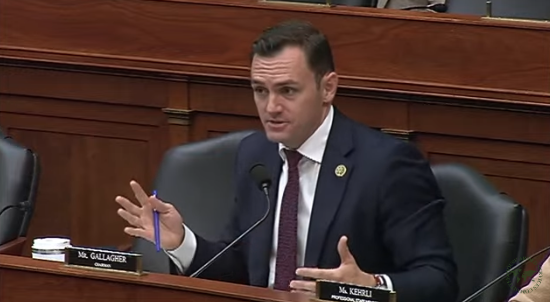 WASHINGTON—Members of Congress and defense industry analysts on Oct. 19 expressed concerns about the Department of Defense's still largely undefined Replicator program, recently announced as a way to rapidly build and field thousands of low-cost, dispensable unmanned systems to help counter China and ward off an invasion of Taiwan.
The House Armed Services Committee's Subcommittee on Cyber, Information Technologies and Innovation held a hearing to solicit outside advice on Replicator, announced by Deputy Secretary of Defense Kathleen Hicks in late August.
At the time, she said Replicator will seek to rapidly develop thousands of attritable, autonomous systems in all domains and deploy them just as rapidly, in 18 to 24 months. Later, she said the program can be handled with existing funding and authorities and coined a new acronym for the systems, "all-domain attritable autonomy," or ADA2.
Subcommittee Chairman Rep. John Gallagher (R-Wisconsin) said Oct. 19 time has gone by—already 10 percent of the time window has passed—and "we are still left without any details."
Gallagher said he agrees on the nature of the threat and wants the program to work, but "I worry about our ability to deliver on the timeline."
Ranking member Rep. Ro Khanna (D-California) had similar questions. "What are our goals, and how are we going to achieve them, and by when?" he asked.
Seeking to answer that question, and others, were Bryan Clark, a senior fellow at the Hudson Institute; Bill Greenwalt, a nonresident senior fellow at the American Enterprise Institute; and Paul Scharre, executive vice president and director of studies at the Center for New American Security.
Clark said trying to match China "mass for mass is probably not the right solution for the U.S.," which should instead focus on allowing warfighters to develop new concepts of operation. The first stage of the program, at least, "should be aimed at enabling operational innovation," he said.
The biggest challenge for the DOD, he said, is to enable all the disparate ADA2 systems to communicate with each other and with the warfighter. "The government's going to have to manage that," he said. "This is not an area the DOD has been particularly good at," as it has trouble integrating between domains and services.
Without innovation and communication, he said the U.S. could end up with a program to "make our force bigger but not make it any more difficult for the Chinese to defeat."
Greenwalt said the concept of thousands of cheap, autonomous sensors is "probably a pretty good idea" as long as it doesn't crowd out funding for other systems. "Is any of this realistically achievable? I think it could be, but the odds at the moment are pretty much stacked against success."
The Pentagon was able to move rapidly to acquire systems in the 1940s and 1950s, he said, but since then has developed the current slow, deliberative process which is out of step with the speed of industry. Replicator must be taken out of the existing acquisition process, he said, "or it will fail."
The DOD has established rapid acquisition techniques such as Other Transaction Authority, which have helped speed things up, he said. "I don't think it's hopeless. I think it can be successful. This model is needed, and I think the stakes are really high to implement it."
Scharre said the invasion of Ukraine and ongoing war there has shown the "scale of violence that is possible" with thousands of small, cheap systems. Ukraine is losing on the order of 10,000 drones a month, a level of loss U.S. forces could not currently sustain, yet Ukraine is able to replace the systems with more cheap commercial drones.
"This is a way of fighting with mass that the U.S. military does not have in its current inventory," he said.
Even speeding up the development and deployment of systems won't get them to the field before 2025. "Replicator is an important step, but it's one the department should have taken a decade ago," he said.
'Tools They Can Use'
Gallagher said he worries Replicator will eat money from other programs, particularly from long-range fires, a capability he said will be critical to deter an invasion of Taiwan. If he could only fund one thing, "I would focus on long-range, precision fires," he said.
Greenwalt said it's possible to stand up Replicator without additional funding. "This committee has given the DOD a way to achieve those objectives if they want to use them," he said, citing rapid reprogramming authority put in place after 9/11.
"There are tools they can use, but if they use the traditional ways of doing business at the DOD, it will take decades to achieve this authority."
How should the DOD demonstrate to Congress and the world—including China—that Replicator is a viable program? "A year from now, what do we need to see?" Khanna asked.
Greenwalt and Scharre said there will need to be systems in the hands of warfighters with a tight feedback loop to rapidly make operational improvements. Clark agreed there needs to be a rapid pace of tempo in prototyping to assess and improve the systems.
If Congress doesn't see that in a year, "then this is kind of an indication this is going the way that other programs have," Clark said.