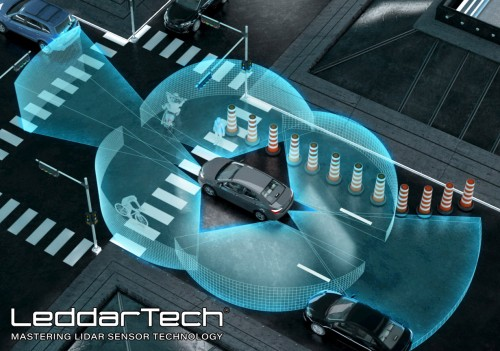 LeddarTech and Integrated Device Technology (IDT) are working together to deliver low-cost, high-performance LiDAR to the automotive industry.
Through a recently formed partnership, the companies will jointly develop and supply LeddarCore LCA2 integrated circuits, according to a news release. The LeddarCore is a receiver IC, a key element in automotive LiDAR systems. This newest generation of LeddarCore IC enables solid-state implementations of high-performance, low-cost automotive LiDARs.
The patented Leddar signal acquisition and advanced processing algorithms built into the LCA2 generate a clearer signal and lower detection thresholds, according to the release. This makes it possible to achieve higher ranges and sensitivity at a lower cost.
Solid-state LiDARs based on LeddarCore ICs can be customized to fit specific applications, including advanced driving assistance applications and fully autonomous driving solutions. These small systems can be integrated into standard automotive components such as front grill, bumpers, head lights and tail lights.
"LeddarTech has established itself in solid-state LiDAR technology and is rapidly gaining tremendous momentum within automotive Tier 1s and OEMs," said Frantz Saintellemy, vice president of IDT's Automotive and Industrial Division, according to the release. "With the development of the LeddarCore ICs, LeddarTech is positioning itself as the most credible player to enable the rapid integration of low-cost, high-performance LiDARs into mass-market vehicles in the shortest possible time frame. The team at IDT looks forward to utilizing our automotive expertise in the development of the LeddarCore ICs."
Engineering samples are expected in be available in early 2018, with volume availability planned for the end of 2018.