Linn, Wisconsin, is home to two thousand-plus people. Yet over time, the Town of Linn Police Department has come to punch well above its weight in expanding its public safety drone program. Its deployments also demonstrate how sUAS can be employed efficiently and cost-effectively even for hyperlocal jurisdictions.
Working with Adorama Business Solutions, the Linn PD first deployed a DJI Inspire I. The fleet now includes an Autel Robotics EVO II Dual 640 quadcopter for multiple temperature measurement modes, as well as an underwater Fifish V6 to offer omnidirectional photography for water-related activities such as dredging/waterway management projects and water supply line inspections.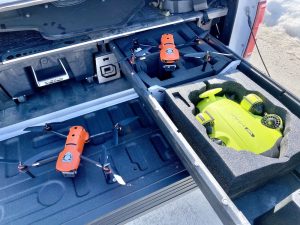 "The amount of time and resources we save by utilizing the advanced search capabilities of drones has saved us thousands of dollars in costs," said James Bushey, chief of the department, in a release. "A majority of our large-scale work utilizes drones, and we have seen tremendous success with the program."
The use of drones has saved lives in two search cases over the past 18 months:
When an Alzheimer's patient wandered away from her home under late night/early morning/extreme cold conditions, drone use found her within 15 minutes after the department was notified.
When a suicidal subject overdosed on prescription medications and wandered into the woods, hours of searching proved fruitless—until drones assisted in locating the person in time to save his life.
Other units have seen the value of drone use. When K9 handlers assisted Walworth County in looking for a subject, the overview afforded in rural search settings led the department to set up an auto aid to provide overwatch and indicate where a proverbial "persons of interest" might be located. Drone inspection has detected where thermal loss is occurring in HVAC building systems and how best to repave highways.
"When it comes to allocating budget dollars to upgrade the equipment when needed, our community and town board both see the extreme value in this equipment," Chief Bushey continued, "as much of our drone program to date has been funded by donations."
Training efforts have been expanded to instruct officers on how to search in both rural and confined spaces. Personnel also take refresher courses on topics such as cold weather and night flight operations.
"There is no question," Chief Bushey predicted, "that drones will stay at almost the center of how our department does its job."
Photos courtesy of Town of Linn Police Department.