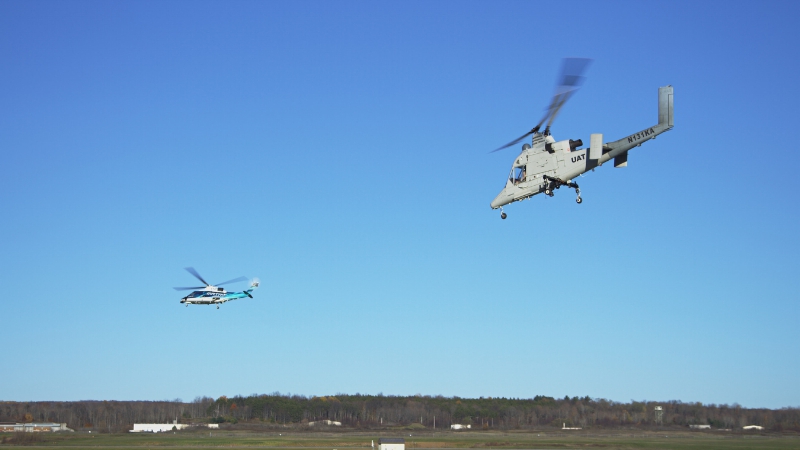 For the first time, Lockheed Martin demonstrated how its suite of small unmanned aerial systems and optionally-piloted helicopters can work together to identify and extinguish fires as well as locate and rescue missing people.
During the demonstration, the optionally piloted Kaman K-MAX and the Sikorsky Autonomy Research Aircraft (SARA), a modified S-76 commercial helicopter, engaged in collaborative firefighting and search-and-rescue operations with the Indago quadrotor and the Desert Hawk 3.1 fixed wing unmanned aircraft system, according to a news release. The demonstration was held at the Griffiss International Airport in Rome, New York.
For the firefighting portion, the Indago identified hot spots and sent that information back to an operator, who directed the K-MAX to retrieve water from a nearby pond and then drop it on the fire to put it out.
The Desert Hawk and SARA identified and rescued the missing person, with the Desert Hawk pinpointing the person's location and SARA conducting the search and directing the rescue. SARA features Sikorsky MATRIX technology, which was also integrated on the K-MAX so the two systems could communicate during the demonstration. Using information provided by K-MAX, SARA autonomously scanned the area and found a safe place to land.
"When lives are at risk, advanced human-machine teams can complete dangerous missions without putting others in harm's way," said Dan Spoor, vice president, unmanned systems for Lockheed Martin, according to the release. "The advances that Lockheed Martin is pioneering in autonomous and unmanned technologies will lead to improved safety and efficiency for humanitarian aid, first response and other civil, commercial and military operations in the air, on land and undersea."