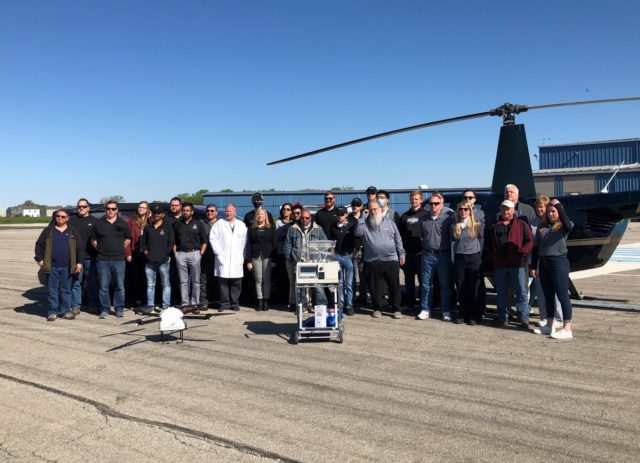 A combination of manned and unmanned aircraft recently transported 3D printed kidneys and blood units from Ohio State University in Columbus to a local hospital in Marysville.
Airspace Link supported the mission, working with logistics management software provider VyrtX and UAS provider Workhorse Group, according to a news release. The demo is described as the first autonomous, multi-modal organ transport.
JobsOhio and DriveOhio enabled the demonstration, which included resources from eight companies such as The Ohio State University's Airport and Center for Automotive Research, Lifeline of Ohio, Workhorse Group, Advanced Mobility Collective (AMC) and Transplant Coordinators of America (TCOA).
"Our goal was to show the world that there's a more advanced and efficient way to move life-saving medical treatments, including organs, which requires the most complex logistical coordination between doctors, hospitals, organ recovery organizations, air and ground transportation providers, from point A to point B," Airspace Link VP of Marketing and Business Development Lisa Peterson said, according to the release. "Several advanced air and ground mobility partners came together in Ohio to showcase a multi-modal logistics supply chain to move this 3D printed organ and additional tissues, vessels and blood."
Airspace Link's AirHub™ solution helped the Workhorse Group obtain a Low Altitude Authorization and Notification Capability approval from the FAA for the transport of medical supplies across airport grounds using their Horsefly small UAS. This approval required further justification with the FAA because the flight path was around the outside of the runway and taxi areas of the airport.
"This demo was the first mission of its kind to move medical cargo, across a 35-mile geography, using a combination of small and large air and ground autonomous systems from a dense area — Columbus, Ohio — to an open, rural environment—Marysville, Ohio," Peterson said, according to the release. "As advanced as our medical technologies and capabilities are for saving lives, the health care community can often be faced with challenges in treating patients due to inefficient and high-cost transportation options. By introducing these new modes of transport, we can provide better options to the heath care community, so they can treat their patients timelier, and in the case of organ transport, every ten minutes of time saved can mean the difference in the years of life for that organ."