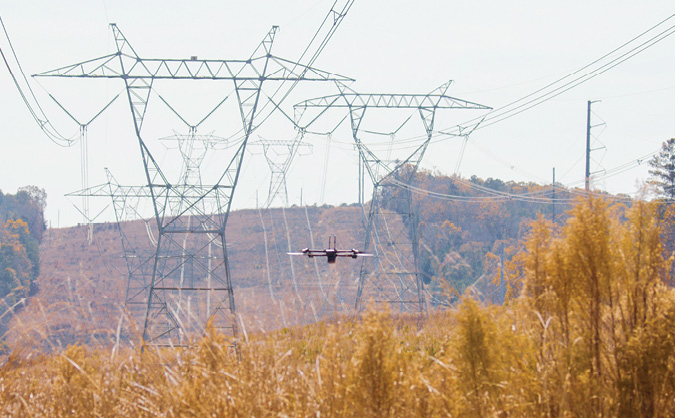 New waivers for Dominion Energy, under the FAA's BEYOND program, allow the utility to conduct shielded operations with Skydio drones in a box system.
As part of its work with the FAA's BEYOND program, Virginia-based Dominion Energy, one of the 10 largest utilities in the United States, has taken a new step into beyond visual line of sight flying—drones in a box, as well as shielded flights.
The utility, which has partnered with the Mid-Atlantic Aviation Partnership (MAAP) and drone maker Skydio, received a new waiver from the FAA and will be rolling out Skydio's Dock system at dozens of its power generation sites across five states.
"In February, we got approved for a drone in the box operation," said Nathaniel Robie, manager of Dominion's Unmanned Systems Group. "So, we can have a drone in the box that lives on site and we can now completely remotely operate it from a central location…we were able to get 40 different power generation facilities that are located across five states. Having the capability to be essentially located in one state but operated in another was a new territory, and certainly something that we're very proud of."
Under its previous waiver, Dominion didn't have to have a visual observer for its drones but did have to have an operator on site. The new amended waiver "takes that away," Robie said. Another new type of waiver granted lets Dominion operate the drones in what is called a shielded way, meaning within 50 feet of a structure.
Jenn Player, Skydio's senior director of regulatory affairs, said the Dock concept is new for Skydio, which just announced it in December and is continually refining the product as it gets out to the field and the company launches to more industries.
The plan is to operate and coordinate the Dock systems from a facility at Richmond International Airport, controlling sites in Virginia, West Virginia, Connecticut, North Carolina and South Carolina, with each site having one drone in a box. Robie estimated it will take about a year to get everything up and running. Dominion is required to have pre-planned routes for the drones and is working on those now.
Once the system is in place, "you'll see the same efficiencies that a drone brings to the table as far as increasing safety, not having to erect scaffolding or rappel [down a wall]. But what this does now is allow more frequent inspections. We can certainly gather a lot more data and launch those flights more frequently," Robie said. The drone in a box system aids with response time as well, "where we don't have to roll out a pilot to those facilities, we can just simply launch from the drone in the box."
The Skydio X2 drones will require maintenance, and Robie said there will be a schedule for how many flight hours can occur before they need a checkup. "I don't foresee us changing too much how we do business once we have a larger, longer loiter time drone. I just see it as another tool in the arsenal that we can utilize," he said.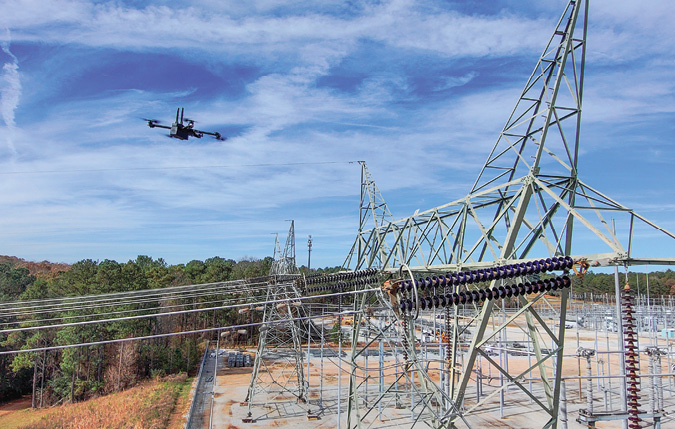 BEYOND
The original Dominion/Skydio BVLOS waiver, granted last year, was more limiting, said Tombo Jones, the director of MAAP, based at Virginia Tech, one of the FAA-designated UAS test sites and a participant in the BEYOND program.
"As a test site, we have the responsibility of helping the FAA with safe integration into the National Aerospace System," he told Inside Unmanned Systems. "That's what our transactional agreement says. And then as a BEYOND lead participant, we're supposed to help the FAA with trying to answer solutions on beyond visual line of site operations, working on different use cases," including with Dominion.
Jones, Robie and Player also all served on the FAA's BVLOS Aviation Rulemaking Committee (ARC), which issued a lengthy set of recommendations last year that is expected to form the basis for the FAA's eventual BVLOS rule, "and so we are very familiar with some of the outcomes there and how we arrived at those," Jones said. "And one of the recommendations out of the Aviation Rulemaking Committee was that the FAA should consider granting permissions for BVLOS operations under what we call shielded, a concept that's been around for a while."
The ARC recommended that if a drone is operating within 100 feet of a structure—say, while conducting an inspection of a power plant—it would essentially have the right of way in that airspace over piloted aircraft, which wouldn't be flying that close anyway. MAAP worked with Dominion to identify power generation facilities where drones could fly under the shielding concept, "and the reason we partnered with Skydio is…one of the great capabilities of their drone is that an operator can fly really close to an object."
That waiver was granted in October 2022, which allowed Dominion to fly Skydio drones close to its facilities, albeit at 50 feet rather than 100, but there was a catch—the operator still had to be able to see a two-mile "view shed" to detect any other aircraft. Jones said the team was "disappointed" with the result but redoubled their efforts to show that shielded operations are safe.
Earlier this year, a new waiver lifted that restriction and another added the drone in a box capability. Player said the previous restriction meant an operator could watch the skies while the drone did its inspection work autonomously, which reduced the need for both an operator and an observer, but "the drone in a box takes that to the next level where there are no crew onsite, and the drone could be operated from a remote location that might be across the state or across the country even. Again, the difference there is no crew onsite at all."
Robie said Skydio's anti-collision technology is a key feature of the project, especially for shielded operation.
"We can confidently say and show that we're not going to collide with any obstacles because of those sensors that are on board. That was a huge benefit for us because now we can tap into some of that shielding, that the industry calls it.…So, tap into that shielding type of operation where we don't need some of the other additional technologies that you may see out there, like ground-based radar, or even onboard detect and avoid."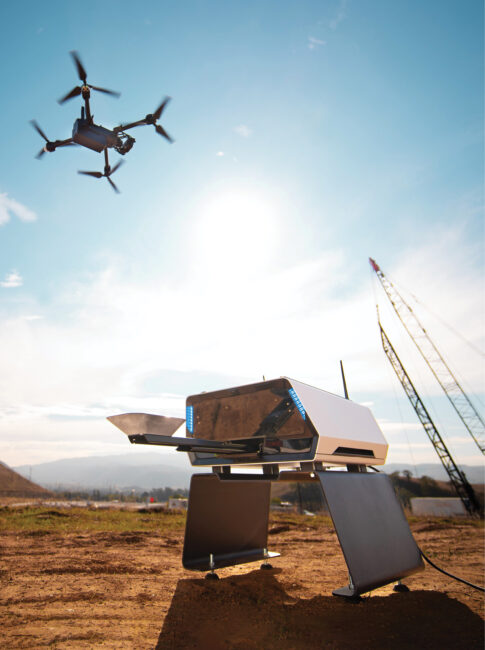 SKYDIO
Since it first burst onto the market in 2018, Skydio's products have touted their ease of use, and Player said that is still the case, as the company's onboard autonomy and computer vision system powers its reliable collision avoidance ability. Skydio Visual Positioning System builds on this for extremely accurate Dock-based missions.
"And that's what really allows you to operate remotely in a complex environment in a safe way," she said. "So, the operator is free to focus on the mission and focus on the safety of the mission and not necessarily be entirely focused on controlling the drone in that complex environment."
The system's mission planning system, which Dominion is using to plan the flights, can be operated from a web browser and use overhead views or manual flight controls to plan them out. Operators can also take manual control of a drone if needed.
The polycarbonate and aluminum Dock is also relatively small; it occupies four square feet and weighs 62 pounds for the indoor version (for the S2+ drone) and 73 pounds for the outdoor version (for the X2 drone), which is weatherized and keeps the drone inside at a regulated temperature, with a heated roof and door to ward off snow. The sizes are smaller than most of the docks offered by competitors, the company notes.
"You can roll one through a doorway," Player said. "It's a lot different form factor than some other solutions."
The system can conduct its own electronic preflight checks of the drone, one of the requirements of the waiver.
Skydio is attempting to "unlock" the potential of low-risk, high-value BVLOS operations. Player said this means "small drones operating from docks in these locations, flown in this way, with shielding. We also use ADS-B In for cooperative detection in this approval. It is different from long linear inspection, where you may be flying a hundred miles away, but it's still BVLOS, and it's still a remote operation. There are a lot of use cases where this brings value today."
Other companies that will use the Dock system include the Southern Company utility, the Japanese Obayashi Corp. construction company, Caltrans and others.
"We hope that through the BEYOND program and through Dominion's example, and through the other companies that we're working with to get similar waivers—recently we got one with the New York Power Authority and there's more on the way—that we can unlock this kind of really useful operation and scale it up," Player said.
DOMINION PLANS
As was reported in the February-March issue of Inside Unmanned Systems, many utility companies have hybrid unmanned aircraft service models, where they do some work in-house and contract out other jobs. Dominion has that system as well.
"We have a hybrid model of vendor services as well as internal pilots," Robie said. "Within the internal pilots, they're split between full-time operators, that are through the aviation department—and that's what I fall under, is the aviation department—and then we have drone qualified employees, engineers, field surveyors, those types, that carry the Part 107 certificate, we call them drone-qualified employees. That's how it is set up right now. We have roughly, and this is growing, but in round numbers 80 pilots scattered throughout our footprint. Those are anywhere between outdoor certified pilots or the folks that specialize in our confined space inside inspections."
Dominion currently flies a variety of drones, including a Wingtra for longer-range flights, Elios from Flyability for internal confined spaces, Freefly Alta X, Parrat Anafi USA, and, of course, the Skydios. Robie said Dominion plans to expand its drone fleet and concept of operations.
"Where we want to go next is to include our solar operations as well," to cover up to 60 different solar generation sites, Robie said. Dominion's waiver allows it to transit to a piece of infrastructure, flying at least 50 feet above ground level. Once at the site, they could fly the drone the full height of the infrastructure for inspection, although they would still need to stay within 50 feet of it.
Eventually, in the next few years, Robie would like to add larger drones to the mix to carry out more complicated missions.
That would be a 55-pound or heavier drone with a longer loiter time, "something that can fly in a little bit heavier winds than we can right now," and which could carry larger and more capable payloads. "Rather than focusing on one piece of infrastructure, say just a transmission line inspection, in one flight, we could cover transmission lines, distribution, a power generation facility, solar, so something a lot larger. It is where we're going to in the future. And still that would be a centrally located, piloted drone from our hangar."
MAAP serves as the interface between Dominion and the FAA, but Robie said he can also call on industry colleagues who also have extensive drone programs.
"That's actually something that I've grown to love in the utility space is that we are not necessarily competitors. It's very easy to pick up the phone and talk to one of my counterparts and openly discuss things that are going well, as well as lessons learned. And we do that quite frequently." He also talks with members of a UAS working group sponsored by the Edison Electric Institute, open to anyone in the utility industry who works with drones. "It's a good opportunity there just to get the larger audience as well and really share and get the lessons learned."