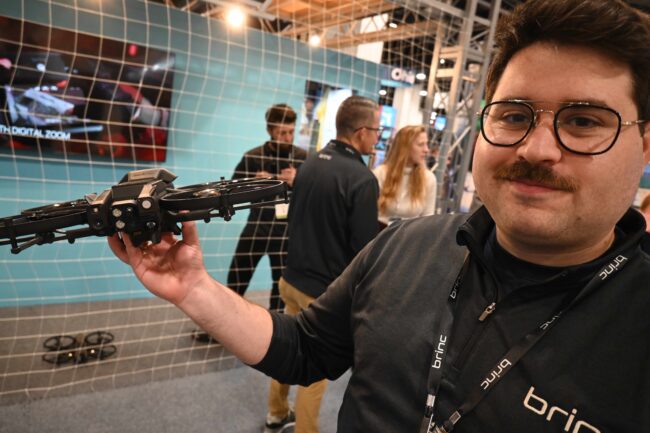 DENVER—Giving new meaning to the term "blue UAS," Seattle-based BRINC (Booth 2427) is highlighting its new Lemur 2 small UAS at AUVSI's XPONENTIAL, a system aimed squarely at police and SWAT users.
The Lemur 2, an advanced version of its previous Lemur, has shields over its rotors that it can use to push open doors, and comes equipped with a glass breaker for an alternate means of entry.
It also has a floodlight, FLIR sensor, microphone and speaker so police or SWAT could talk to people inside a potential crime scene. And, because it's likely to be used in environments where GPS might not work, it uses LiDAR to help navigate and map interiors, powered by the company's BRINC Autonomy Engine.
The idea is to de-escalate potential standoffs with suspects, said David Benowitz, BRINC's director of marketing. Instead of SWAT troops or police entering a building, they could send in a drone to talk to suspects. Police could negotiate with suspects by simply calling into the drone with a cell phone, as the microphone and speaker allows two-way communication.
BRINC is also showing its BRINC Ball, a rugged, tossable two-way communication system in a small ball format. The Lemur 2 runs $10,000 to $20,000, and the BRINC Ball runs about $2,000.
"This should be deployed for every SWAT team, and that should be deployed in every squad car," Benowitz said of the Lemur 2 and BRINC Ball.