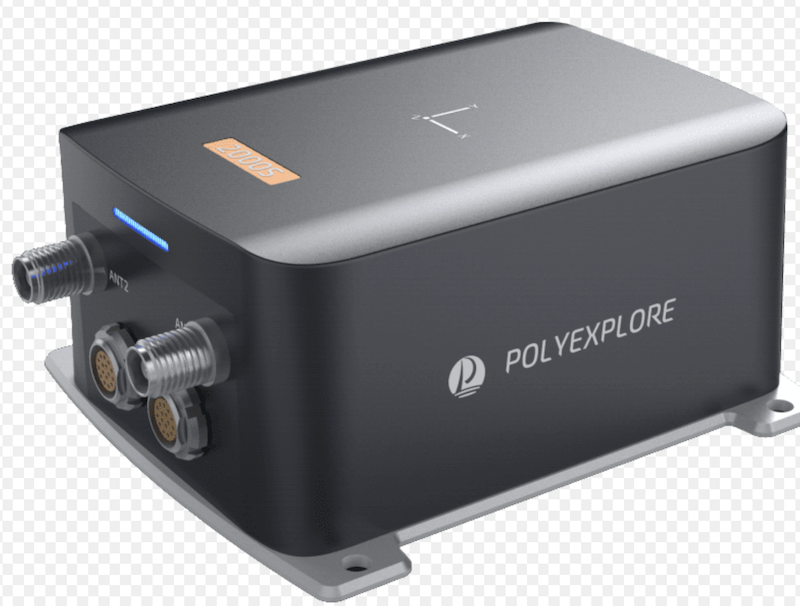 The Polynav2000S is a superior, near FOG -performance GNSS aided MEMS-based Inertial Navigation System (INS) designed and built by PolyExplore Inc. The system offers dual antennas for precision heading and a dual-frequency RTK support that provides centimeter-level accuracy with fast conversion time while maintaining a superior performance during GNSS signal outages through its tightly coupled GNSS and INS systems. The Polynav2000S supports such features as a fusion of odometer inputs for urban navigation and mapping, as well as heave estimation for marine applications.
The Polyexplore Inc. Polynav 2000 Family of the top-performing GNSS aided Inertial Navigation Systems (GNSS/INS) offers a choice of the tactical grade Inertial Measurement Units (IMU), both MEMS and FOG, to meet the challenging performance, as well as the most stringent budgetary requirements. The Family features a dual-frequency RTK, dual antennas, a Heave measurement for Marine applications, the Distance Measurement Instrument (DMI) assisted dead reckoning for the "urban canyons," as well as an interface for LiDAR/Radar synchronization and camera triggering for HD mapping applications.  The superior centimeter-level positioning and attitude measurement performance of the system combined with an exceptional cost structure.
The Polynav 2000S INS/GNSS features one of the best performing MEMS tactical inertial measurement units (IMU) available. The system delivers superior Attitude and Heading, such as the Heading accuracy of 0.08° at 1 m baseline as well as Roll and Pitch (RTK) of 0.015°. The dead reckoning feature of the Polynav 2000S allows low, under 2m over 30-sec, drift during the GNSS outages.
As a member of the Polynav 2000 Family, the system bridges over the MEMS and FOG performances, offering budgetary options for high-precision minded applications such as HD Mapping, Surveying, and Infrastructure Maintenance.
The Polynav 2000S comes in the ruggedized enclosure with the environmental rating of IP67 for the challenging industrial applications. The overall dimensions are 166mm x 134mm x 70mm and weight of ~ 800 g. An OEM version of the system available upon request.
About PolyExplore Inc.
PolyExplore Inc., a leading navigation company, founded in Silicon Valley in October 2016. The company has launched its high-accuracy navigation solution for demanding applications such as HD Mapping, Autonomous driving, and Machine Control on July 1st, 2017.