The EZ10 shuttles were paused in February after a minor incident.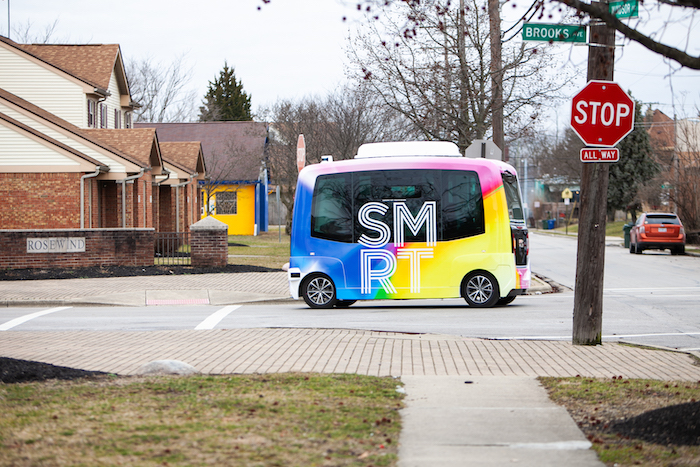 EZ10 autonomous shuttles from EasyMile can resume operations in the U.S. once specific safety measures are put into place and coronavirus-related restrictions are eased. The National Highway Traffic Safety Administration (NHTSA) temporarily paused the shuttles in February after a minor incident on the Linden LEAP in Columbus, Ohio, caused a passenger to fall from her seat.
EasyMile worked closely with Smart Columbus to determine what caused the incident and with NHTSA to develop a new Safety Passenger Enhancement Plan, which also impacts the wider autonomous shuttle industry in North America. Through the plan, EasyMile must add seat belts to its vehicles as well as signage and audio announcements that remind passengers to keep feet squarely on the floor and to hold on, Smart Columbus Communications Project Manager Alyssa Chenault said. Safety operators also will receive more rigorous individual training and a plan will be developed to evaluate their performance.
The incident, which happened as the shuttle was pulling away from a pick-up location, was caused by a slight deviation in steering, Chenault said. The shuttle is programed with a safety chain, so if anything deviates from that chain, the vehicle is supposed to stop. In this case, the sudden stop was triggered while the vehicle was traveling 7.1 miles per hour. Various factors could lead to this, such as weight distribution within the vehicle or road conditions.
EasyMile is working on a software update to address the technical conditions that led to the sudden stop as part of the enhancement plan, Chenault said, broadening the rules that are part of the safety chain so they're less strict but still fall within safety parameters.
Determining the problem
After passenger service was halted, EasyMile representatives traveled to Columbus to determine what happened, Chenault said. They pulled the logs and data generated when the incident took place and reviewed both internal and external videos. Once they determined the sudden stop was triggered by a slight steering deviation, EasyMile took that information to NHTSA.
"We had a lot of productive conversations with NHTSA," EasyMile Director of Business Initiatives Lauren Isaac said. "They asked us many questions and we gave our ideas and our feedback about what happened. We discussed how to move forward in a way that would be safest for both the people in the vehicle and the road users outside the vehicle. NHTSA clearly supports the advancement of this technology and wants to see it deployed as safely as possible."
After EasyMile implements the changes outlined in the enhancement plan, a letter of reinstatement will be sent to NHTSA, Chenault said. Once approved, operations can begin again—but not until coronavirus restrictions are eased enough to make that possible.
Navigating COVID-19
The coronavirus pandemic also has kept EZ10 shuttles from operating, but many of EasyMile's partners are starting to express interest in restarting services, Isaac said. How that works and when it happens will largely depend on the situation at each site. Universities, for example, likely won't restart services until classes resume.
While EasyMile recommends following social distancing rules, disinfecting public areas and requiring operators to wear masks, safety measures will ultimately be determined by each individual site's local policies, Isaac said.
They're still working out what that will look like in Columbus.
"We're running through scenarios now," Chenault said. "In Ohio, we're just starting to open things up as far as restaurants and businesses. It's too soon to tell what our scenario might look like, but we're actively watching the situation to see how we might be able to operate given the reality of the shuttle being pretty close quarters. We're also looking at similar services in the city and how they're operating."
EasyMile, a French-headquartered company, has 15 other test sites in the U.S. Isaac expects to be testing without passengers again as early as within the next month. Chenault said Columbus is tentatively planning to resume services in September.
The Linden LEAP
In early February, the Linden LEAP became the first public self-driving shuttle to operate daily in a residential area. Before service was paused, two all-electric EZ10s traveled a 2.9-mile route around South Linden from 6 a.m. to 8 p.m. The shuttles operated at no more than 25 mph and arrived at each of four stops about every 12 minutes. The one-year pilot program is funded by the U.S. Department of Transportation's Smart City Challenge, which Columbus won in 2016.
The Linden neighborhood and route was chosen for the deployment based on feedback from various organizations and the community, said Mandy Bishop, Smart Columbus Program Manager for the City of Columbus. The goal was to connect the city's rapid transit to various community services.
Pick-up and drop-off locations included a community center, recreation center and a community house. The shuttles also connected residents to the Central Ohio Transit Authority's (COTA) CMAX line to access jobs and services.
The shuttles were delivered last December. With the limited testing permit, the team was able to operate the autonomous shuttles in a parking lot on a closed course, Bishop said. Once the full exemption was granted, the shuttles began to run on and learn the planned route.
The goal of the pilot is to develop a set of standard testing and operating procedures that other communities and organizations can use as they deploy self-driving shuttles, Bishop said. As part of the grant, the team plans to continually share information via a playbook, which includes details about the procurement process and the deployment.
COTA will use the findings from the pilot, once it resumes, to make decisions about how autonomous technology does or does not fit into the transit system long term.