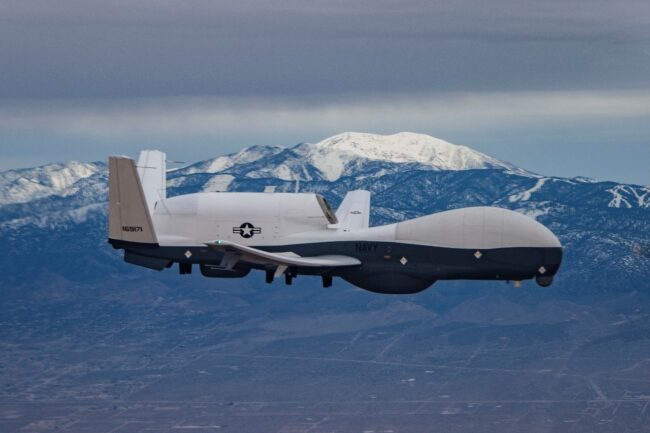 SAN DIEGO—Northrop Grumman Corp. announced a collaboration with NASA to develop and test solutions for integrating large, uncrewed aircraft systems into the National Airspace System, hoping to pave the way for autonomous cargo operations.
The work is part of NASA's Air Traffic Management-eXploration (ATM-X) sub-project on Pathfinding for Airspace with Autonomous Vehicles, or PAAV.
"Partnering with NASA, we will detail requirements and solutions to make it possible for autonomous aircraft, in this case being air cargo, to be integrated seamlessly and safely into national airspace," Tom Jones, corporate vice president and president of Northrop Grumman Aeronautics Systems, said in a release. "Our work together will improve airspace access and transform how uncrewed systems are used to transport goods across U.S. airspace and help establish airspace integration critical to future manned unmanned teaming efforts."
The company held a briefing on the news on Jan. 11 and officials said the goal is to define technologies and procedures to eventually fly large, uncrewed cargo aircraft, drawing on Northrop Grumman's long history of flying large, remotely piloted aircraft for the military—the company has more than 400,000 hours of operational UAS experience.
"What we're going to do as part of this partnership is define, plan and model collaborative demonstrations of UAS cargo operations within national airspace," said Richard Sullivan, the vice president of the Future Programs business unit within the Global Surveillance Division in the Aeronautics Sector. "We see this as the path that enables unrestricted airspace access by uncrewed aircraft and transforms how these systems are integrated within the national airspace in a trusted, safe and certified manner."
He said Northrop Grumman saw the agreement as a chance to leverage its experience flying large uncrewed aircraft such as the Triton.
"We are the ones who developed the first distributed autonomous framework and it does allow, today, military commanders to control numerous uncrewed aircraft simultaneously," he said. "We see that as a real close parallel to how the commercial and national airspace is going to be implemented."
The company will work in modeling and simulations, doing hundreds of thousands of trials in a digital environment with validated air system models. Later, demonstrations could involve sensor-laden aircraft to collect data, although they could be optionally piloted, crewed or completely uncrewed, Sullivan said.
"So, it's both a digital environment, system integration lab type of modeling and sim, as well as air operations with airplanes, with sensor systems on them," he said.
The first phase however, will consist of studying current air operations and figuring out how unmanned systems can best fit into them, especially with cargo services at busy airports. For instance, how would an uncrewed aircraft react if the crewed airplane in front of it suddenly had to abort its takeoff?
"Our near-term focus is to help identify those operational gaps that exist with the operations of large cargo UAS and the standards and policy that need to be created in order to enable that type of activity," said Randy Willis, a company senior policy advisor. "That's where our focus is at for the near term."
NASA is conducting similar research under different programs such as its System Wide Safety program, which recently signed a three-year deal with California-based Xwing to exchange data and expertise on automated flight operations. Xwing, which currently flies cargo using piloted Cessnas, is hoping to use uncrewed aircraft to fly cargo in the future.