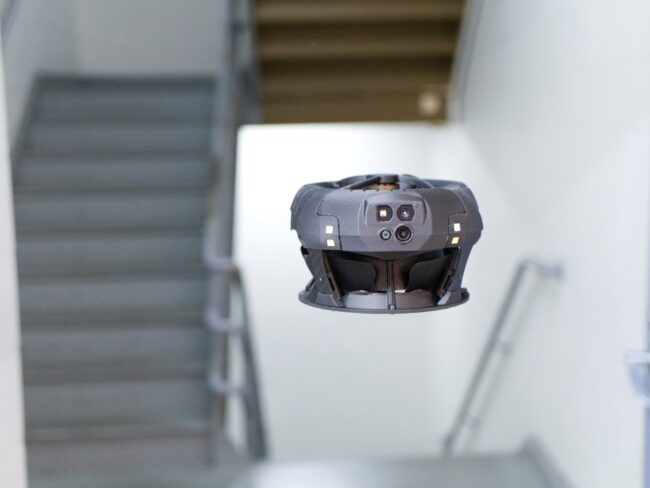 Mega-drones like the Reaper are the size of a small plane. An image-collecting Quantix Mapper has a wingspan of just over three feet. And then there are palm-of-your hand drones such as Dronut, which at 6.5 x 4 inches seeks to fulfill a mission "to eliminate manned entry into dangerous and hazardous environments."
Looking like a flying lug nut, Dronut's X1 is being used by multiple Fortune 500 companies for commercial inspection of confined spaces from factories to mines. But in December, its brief expanded when the U.S. Army awarded a $2.5 million contract to its manufacturer, Boston-based Cleo Robotics, to enhance the capabilities of the "dismounted warfighter."
Cleo will be delivering six Tactical Dronut systems over 18 months, with a testing plan involving close assessment activities and experiments. The "TacDronut" first came to the fore during a 2020 Army Innovation Day competition that evaluated innovative technologies to address critical capabilities. Now, it will be demonstrated by the 82nd Airborne Division and then offer a hard-to-detect ISR capability. The system is U.S.-made and NDAA-compliant.
Inside the Technology
The Dronut flies via ducted technology, which places bi-rotors inside a duct to gain efficiency, allow miniaturization and protect propellers from collisions with uneven and hard-to-spot surfaces such as those found in dark and dirty operations. Encasing those propellers also increases user safety.
Ducted technology has been around since the 1950s. There was just one hitch, Cleo cofounder and CEO Omar Eleryan told Inside Unmanned Systems: "the interesting thing is, nobody was able to make that technology work, because they're incredibly difficult to control."
Nevertheless, Eleryan had been fascinated by ducted technology since his days studying mechanical engineering in Calgary during the early 2000s. Starting with an idea in 2016, he and his colleagues pursued a stability solution, formed the company in 2018 and worked up a prototype that "took us a couple of years." The physical side of that journey took him from Silicon Valley's tech hub to Boston's robotics expertise. "We had a breakthrough and have several patents that allowed us to control the vehicle," including for thrust vectoring, he said.
"It's both a hardware and a software solution," Eleryan continued. "The platform itself is quite unique; it can get into places that no other drone or robot can get into. But we also have a lot of intelligence on board." Carbon-fiber composites ruggedize the vehicle while reducing weight to under a pound; autonomous capabilities are powered by Qualcomm's Snapdragon and include 3D LiDAR, a 4K camera and a global shutter camera. Algorithms and gyroscopes reinforce performance.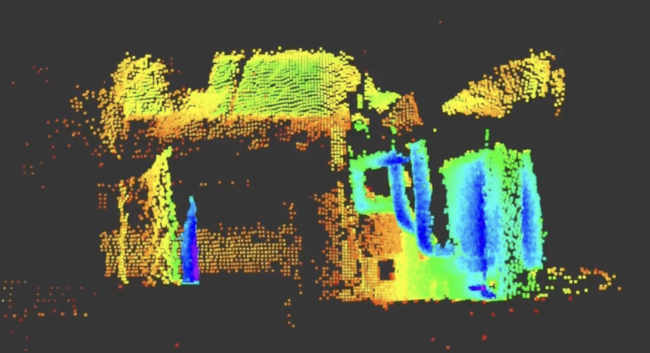 Joining the Army
Being able to bring sensors into hard-to-reach, GPS-denied environments "propelled" Dronut's selection by the military. "I think that the next big war is going to be more in dense urban areas," Eleryan told Inside Unmanned Systems. "So how do you fly in between buildings, in a tunnel or a cave or a subway station—environments where drones typically don't really operate well in. They're looking for capabilities that can operate in those environments, but also capabilities that are portable, that have some intelligence."
Army project lead Nathan Rozea agreed that the service's goals align with Dronut's mission. "The TacDronut sUAS project was selected as part of the Army's RCCTO [Rapid Capabilities and Critical Technologies Office] Advance Concepts and Experimentation office's Army mission to rapidly develop, test and transition advances technologies to address high priority items for the Warfighter," Rozea said in a December release. "This project's goal is to improve air platform kinematics in support of indoor and outdoor short-range operations in complex environments to help mitigate operational gaps involving the clearing of buildings, potential tunnels and other enclosed spaces that are incredibly challenging for our warfighters."
TacDronut is backpack-portable and requires essentially no training to use. "We developed the Dronut specifically to operate in challenging environments and provide lifesaving intelligence and information, so the TacDronut program is a natural progression for this technology," Eleryan said in the release.
Data Meets Autonomy
These days, flight time is being extended from 12 to 20 minutes, range to up to a mile, as Cleo Robotics embraces continuous improvement on both the commercial and military sides. "We don't see ourselves as a 'drone company'—we're more of a 'hardware-enabled data capture company,' Eleryan said. "What really matters is the data that it can capture, whether that's on the military side or an oil and gas company saying, 'I need the data to be able to do an inspection. We want to capture more data and then we want to process the data as well.'
"Imagine a future where a drone flies autonomously into a [commercial] tank. It captures all the data that it needs, comes out and basically gives you a 3D reconstruction, or maps the entire space and then tells you where all the rust is and what you need to do to maintain. Something that gives you progress updates. This is the direction that we're going into."
Similar innovation will hold true on the military side, Eleryan concluded. "The endorsement by the U.S. Army is a great testament to the groundbreaking technology we're building, and we're thrilled to be working with the Army RCCTO team and soldiers from an elite group like the 82nd Airborne Division."