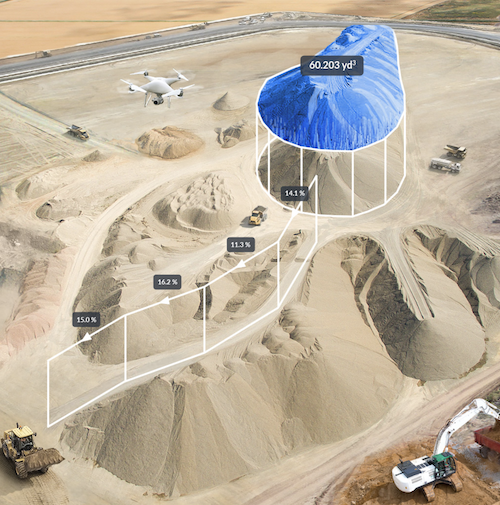 Rory San Miguel is the CEO of Propeller, a 3D cloud-based visualization and analytics solution, who launched some certitudes about drone mapping and analytics.
In many companies, he said, survey managers "are the people finding technologies that can drive efficiencies, and are trying to avoid becoming the bottleneck with this new type of data, to make good decisions in the interest of the business.
"Large enterprises expect good, easy software that people in the field can use." To that end, he's positioned Propeller as "essentially an all-in-one turnkey solution to get accurate, easy drone maps. Essentially in one click in Propeller after you've done a drone survey, we can tell you how much you have done and how much do you need to do."
An endorsement of San Miguel's paradigm came from Glenn Lowerson, pit supervisor at Boral Peppertree Quarry, a New South Wales, Australia, site that's provided two to four million tons of material annually to the greater Sydney area. "I'm able to better plan both short and long-term extraction," Lowerson said on a video. "It's as easy as clicking a button." It's also a "great visual aid" to explain what's being done onsite.
Talk About Your Evolution
Over its six-year history, San Miguel reiterated, "Propeller has had to adjust its focus from technology centric, from being obsessed with drones, to being customer-centric, obsessed with customers."
Back in 2014, he, a self-professed "drone guy," and his "software guy" partner "had a very drone-centric view of the world." By 2016, though, they "realized that our core competencies were around accuracy [with] earthmoving as the activity that happens on worksites that drones can help track effectively.
"The kernel of this earthmoving focus," he said, "came from a construction company that was already using drones with some difficulty, and they said to us, 'Don't worry about fixing the drone—drones are already good. What we want you to do is make drone data easy.' That was actually the phrase that resonated, and did actually underpin the strategy of the business from then on.
"Quarries, landfills and civil construction businesses—those became the verticals that we chased, and those verticals are appropriate because they do large amounts of earthmoving, and it's really expensive to do. If you're on track, you're obviously set up for success better as a business."
He continued. "In some ways, what we do today is quantify earthmoving." Creating "really easy, quick interpretation of site progress…opens up the world of drone maps to solve two main questions. One is, 'How much have I done?''—essentially how much earth has been moved since the last time I flew. It's pretty straightforward.
"The second question we can answer as a result of 'accuracy,' is, 'How much do I need to do?' We get the customers to load in their design file for the site—the ideal topographic state—and then we compare where we are today with where they need to be, we compute the difference and that's how much they need to do."
Data Directions
San Miguel ticked off Propeller's data visualization components. Though it can upload data from many drone systems, a compact DJI Phantom 4 RTK has been integrated into the workflow since 2018, a standardization San Miguel said reinforces simplicity, ease of troubleshooting and economy of scale. AeroPoints ground verification points further that oft-cited accuracy, which is 3 centimeters on large-scale sites. A software license provides data processing; the cloud platform visualizes and analyzes data for onsite teams.
Today, Propeller favors photogrammetry over LiDAR. San Miguel's case for that choice: "Propeller's already announced LiDAR support, and we can take point clouds in from drones that are generating point clouds today." But, he said, "photogrammetry is our main bread and butter. Cameras are really mature, very high quality, so we can get great data from that.
Since 2017, Propeller has leveraged its software through the Trimble Business Center, as Trimble Stratus. "A big partnership, which is essentially a distribution agreement," San Miguel said. "They take our core platform, which has the processing and the analytics. We rebrand it as Trimble Stratus. We tie in some crucial Trimble integrations, so you can log in with your Trimble account, read and write Trimble files, and we support Trimble System Calibration. These integrations get hooked into the product, and then we sell Trimble Stratus alongside Trimble and Trimble dealers all around the world, through their Sitech dealers. They're focused on construction predominantly, so a really neat overlap of customer bases. Trimble doesn't have a solution like Propeller; Propeller doesn't have a distribution like Trimble."
The Future is Bright
"Propeller over time," San Miguel said, "will become a holistic tracking solution rather than being a drone-mapping solution." To that end, Propeller is "adding another way to track earthmoving that compliments what we're doing today with drones. We're missing a real-time element, and as soon as you talk real-time, you can't have humans in the loop."
Propeller's new product is called DirtMate. "It's a small, really rugged GPS sensor that lives on the top of every one of the earthmoving machines," San Miguel said. "As the machine moves across the site, we essentially map elevations in real time, and then we generate all this analysis. It doesn't replace Propeller's existing business today; it dovetails and complements."
DirtMate is running on a half-dozen sites. "We have a ton of work to do to make the product is robust," San Miguel allowed. "Our early customer sites will attest to the improved reliability that's needed, easier insights, better waterproofing. But they have been very patient with us, and we are ticking off issues every day." Widespread availability is targeted for the first quarter of 2021.
And the status and future of autonomous construction surveying?
"I would estimate we're at about 10 percent of penetration; it could be actually less than that," San Miguel said. "What that means is that the 10 percent, maybe 15 percent, best…construction companies out there are scaling up their drone programs today, and there are a bunch of other businesses that are going to follow suit once people start moving from company to company.
"I think what it's taken if for some of that hype to actually fade away. If we can get back to just assessing the technology on its merits, if it's suitable, then it's suitable, and not pushing too hard. It's just a slow and steady rollout. It's certainly promising.'
And, say, five years from now?
"We're a lot closer to having a drone on every worksite. There are complementary technologies and sensors…making the information richer and easier and more insightful.
"We'll see advancements in tracking, recommending work to be done. I think we'll see computers touch some of the most physical work humans do and try to apply an analytical lens to it. I think we'll see a little bit of automation on worksites, robot machinery, but still a long way to go on that.
Nevertheless, "it is fascinating time," San Miguel concluded. "I feel the next five years in construction could be like the last five years in ecommerce, or the five years before that in mobile finance….It does feel that we are reaching one of those phases of rapid advancement."