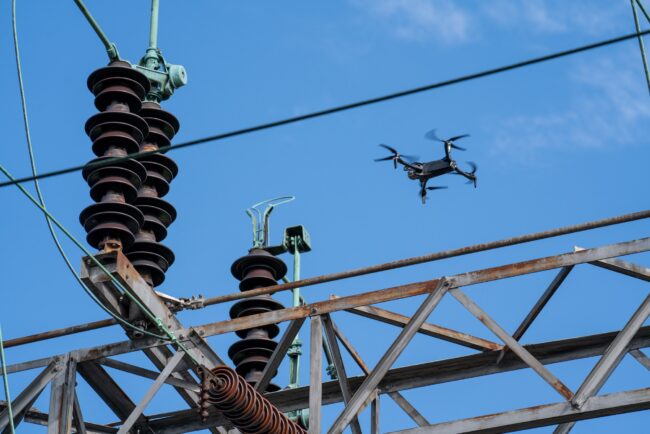 SAN MATEO, California—Skydio has announced its latest enterprise drone, the Skydio X10, which the company said combines cutting-edge data capture cameras, unparalleled autonomy and versatile hardware to serve a range of industries, including defense, energy, public safety, transportation, construction and communications.
The Skydio X10 has features and capabilities the company says have never before existed in a single platform, including:
• High-Resolution Cameras: The X10 is equipped with custom-designed high-resolution cameras, including a 48 megapixel zoom camera capable of reading license plates at 800 feet, a 50 megapixel wide field of view camera for detecting minute details like 0.1 mm cracks in concrete, and a 640×512 Teledyne FLIR Boson+ radiometric thermal camera for measuring temperature differences during inspection missions or finding a missing person in total darkness.
• Versatile Airframe: Designed for durability and adaptability, the X10's airframe is open and modular, featuring four payload bays, replaceable gimbal sensor packages, and an IP55 weather resistance rating. It also includes Skydio Connect, which offers connectivity options for a redesigned point-to-point link, a multi-band radio designed for contested and jammed environments, and a 5G radio for infinite range wherever there is cellular coverage.
• AI-Powered Autonomy: With onboard AI powered by 10x improvements in compute power and 10x higher-fidelity custom-designed navigation cameras than the previous generation, the X10 navigates with more confidence, avoiding thinner obstacles, in more challenging conditions. The all-new NightSense enables autonomous flight in zero-light environments, so operations can run 24×7. The all-new X10 Spatial AI engine enables real-time environment mapping and fully automated modeling at the edge with 3D Scan and Onboard Modeling.
• Unmatched Portability: Even with these advanced features, the X10 is highly portable, capable of going from folded up in a backpack to in the air in less than 40 seconds.
"The Skydio X10 combines the sensors customers need to get the data they care about, with the airframe and autonomy to put those sensors in the most important places at the most important times. It can do everything expected of leading manually flown drones, but it has the autonomy to enable a scale, scope, and impact that has so far been elusive for the drone industry," said Adam Bry, co-founder and CEO of Skydio. "X10 is a reflection of everything we've learned from our customers over the last three years, a technology foundation with a decade of R&D behind it, and the work of an incredibly talented and dedicated team at Skydio. Our end goal at Skydio is not to build drones but to build successful drone programs. The journey is just getting started."
Critical Trends
X10 is being announced at a critical moment for the drone industry, the company said. First, drones are becoming crucial tools for the core industries our civilization runs on, offering an expansive array of applications, ranging from reconnaissance and overwatch to comprehensive infrastructure inspection. Second, it's becoming increasingly untenable for many of these industries to depend on drones made by Chinese companies beholden to Chinese foreign policy. Industries are actively seeking alternatives to ensure the security and sovereignty of their drone technology.
Finally, artificial intelligence has ushered in a transformative era, enabling intelligent drone systems that can seamlessly automate a spectrum of tasks.
The Skydio X10 serves a range of use cases across industries, including for drone as a first responder, military applications and critical infrastructure inspection.
The X10 is also the first Skydio project announced since the company said it was leaving the consumer space to focus on business and public sector customers.