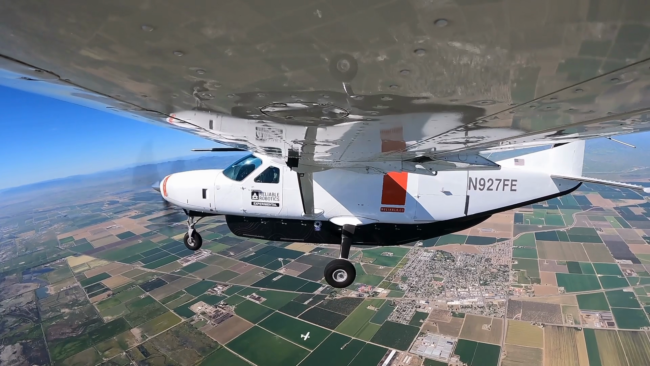 MOUNTAIN VIEW, California—Reliable Robotics and NASA today announced the completion of flight tests to substantiate the use of existing FAA primary surveillance radar (PSR) data to improve the safety of the National Airspace System.
Reliable Robotics has been working with NASA's Advanced Air Mobility National Campaign since 2021 to advance the safe, secure and efficient integration of remotely piloted aircraft systems. The FAA granted NASA limited access to PSR data for these specific flights conducted by Reliable Robotics, a step toward using existing radar infrastructure for detect and avoid systems.
As part of the campaign, Reliable Robotics coordinated encounters of two of its aircraft in California while data was being collected by FAA ground-based radars as well as a commercial air-to-air radar. These flights will help NASA analyze and characterize the accuracy of surveillance radars, which will be used to develop a comprehensive safety case for detect and avoid systems that use existing PSR data.
"We appreciate the close collaboration with the FAA and Reliable Robotics to collect meaningful data from flights to improve our collective understanding of using radar for DAA," said Brad Snelling, partner chief engineer for the AAM National Campaign at NASA. "These landmark flights will help the entire AAM industry further their understanding and future use of PSR data to enhance aviation safety."
Making high quality PSR data available to pilots in the cockpit, along with certified alerting and guidance features, will significantly improve situational awareness and prevent mid-air collisions, the company said. Automatic Dependent-Surveillance Broadcast (ADS-B) technology will continue to play an important role in the safe integration of UAS in the National Airspace System, but it requires that all aircraft install and operate equipment. Secure access to the FAA's medium and long-range PSR network will expand these safety benefits and provide accurate position data on aircraft, even for those without ADS-B.
"We believe PSR data can save lives today," said Robert Rose, co-founder and CEO of Reliable Robotics. "We are honored to partner with NASA on a campaign focused on making the airspace safer for everyone."