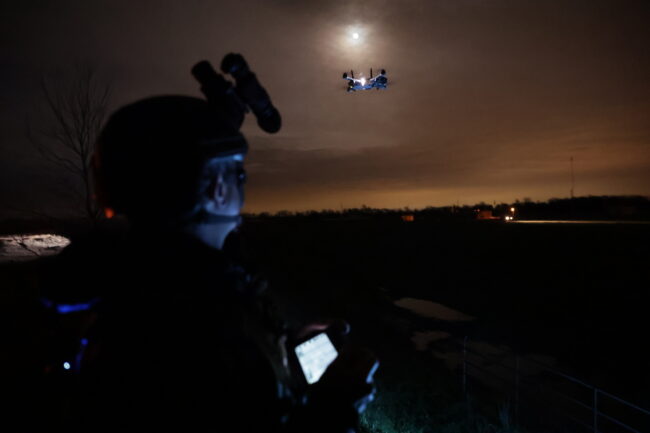 SAN JUAN, Puerto Rico—Red Cat Holdings Inc. officially launched its new military-grade sUAS, the Teal 2, at the 2023 AAAA Army Aviation Missions Solutions Summit Nashville, where it is on public display for the first time.
The system has been out in the field with early-adopter customers, George Matus, founder and CEO of Red Cat subsidiary Teal Drones, told Inside Unmanned Systems, but today marks its official military market debut. The U.S.-made system is manufactured at Red Cat's purpose-built factory in Salt Lake City, Utah.
Teal began developing systems for defense use in 2018 with the Golden Eagle, designed to meet the requirements for Tranche 1 of the Army's short-range reconnaissance UAS requirement. Teal 2, its night vision enabled by its adoption of Teledyne FLIR's Hadron 640R sensor, meets the requirements of Tranche 2 of that contract, Matus said. The company is one of three drone manufacturers tapped to participate in that program.
"There is a big requirement now to operate at night," Matus said. "Tranche 1 didn't really have much of a focus on nighttime operation, but it turns out most of the Army's operations where they use drones happen at night."
The Hadron provides its operators with the highest-resolution thermal imaging in a Group 1 small UAS, optimized for nighttime use, which prompted the company's new catch phrase for the system: "Dominate the Night."
"Most military operations take place at night, and the Teal 2 is exactly the SUAS that warfighters have been asking for," Red Cat CEO Jeff Thompson said in a press release. "Teal 2 is designed to 'dominate the night' and it arrives as the world's leading small unmanned aircraft system for nighttime operations. The system also offers the latest intelligence, surveillance and reconnaissance technology, delivering time-critical information and enabling operators to make faster, smarter decisions."
Matus said the Teal 2 is similar in size to the Golden Eagle, but the Hadron 640R sensor "enables amazing nighttime capability."
Clean Sheet
"The Teal 2 actually has a lot of clean-sheet design that went into it to support this new payload," Matus said. "We have a completely new gimbal that stabilizes the camera, we have a new airframe design that has a tiered propulsion system to accommodate the heavier weight of the payload, we even redesigned the thermal architecture to better dissipate heat within the fuselage for extreme environments. Teal 2 is really the culmination of everything we've done so far on the defense side."
It is a dual-use product, however, but can also be used for commercial and governmental applications, such as public safety, land management, wildlife conservation, infrastructure inspections and more. "Having this new payload, high-resolution radiometric capability, is really helpful, for obvious reasons," Matus said.
Red Cat's other technology partners for the Teal 2 include Athena AI, Reveal Technology and Tomahawk Robotics, which provides its Kinesis control system that allows for multiple vehicles to be used at once.
The system's compact size and rugged design enable it to be rucksack portable and deployed in the most challenging environments. Multi-vehicle command and control allows for a 360-degree view of a target, or for ISR on multiple targets.
Early-adopter customers have included U.S. Customs and Border Protection, which ordered 54 units of the Teal 2. These systems are being used to provide supplemental airborne reconnaissance, surveillance and tracking capability, enhancing situational awareness for U.S. field commanders and agents.
The 2023 AAAA Army Aviation Mission Solutions Summit runs April 26-28.