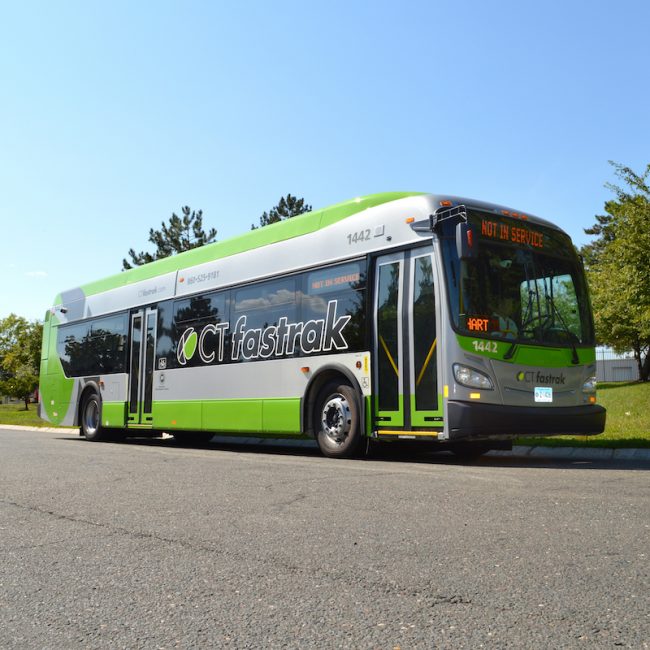 Autonomous technology provider Robotic Research is embarking on a project with the Connecticut Department of Transportation (CTDOT) that will hit several industry milestones, including automating the first heavy-duty transit buses for revenue service deployment in North America.
Through the program, funded by the Federal Transit Administration's (FTA) Integrated Mobility Innovation (IMI) initiative, Robotic Research's AutoDrive advanced driver-assistance system (ADAS) will automate three 40-foot electric New Flyer Xcelsior CHARGE buses. By the end of 2021, the vehicles will operate on the CTfastrak corridor, a dedicated nine-mile stretch for CTtransit buses.
This project also will create the first automated bus rapid transit line, the first automated bus platooning, and the first automated precision docking that will minimize platform gaps, ensure boarding is ADA-compliant and increase accessibility for all passengers.
The heavy-duty transit buses will produce zero emissions during the deployment, which is another significant element of the project, Robotic Research Director of Commercial Systems Joe Putney said. CTDOT was awarded another grant to improve energy efficiency that's being tied into this project as well.
The program will last for three years. The first phase will start with three buses, but Putney expects it to grow from there.
"Connecticut is very ambitious," Putney said. "We're going to look to continue to grow this bus rapid transit in Connecticut, but it doesn't end there. We're also working with a variety of different transit authorities and state DOTs to get things up and running across the nation. And not just rapid transit, but automated bus yard applications and low-speed shuttle markets for last mile, first mile type applications."
Robotic Research's AutoDrive is the autonomous application that "drives" these vehicles, Putney said. The system previews the world around it, making and acting on decisions that allow for safe driving. The technology uses machine learning and artificial intelligence (AI), and connects to a variety of perception sensors including automotive radar cameras and LiDAR. It has the ability to use GPS, though it isn't required for the vehicles to operate.
The company has another project with the Port Authority of New York and New Jersey in the works that's expected to start in October, Putney said. The goal is to platoon motor coach buses along the dedicated lane that runs between New Jersey and Manhattan, which sees 650 buses per hour during its peak. Pre-COVID-19, the lane was at capacity and the port authority saw the need to leverage technology to create consistent headway, or the distance between buses, improve the driver's capabilities and ultimately reduce congestion.
Projects like these illustrate how the industry is starting to move away from demonstrating automation at conferences to actually putting technology in day-to-day operations, Robotic Research President Alberto Lacaze said.
"We want to demonstrate a system that not only provides an alternative to how things are done now, but an improvement," Lacaze said. "That could be in cost, but we also think we can put more vehicles in the same real estate, if you will, and therefore make everybody's travel a little better. Not just for the people inside the buses themselves but for the rest of the traffic as well."
Robotic Research is working with partners on platooning in the trucking industry, Putney said, which has similarities to busing, and AutoDrive also can be found in Olli, the autonomous shuttle from Local Motors. The company also works with military clients on various projects, which it has done from the start.
The team expects to learn a lot from the upcoming CTDOT New York/New Jersey programs and will use the insights gained to deploy similar technology in DOTs across the country.
"We're going to learn how to integrate with the revenue service, which is going to be a big thing and basically create procedures that can be replicated at other transit authorities," Putney said. "The ADAS capability really does enhance human driver capacity as well. Being able to have one driver drive three vehicles rather than one vehicle through platooning is a substantial expansion of capabilities."