Builders See Bright Future for Boston Dynamics' Quadruped Robot
Two major construction companies have added Spot the robot dog to their workforce, using it to help document progress on projects, saving time and money.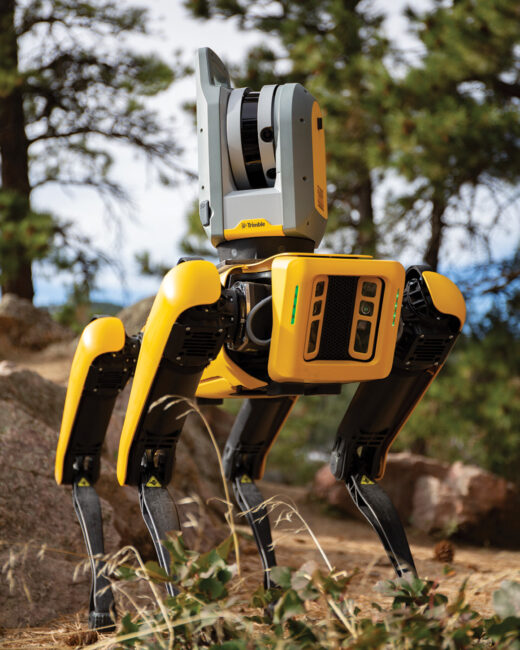 For three years now, two construction companies have been experimenting with Boston Dynamics' dog-like four-legged robot, Spot.
Both partner companies say their initial projects have gone well. Executives at the two companies, Trimble Construction, an American industrial technology company, and STRABAG, an Austrian-headquartered construction giant, agree that the young dog has demonstrated a powerful capacity for new tricks.
BUILDER'S BEST FRIEND
In addition to software modifications, researchers at both companies have been able to add hardware capacities that literally piggyback on the robo-dog. By mounting Trimble's X7 3D laser scanner on the robot's back, for instance, Trimble engineers have been able to use Spot as a tool to document the progress of a construction project over time.
David Burczyk, construction robotics lead at Trimble, said Spot can collect 360-degree imagery and other data to compare to 3D digital models for a lot less money than conventional design documentation and verification methods. For the price of a single site visit by a service provider, Spot can capture consistent scan data on multiple visits across the life of an entire project, said Burczyk, who is based in Denver.
STRABAG engineers also see a lot of potential in the Spot platform. "In addition to comprehensive and almost gapless data sets, time savings can be achieved in the recording process and new possibilities for the automated analysis of image data can be opened up," said Dr. Marco Xaver Bornschlegl, subdivision manager, Application Service & Data Science for STRABAG in Cologne, Germany, according to a company release.

"Spot can take over tasks on the construction site that previously cost highly qualified specialists a lot of time or for which they had to go into dangerous areas," Alexander Caran, a STRABAG robotics expert in Copenhagen, said in a statement.
More than 1,000 Spots are out ambling around the world now, according to a Boston Dynamics spokesperson, working everywhere from construction sites to factories to mines. Asked about the price, a company spokesperson would only say it varies by the configuration. However, one number mentioned repeatedly online is $74,500.
Perhaps the most commercially popular robot-creature in the Boston Dynamics' electronic menagerie, Spot is operated by a four-layer application programming interface (API) stack: a base layer, which provides secure connectivity; a movement API, which gathers all the information about Spot's condition and environment; an autonomy layer, which includes the capabilities needed to build autonomous applications, including navigation solutions for complex jobsites and missions that don't include a human; and a data API that allows operators to integrate third-party data acquisitions and analytics tools with Spot's standard features, such as a third-party camera or a computer vision model.
Spot's maker, Boston Dynamics, was founded in 1992 by Marc Raibert, who was previously a professor of engineering and computer science at Massachusetts Institute of Technology, and an associate professor of computer science and robotics at Carnegie Mellon University in Pittsburgh, commercializing technology his team developed in his Leg Lab.
The company was initially funded in part by the Defense Advanced Research Projects Agency, the Department of Defense technology arm that backed the computer networking research that eventually grew into the Internet. In 2013, Google (now Alphabet) bought the Waltham, Massachusetts-based company. Google sold it to the SoftBank Group in 2017, who then passed 80% of the firm to Hyundai Motor Company in 2020.
Spot can take over tasks on the construction site that previously cost highly qualified specialists a lot of time or for which they had to go into dangerous areas.

Alexander Caran, robotics expert, STRABAG
ADAPTABLE, EASY TO PROGRAM
Researchers give the Spot platform high marks for ease of use. "The device is fantastic, a movable platform that can be equipped with photo cameras or laser measuring devices as needed, which allows the people in charge a very wide range of applications," STRABAG's Caran said.
Christoffer Heckman, an assistant professor in the Department of Computer Science and director of the Autonomous Robotics and Perception Group at the University of Colorado at Boulder, said he and his team have found Spot much easier to program than earlier generations of robots.
"It was an order of magnitude easier to integrate into an autonomy platform than it was for other platforms we were using," Heckman said. "The reason for that is that it can take high-level commands, such as 'move in this general direction.' If there happens to be an obstacle in that area that Spot doesn't want to go over—for instance, a small piece of wire, or maybe a chair that's sitting around, a rock or something—Spot has the capability of determining what it can and can't walk over…a very unique capability for the Spot platform compared to other platforms."
"While it's not perfect, and it will trip—in some circumstances, it will make an incorrect assessment about how the terrain might affect its locomotive capabilities—it will be able to detect 99 out of 100 types of terrain problems that it can see," Heckman said. It's a substantial gain over the prior generation of wheeled robots that could navigate uneven terrain "zero out of a hundred times. It's a fairly significant difference."
If the surface is not too loose, Spot can climb a 30-degree grade and mount steps with no problem, a major advantage that is facilitated by the stability gained by getting around on four legs.
The self-walking part of the system is now advanced enough that programmers can focus more on its other tasks. In general, the level of programming skill required to write programs for Spot is "now at the level of a good senior project," Heckman said.
WHAT'S NEXT FOR SPOT?
"We are still at a very early stage," said STRABAG's Caran, in a statement. "But we can already guess what will be possible with Spot in the future. Thanks to artificial intelligence, 360° field of vision, headlights, sensors and collision detection, it can reach places that are dark, dangerous for humans or difficult to reach."
Trimble engineers plan to use their company's FieldLink software to integrate global navigation satellite system data and as a mount for a Robotic Total Station, an advanced, automated surveying device that can be operated by one operator in the field rather than the traditional two-person team of surveyor and assistant, Trimble's Burczyk said.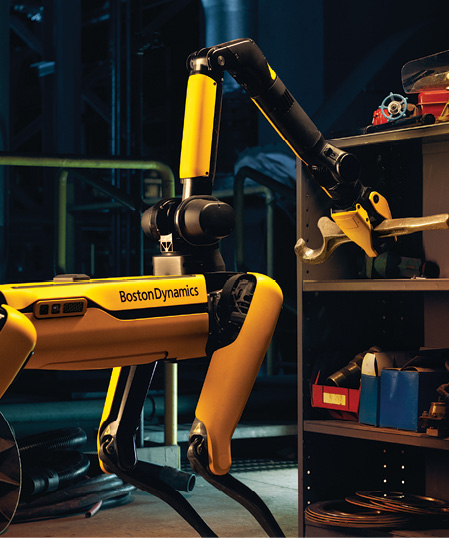 PUPGRADES
One hardware innovation Heckman said greatly expands Spot's potential is an arm attachment that Boston Dynamics recently introduced as a key new capability. Dexterous enough to open doors and grab things, Spot's arm should make a variety of new applications possible, in Heckman's view. "That, combined with new developments in computer vision and grasping, means that there are a lot of places where it might make sense for robots to be used, especially in what I consider to be both dirty and dangerous tasks…places where you have some sort of remediation task but don't want to send a human, no matter what," he added.
Spot's software has gotten an upgrade as well, according to Boston Dynamics. New features in its 3.2 operating system include:
THERMAL IMAGING. A new inspection capability allows operators to get more data about their assets. New tablet controls allow users to set minimum and maximum temperatures in particular areas, triggering an alarm if the temperature is beyond the programmed comfort zone.
AN ARM CAMERA. A gripper camera that attaches to the arm is now available as an additional inspection tool. The height of the arm and the 4K camera are designed to give users a better look at inspection points that are higher or hidden behind other objects.
AREA CALLBACKS. An option that makes it possible to program Spot to always perform a particular act at a particular place during autonomous navigation. Area callbacks can trigger actions such as waiting at a factory crosswalk until it's safe to cross.
Building monitoring may be a particularly important use case for Spot, Heckman said, particularly when there is air pollution, methane leaks, or another dangerous situation.
One limiting factor now is the degree to which the robot can operate on its own. While Spot is still piloted via tablet for most applications, researchers are trying to give the robot more autonomy. At Boulder, UC researchers have programmed the robot to explore buildings it doesn't know, and in Europe, STRABAG engineers believe they will eventually be able to let Spot off its Wi-Fi lead as well.
In any case, the current applications for Spot are probably only the beginning, Heckman said. "We're probably underthinking or under-appreciating the opportunity that this robot could potentially provide," he said.
There is at least one role for Spot that STRABAG's Caran has found that is not in the brochure: faithful companion. "Those who work with Spot develop a special bond with the robot dog. I am convinced of that," Caran said. "Spot is more than just a machine. That is also why I am convinced that we will see him regularly on STRABAG construction sites in the future."