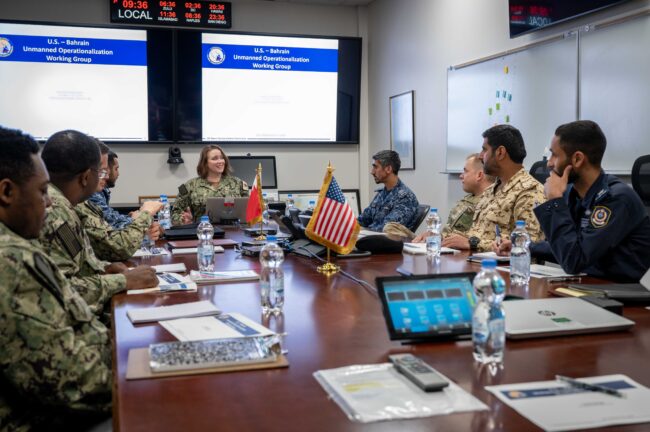 MANAMA, Bahrain—U.S. Naval Forces Central Command (NAVCENT) established a working group for operationalizing unmanned systems with the Kingdom of Bahrain on Feb. 23, U.S. Naval Forces Central Command announced.
Twenty officers from the U.S. Navy, Bahrain Defense Force and Ministry of Interior met at U.S. 5th Fleet headquarters in Bahrain to plan combined efforts for operating unmanned surface vessels in regional waters.
Last year, Bahrain committed to partnering with regional countries and the United States to build a multinational fleet of 100 unmanned surface vessels. NAVCENT announced Feb. 21 that participating nations are nearing the halfway point toward this goal.
"Bahrain has been with us on this from the start, which is indicative of their broader regional maritime leadership," said Lt. Cmdr. Jennifer Blake, NAVCENT's country engagement officer for Bahrain and working group lead. "We're excited to see where we go from here."
Bahrain was the first regional partner to work with the U.S. Navy on integrating new unmanned systems and artificial intelligence after NAVCENT established Task Force 59 in September 2021.
Bahrain and Task Force 59 have since conducted several bilateral and multilateral exercises, including a one-day training drill in the Arabian Gulf, Oct. 26. The exercise featured the use of unmanned systems and artificial intelligence alongside seven crewed ships from Bahrain, Saudi Arabia, the United Kingdom and the United States.
NAVCENT's operating area includes 21 countries, the Arabian Gulf, Gulf of Oman, Red Sea, parts of the Indian Ocean and three critical choke points at the Strait of Hormuz, Bab al-Mandeb and Suez Canal.