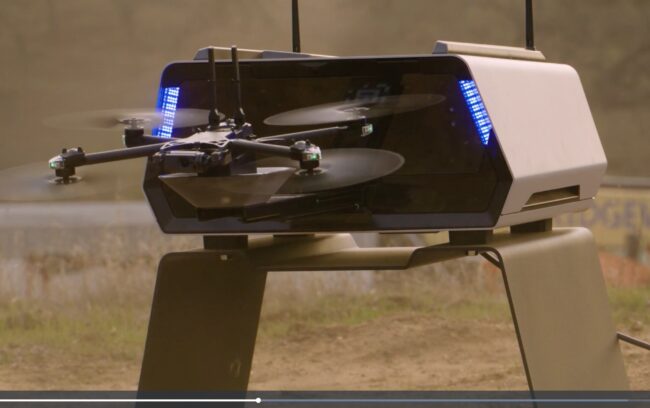 "Picture a world where drones exist as a networked service in which every piece of infrastructure, job sites…and more can proactively and automatically be monitored and inspected by a drone on a regular schedule. It's the future of the industry for most applications."
So said Skydio CEO Adam Bry on Dec. 7, when Skydio's "Dock Day" made a case for its fully autonomous and remotely operated drone system being the next step along what the company calls "the arc of autonomy." Starting with Bry, Skydio executives outlined an integrated triad: the company's compact, weather-resilient 2+ and X2 drones; two dock types capable of building 3D maps and sending data to the cloud; and Skydio Remote Ops, which can provide real-time telemetry, photos and 3D scan models.
Testimonials then came from a roster of developmental partners, customers and regulators, and the half-hour presentation sparked many comments and questions from a virtual audience.
Increased Capability
Drones in a box constitute a growing sector, used for everything from perimeter security at military bases (Easy Aerial) to scheduled autonomous patrols (Nightingale Security). Enclosed automatic charging stations protect vehicles from bad weather and enable remote operations. Improvements across sensors and within cloud storage can facilitate reliable, scalable and multiple mission types at reduced risk and cost.
Skydio stresses compactness, user simplicity and autonomous systems integration. "Breaking the one-to-one dependence between the pilot and the drone and enabling drones to do work on their own is an extremely powerful concept," Bry said.
In his "Dock Day" keynote, Bry made his case for Skydio's approach, calling his products "the most advanced autonomous drone in the world. …The skills of an expert pilot built in," he added, "is a prerequisite for having a drone you can trust to fly itself remotely, especially in challenging or GPS-denied environments." Skydio's Visual Positioning System uses AI and computer vision to deliver precise navigation and data capture.
Skydio Dock houses the drone and enables automatic uploading to schedule cloud waypoints and route repetition. Skydio focuses on improving and expanding its technology; consequently, Dock Lite, a cradle miniaturized for indoor, obstacle-laden and GPS-denied flying, reduces the standard unit's size from 24 x 24.3 x 12 inches and 62 pounds to just 4.9 x 11.8 x 1.9 inches and less than half a pound.
The third element, Remote Ops software, Bry characterized as "the connective tissue and brain that brings it all together and enables the operator to fly the drone remotely, or set up missions to run on a fixed schedule or based on environmental triggers."
Bry posited a Skydio differentiator. "We know from our customers that the ideal product is incredibly simple," he said. "But solving this problem is extremely complex under the hood. While the rest of the industry approaches doctrines like a hardware problem, we are approaching it as a software solution. It requires all of the hardware and software from the drone to the dock to the cloud to work seamlessly to deliver a reliable system."
Bry argued for going beyond bolt-on solutions offered by some legacy drones. "Autonomy is not a feature; it's an architecture," he said. "These are cutting-edge aerospace devices with sensing, compute [sic] and software comparable to a self-driving car, in a package that weighs a few pounds."
Industry Voices
Additional speakers cited the system's value in furnishing AI detail about change detection and freeing staff for other tasks, as well as providing data in a cost-efficient and safe manner.
Burcin Kaplanoglu, vice president, innovation, for the Oracle Industry Lab Incubator, stressed the value of securing real time data that also can provide performance baselines, as well as the benefits of scheduled operations.
Corey Hitchcock, UAS program lead for Southern Company, noted how docking stations can 'empower' outage repair, especially given the expanse involved across utility distribution systems. "We would have to roll a truck or a human out there, investigate and determine the cause of the event," Hitchcock said. "Now we can use the dock to inspect power lines, inspect substations post-event, and then potentially get customers back on faster."
Skydio's regulatory team can assist in securing approvals needed to operate drones with ease, at scale and BVLOS. And "infrastructure masking"—flying close to facilities—can mitigate FAA concerns about air risk with other aircraft.
Thomas Walls, UAS operations manager for the North Carolina Department of Transportation, put tangible numbers behind Hitchcock's statement. "We're capturing photo data, video data, and we're able to livestream back to engineers. It's been super-beneficial. Instead of taking eight hours to process, we can do it in three or four hours."
Currently, the equipment displayed at Dock Day is available in limited quantities through the company's Early Access customer program, which elicits and then works on issues from implementation to networking connectivity. "The devil is always in the details," said Alden Jones, vice president of customer success. "And each step that you take, you're going to find us helping you [with] new things that we need to overcome together in order to make things happen hundreds, thousands, tens of thousands times a year. That's the stuff we love to do; we're really excited about it."
Moving Forward
The Q&A session elicited some "not yets" from the Skydio team. Current focus is on the U.S. and Japan markets. The hardware is night-capable, but the overall capability is daytime-only. The system can't yet operate from a moving or maritime platform.
Crucially for future network development, the drones also can't take off from one dock and land in another. Skydio certainly will heading toward this capability, said Ryan Reading, head of software engineering. "The future of this is going to be more coordinated operations across different docks and different drones. So, you can imagine a large fleet of docked drones able to coordinate really complex missions that we can enable through the connected system that we have."
The long-term goal of Skydio's deployments? "We're using docks to probably fundamentally change some business process," Bry said. "We haven't solved everything. But we continue to set the state of the art in autonomous flight with our products."
For more Inside Unmanned Systems' coverage on Skydio's technology suite, go here.