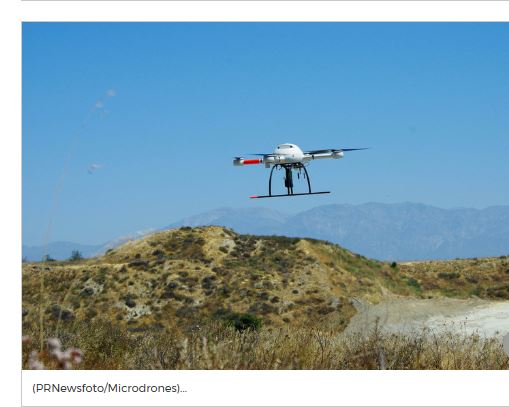 LAS VEGAS, Oct. 24, 2017 /PRNewswire/ — Microdrones is excited to announce the release of a new professional aerial methane detection solution, the mdTector1000 CH4. It's the newest fully integrated aerial methane inspection package built for professionals responsible for methane gas infrastructure.
"For our customers, we want to provide the very best packages, with a full line of systems and payloads including the new mdTector," said Microdrones President, Vivien Heriard-Dubreuil, adding, "A fully integrated aerial methane inspection package opens a new door for us, into the gas industry. For our Trimble dealers, the expansion creates even more customers globally."
The mdTector1000 CH4 has a Pergam gas sensor, mounted and integrated with the Microdrones md4-1000 UAV.  In real time, you will be able to see aerial shots of what you are detecting with the laser sensor. The sturdy carbon-fiber built UAV puts an end to placing people where they don't belong. It can easily navigate terrain that's too dangerous for traditional foot crews. Microdrones aircraft are well known for being sturdy, stable and resistant to wind and weather, as well as dust and dampness; this allows you to fly wherever and whenever your job needs to be done.
The mdTector1000 CH4 is versatile and can be used for:
natural gas line surveys
tank inspections
gas well testing
plant safety
landfill emission monitoring
"This is the drone package we've been eagerly developing, to provide current and new customers with the professional tools to get work done, all in one," said Mike Hogan, Microdrones Sales Director for the Americas. "Providing new products to customers that expand our reach across the globe is what we aim to do, giving the end user everything they need at their fingertips to accurately and efficiently retrieve data, safer than ever before."
Johan Wictor, Business Development Manager for Pergam Technical Services added, "The platform was very stable, which is crucial for methane detection. Data acquisition was very good and the ability to incorporate waypoints is a great benefit. We're very excited to work with Microdrones to help market this platform."
Package benefits include:
low cost compared to the expense and risk of traditional gas detection methods
broad range of detection from 1-50,000 ppm x m
lightweight and easy to transport
easy to deploy and operate
For those familiar with Microdrones systems, the mdCockpit Android App is a part of the package, allowing you to maintain visualization in-flight. A special mdTector app allows you to visualize and present all post-flight data on one map.
The Microdrones mdSolutions team is pleased with the newest addition of aerial inspection solutions that benefit the end-user more than ever before while expanding into the gas industry.  For more information on Microdrones and the packages we offer including the mdTector1000 CH4 contact one of our knowledgeable salespersons today at info@microdrones.com.
SOURCE Microdrones