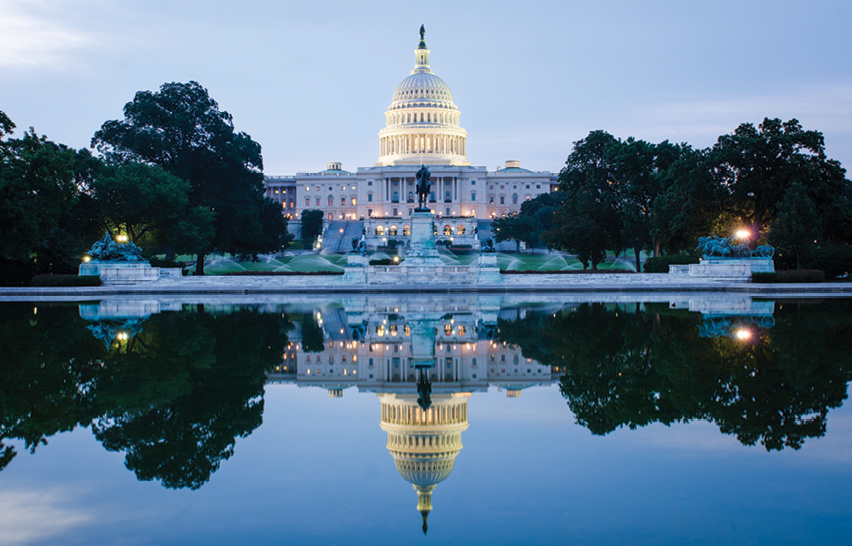 A successful Washington compromise is often described as a deal where everyone gets something but no one is entirely happy. The recently released recommendations on remote drone identification and tracking reads less like the usual compromise and more like a temporary ceasefire. As a result, the Federal Aviation Administration (FAA) will not have a foundation of agreement on which to build its proposed new rule, making the pace of drone integration even more unsure.
The Aviation Rule Committee (ARC) on UAS Identification and Tracking (UAS ID) was formed in June 2017 after plans to issue rules allowing drone flights over people were frozen, suddenly, early that year. The regulatory plan had stalled after both law enforcement and homeland security agencies expressed concerns about allowing such flights because they had no way to identify bad actors. It's easy to enforce limitations when no one is permitted to make such flights. When flights over people become common place, how do you sort out who is flying illegally and may be dangerous?
"While the majority of UAS will be operated in compliance with operational regulations," according to ARC report, "non-compliant or unauthorized UAS operations must be adequately addressed to ensure the safety and security of the NAS, critical infrastructure, and people on the ground."
Industry was fuming. Flights over people, and the ability to do missions beyond the visual line of sight of the pilot (BVLOS) are widely regarded by commercial operators as essential if their operations are to make business sense. Further delay on a fix was painful.
Being able to identify a remote pilot "is the central concern," the ARC wrote. However, despite the pressure for a solution, the authors noted in polite prose that, "the ARC did not reach consensus on an applicability threshold for ID and tracking requirements."
ARC Hits Rough Water
The panel members presented the FAA with two options for determining which UAS should be required to comply with remote ID and tracking requirements. The members split on which was better but did agree that exceptions should be made for drones exempted by the FAA (for example, military drones) or operating within the air traffic control system.
OPTION 1 WOULD REQUIRE TRACKING AND ID FOR ALL DRONES EXCEPT:
• Those flying only within the line of sight of its remote pilot and not designed to be able to fly more than 400 feet away from the pilot.
• Racing drones on a closed, low-altitude course.
• Model aircraft unless they can do way-point navigation without continuous pilot input or have a real-time, downlinked remote sensor that provides the pilot the ability to navigate the aircraft beyond his/her visual line of sight.
OPTION 2 WOULD REQUIRE REMOTE ID AND TRACKING CAPABILITY FOR UAS WITH EITHER OF THE FOLLOWING:
• The ability to navigate between more than one point without direct and active control of the pilot.
• The range from a control station is greater than 400' and there is a real-time remotely viewable sensor capability.
These options, however, simply ignored the real bone of contention—whether the weight of the drone should be used to determine risk and how to handle model aircraft.
Check the Appendix
"Most of the disagreement on the ARC was on the question of threshold applicability," that is what UAS should be covered by the remote ID and tracking rule the FAA will be crafting, said Lisa Ellman of the Commercial Drone Alliance. "Should there be a risk-based weight requirement? Should model aircraft be excluded? So those were a lot of the questions that were discussed and there is strong, strong disagreement over many of those questions."
That argument emerged primarily in an appendix where most of those who voted said what they supported and why.
The alliance wrote a dissent to the report that supported the inclusion of hobbyists and a weight-based requirement. Alliance members include CNN, Gryphon Sensors, the Center for Robot-Assisted Search and Rescue (CRASAR), CybAero, Ford, and Google affiliated Project Wing. Siding with them was, the General Aviation Manufacturers Association, the Aerospace Industries Association, and the National Agricultural Aviation Association. The dissent also got support from nonmember firms including GE, uAvionix, AirMap, and General Atomics.
This (model aircraft) exemption is a loophole that swallows the rule," Ellman wrote. "It would permit a huge segment of the UAS community to avoid participating in the UAS ID and Tracking system and complying with the corresponding ID and Tracking regulations. For example, the Academy of Model Aeronautics ("AMA" or "modelers") reportedly represents more than 195,000 modelers worldwide. The FAA Aerospace Forecast (fiscal years 2017-2037) estimates that there were approximately 1.1 million units of distinctly hobbyist sUAS (small UAS) or model aircraft in 2016, with significant growth projected in the next few years to 2.75 million (low), 3.55 million (base case) or 4.47 million (high case) such units in 2021."
The hobbyist exemption backed by the ARC also provides many operators who have no intent of complying fully with cover for not following ID and tracking regulations," the dissent said. "There will be direct, adverse implications for the safety and efficiency of the NAS, public safety, and the efficacy of future UTM (unmanned traffic management) systems."
Boiling the Ocean
The Academy of Model Aeronautics (AMA) suggested that trying to put remote ID on every drone was an unnecessarily broad solution.
"If your model can only fly within a few hundred feet, or within line of sight and you have to directly control it; law enforcement and most of the ARC felt that it didn't require remote ID," said Chad Budreau, AMA's director of government affairs and public relations.
Budreau noted his daughters' once had a flying Tinkerbelle doll. "I would argue that does not need remote ID and tracking, but under that (Alliance) definition it would require it because it's technically a UAS."
The ID-for-all approach did not sufficiently balance the need of owners and operators with those of law enforcement or provide for reasonable exemptions for drones "that pose little, if any, safety or security concerns and for which an ID requirement's costs and burdens may outweigh its benefits," DJI wrote in its comments. There was no racing drone or 'selfie drone' exemption, for example, and none for drones that cannot carry even a light payload.
Budreau agreed a drone with limited capabilities could look just like a more advanced unit that does need to install ID and tracking.
"Even if you have two side by side," he said, "and one's capable and one's not; we would say the capable one requires remote ID and the tracking, As well the law enforcement task group within the ARC would say that creates a higher hazard and a higher risk in the national airspace."
The Vote
The data at the back of the report indicates 34 of the 74 ARC members concurred with the report as written—that is with the two-option approach supported by AMA and DJI. That list included airports, the National Association of State Aviation Officials, key standards bodies and users like BNSF Railroad as well as nearly all the police organizations that expressed an opinion and a host of powerful technology companies including Intel.
The schism, however, is wider than the report suggests. Eight of the 74 members did not concur with the report and 20 concurred with some exceptions. Of the 28, fully 16 ARC members said that weight should be the standard with most of them worried that leaving out modelers created a serious problem. (12 members did not record an opinion).
Calling the ARC report "a significant first step," Budreau said there was a misperception that AMA is fighting against remote ID and tracking and that the issue may merit another look in the future. "We just don't think it makes sense to boil the ocean right away. Let's go after what makes sense first and then let's work out that and then let's build upon that first."
Ellman said lawmakers need to revisit the issue first.
"There needs to be a legislative change," she said, "because Section 336 of the Federal Modernization Reform Act of 2012 carved out model aircraft from requirements. Basically it said that FAA could not further regulate model aircraft."
The next step is for the FAA to take the recommendations and craft a new rule that will then go through interagency review where federal agencies like the FBI and the Department of Homeland Security formally weigh in.
There is real urgency in FAA to get the ID and tracking regulations in place, Budreau said, who expects some sort of hint from the FAA on what they plan to do as early as March.
"Rulemaking can be a long process and that's by design," Budreau said. But there's great urgency, he said, to get remote ID and tracking done so the FAA can start working toward new approaches toward integrating model aircraft and UAS in the airspace. "I don't want to speculate when, but I don't think (remote ID and tracking) will take as long as traditional rulemaking."