Innovative tech companies are offering Topnet Live correction services to their customers for precision positioning in a growing range of applications. One such company, Denmark-based TinyMobileRobots, specialises in reliable, high-precision, outdoor robots that place marks on the ground, notably for sporting events.
"We are a mobile robot company," said TinyMobileRobots CEO Jens Peder Kristensen. "We develop, produce and sell robots for layout and marking of infrastructure projects and sports fields." TinyMobileRobots machines can mark soccer and american football, athletics, rugby, and lacrosse fields. The company also offers templates for tennis, handball, ultimate, field hockey, quidditch (flying broomsticks not included) and many other sports.

"Our business is growing very fast," said Kristensen, "especially in Western Europe, North America, Oceania and Japan. One of our main strengths is our ability to deliver a solution for the customer that is extremely simple to use in spite of the complex technology involved."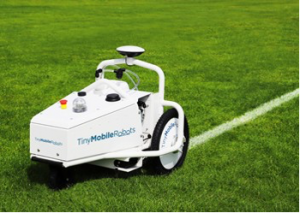 TinyMobileRobots uses the Topnet Live network to help keep its robots in line."Topnet Live is accurate, reliable and provides good coverage," Kristensen said. "We have many customers worldwide using our robots, often operating across areas anywhere from three to 400 square miles. Topnet Live can be used anywhere in a large area like that, where a conventional corrections base station would need to be transported around. When we were looking for live correction services, we approached Topcon," he said, "as they are known as a very reliable supplier."

RTK and PPP techniques have known advantages and disadvantages. Topcon has designed and developed a service to provide its customers access to both RTK and PPP simultaneously, combining the strengths of both and automatically switching between the two as reception changes. This means customers get the best of both systems, enjoying constant coverage anywhere in the world. The Topcon reference station network uses all four major GNSS satellite systems: GPS, GLONASS, Galileo and BeiDou, ensuring the best accuracy and reliability.
"Topnet Live offers global services for our partners," said Jonathan Ball, Senior Manager, Infrastructure Businesses, Topcon Positioning Systems. "No longer do they need to reach out to multiple service providers to deliver a truly global solution to their users for their positioning equipment. Topcon offers many types of positioning correction services that are available globally, utilizing both RTK and PPP correction models, delivered over cellular, radio and satellite communications."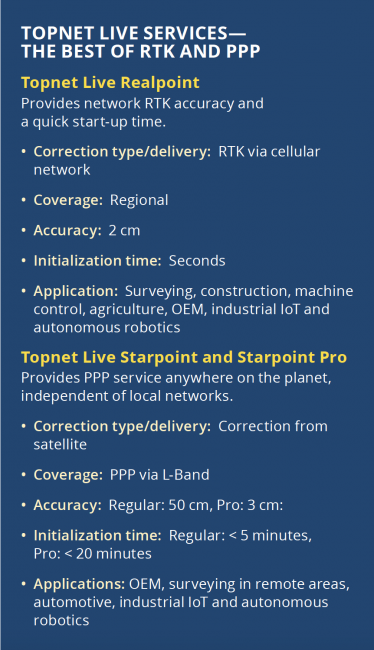 Martin Neff is Product Manager for Ohio-based Autmow Robotic Mowing, the company that recently took over U.S. distributorship for TinyMobileRobots. Neff said, "Topnet Live is a correction service that uses reference stations and other technologies to position a robot with centimeter accuracy. We find that our customers are willing to pay the annual fee associated with Topnet Live because of the stability and quality of the connections it provides. The service typically gives us great coverage wherever our customers need it."
Good robots
All of this makes it possible for TinyMobileRobots to offer some of the best sports field marking solutions available on the market. Models like the TinyLineMarker Sport and TinyLineMarker Pro are high-quality machines built for years of hassle-free operation. The TinyLineMarker Sport, the world's most affordable robotic line marker, is ideal for schools, colleges, sports teams and sports centers. The TinyLineMarker Pro has a larger paint capacity and is recommend for large sports clubs and teams, municipalities and service providers with many paint jobs and a variety of different sports fields.
Often sports facilities use the same fields for multiple sports and events, but constantly having to change the lines on a field can represent a huge amount of work. Customers find that using these systems reduces labor costs while increasing productivity. With Topnet Live, the lines are always where they should be and the accuracy is, to say the least, impressive.
At the other end of its business, TinyMobileRobots makes the TinySurveyor and TinyPreMarker robots, which are used for a very wide range of tasks and projects including surveying, stake-out, setting out and pre-marking. Customers include land surveyors, road marking companies and constructions companies.
Good partnership
"Tiny Mobile Robots is on the leading edge of developing creative robotic solutions to impact our daily lives," said Ball. "Their robots our well designed, and affordable, meeting very specific needs. I believe that the number of human tasks that they can address utilizing their robotic technology is truly unlimited."

"TinyMobileRobots is a lovely company to work with," Neff said. "They make sure to provide support and training so that everyone is either capable of using the products effectively or can immediately get assistance with any needs that may arise. I have interacted with everyone from Jens Peder Kristensen, the CEO, to their programmers, engineers and the front-line support team, and they are all fantastic. They are passionate about their product and always eager to help me learn more about the systems they use. Their accessibility definitely sets them apart.
"Topnet Live seems to work very well for them in Europe, as well as here in the States, and I think that speaks to the global-type capacity that Topnet Live delivers. It offers several solutions and is able to cater to customers' individual needs."
As for the correction services industry in general, Neff said, "It's still in its infancy, but it certainly has the potential to absolutely explode in the near future. Topnet Live offers a great service for a reasonable price and as long as they keep doing what they are doing they could be huge in the coming years, as demand for this type of tech is only going to increase. In this industry, everyone is just striving to be better every day, and we are fortunate to be able to work with great people who seem to reciprocate our vision of a tech-filled future."
Kristensen also sees a bright future for his own business: "I see the robots we are supplying moving from being exclusive to become standard tools. Both the infrastructure layout robots and the sports field robots are generating a lot of interest in the market and becoming the must-have tool. We will continue to refine these products and adapt them to the market's needs."