The biggest spatial data company in Russia, Geoscan, integrates Topcon's ultra-compact B111 GNSS receiver within its high-performance UAV systems. The company is now looking into the possibility of bringing Topcon's Topnet Live correction service to its customers in Russia and beyond.
"We are providing the whole technology stack for aerial surveys and spatial digital twins," said Kirill Konev, chief business development officer for Geoscan. "We do sensors, microelectronics and UAV production. We offer survey services, and we do autopilot, photogrammetry, visualization and analytics software."
Among of the company's top performers are the multi-rotor Geoscan 401 and Geoscan Gemini UAV systems. These systems deliver aerial photography with high-precision spatial data. Outputs include 3D point clouds, digital surface and terrain modeling (DSM, DTM), orthomosaic mapping and 3D textured polygonal modeling of surveyed objects.
"We cover most aerial survey application fields," said Konev. "That includes rural and urban, roads and power lines, oil and gas, mining, agriculture and ecology, cultural objects and many more. We also do industry-best educational products and drone shows. At the moment, we are active in more than 140 countries all over the world."

The Geoscan GNSS receiver of choice is the Topcon B111. This ultra-compact GNSS board is capable of providing scalable positioning from sub-meter DGPS to sub-centimeter RTK positioning. The lightweight B111 offers 226 universal channels for reliable, 'all-in-view' tracking of GPS, GLONASS, BeiDou, Galileo, QZSS and SBAS signals. Topcon's unique universal tracking technology is designed to maximise the receivers signal tracking, satellite geometry and availability. This allows for a high level of performance on a much-reduced OEM hardware footprint.
The advantages of the Topcon B111 are several and varied, said Konev: "One of the main advantages for us was the ease of installation and set-up. Topcon was also the first company to offer the OEM boards. In our experience, compared to its competitors, it is more sensitive and stable, and it's more affordable."
The B111's flexible design, along with its low power consumption, comprehensive communication interfaces and peripheral support, do make it very easy to integrate into any precise positioning application.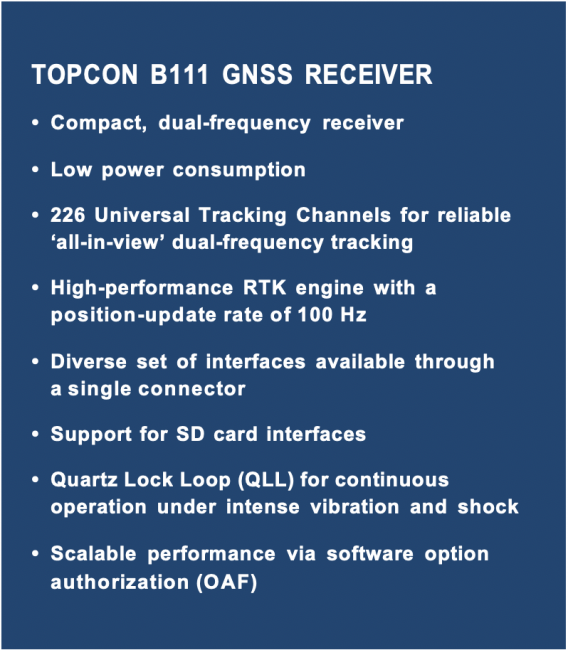 Beating magnetic anomalies
Geoscan can point to a number of recent projects where the Topcon B111 has provided crucial accuracy for its UAV operations. Take the case of Karelsky Okatysh OJSC, a leading iron ore mining and processing company in Russia, with operations at five open pits, from 55 to 345 meters deep. Karelsky Okatysh carries out several types of surveys regularly, including tacheometric surveys, ground scanning and aerial photography. The company has used both Geoscan 401 and Geoscan Gemini UAV systems for high-resolution aerial surveying inside their iron ore pits.
A key capability that sets Geoscan multi-rotor systems apart from their competitors is their ability to operate under anomalous magnetic conditions. Such conditions are often observed in areas where iron ores and other iron-containing rocks occur.
Most rotor-based UAVs use a magnetic compass sensor for azimuth navigation, which can malfunction under electromagnetic interference. Geoscan engineers developed an algorithm that makes it possible to fly without a magnetic compass, using instead data received from the GNSS receiver, in this case the Topcon B111.

Large-scale testing of this innovative solution was carried out at one pit at the Karelsky Okatysh mines during the summer of 2020. Operators surveyed at the pit surface where small magnetic anomalies were observed, inside the pit at medium depth and at the bottom of the pit where the largest magnetic anomalies were observed. The maximum measured magnetic field value was almost three times normal background.
The compact Geoscan Gemini with Topcon B111 working in place of the standard magnetic compass sensor provided the required output quality in all of the tests, delivering a spatial resolution of 1.8 cm/pix, plane accuracy down to 5 cm, and height accuracy down to 10 cm.
World heritage, and high altitude
Another project that benefited from the Geoscan and Topcon partnership involved the creation of a complete 3D model of the Citadel of Damascus, carried out under the auspices of the Institute of History of Material Culture of the Russian Academy of Sciences.
The Сitadel was photographed in November 2020 using Geoscan 401 and Geoscan Gemini UAV systems, equipped with the Topcon B111 GNSS receiver. Images were processed and converted into a 3D model using Agisoft Metashape software. The results have been transferred to the Directorate General of Antiquities and Museums of Syria and will serve in support of restoration works on the site. The 3D model is also available to view online.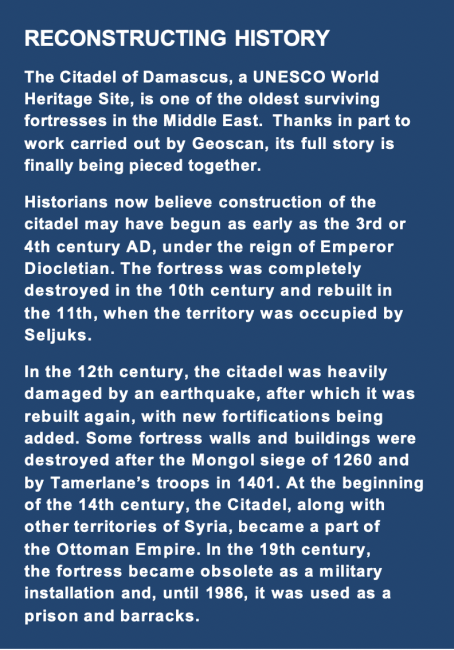 Geoscan, with Topcon onboard, reached new heights when specialists scaled Mount Elbrus, the highest peak in Russia, in order to test Geoscan UAV performance under tough highland conditions. Geoscan Gemini  performed admirably at an altitude of 3800 meters. All UAV interior components, including the Topcon B111 board, survived the test. The Geoscan 401 UAV, also equipped with the Topcon B111, flew at even higher elevations, taking off from a base station at an altitude of 3850 meters and taking 10 minutes to reach Elbrus' summit at over 5600 meters. During this test, the Geoscan 401 operated successfully at temperatures down to -10°С.
Assessing interest in Topnet Live
Konev said Geoscan teams first came into contact with Topcon at the 2018 InterGeo event in Frankfurt, where they discussed two topics: "We talked about Topcon branding with Geoscan UAVs, which resulted in our using the phrase 'powered by Topcon', with the Topcon logo, in our Geoscan marketing material."
The results of these early discussions were positive and mutually beneficial, and the two sides have since maintained and expanded their relationship. "We are now in contact with Topcon every week," said Konev, "mainly discussing the possibility of Geoscan reselling Topnet Live to our clients in Russia and other countries. We are now updating our website with Topnet Live information, and including Topnet Live in our complex product proposal, which will allow us to estimate the possible demand for that product." Konev said Geoscan is also actively testing Topnet Live in various survey projects.

Here to stay
Meanwhile, Konev said, the outlook for Geoscan is positive: "The biggest opportunity is still in aerial logistics, which is going to have a major impact when there is a solid business model for operations in cities and their near vicinity. However, there are also several major challenges which could slow drone implementation, mainly being the increasing strictness of regulations, but also the difficulty of developing and deploying UTM [unmanned aircraft system traffic management] and D&A [detect and avoid], which are obviously required to build up the level of drone implementation.
"We think about the drone industry as one of the most disruptive, and yet it is ready for implementation," Konev said. "The hype curve for drones is flattening out and we are one of the companies eager to stay around and consolidate the market. We believe we can provide significant cost and time reductions compared to traditional surveys in most industries."