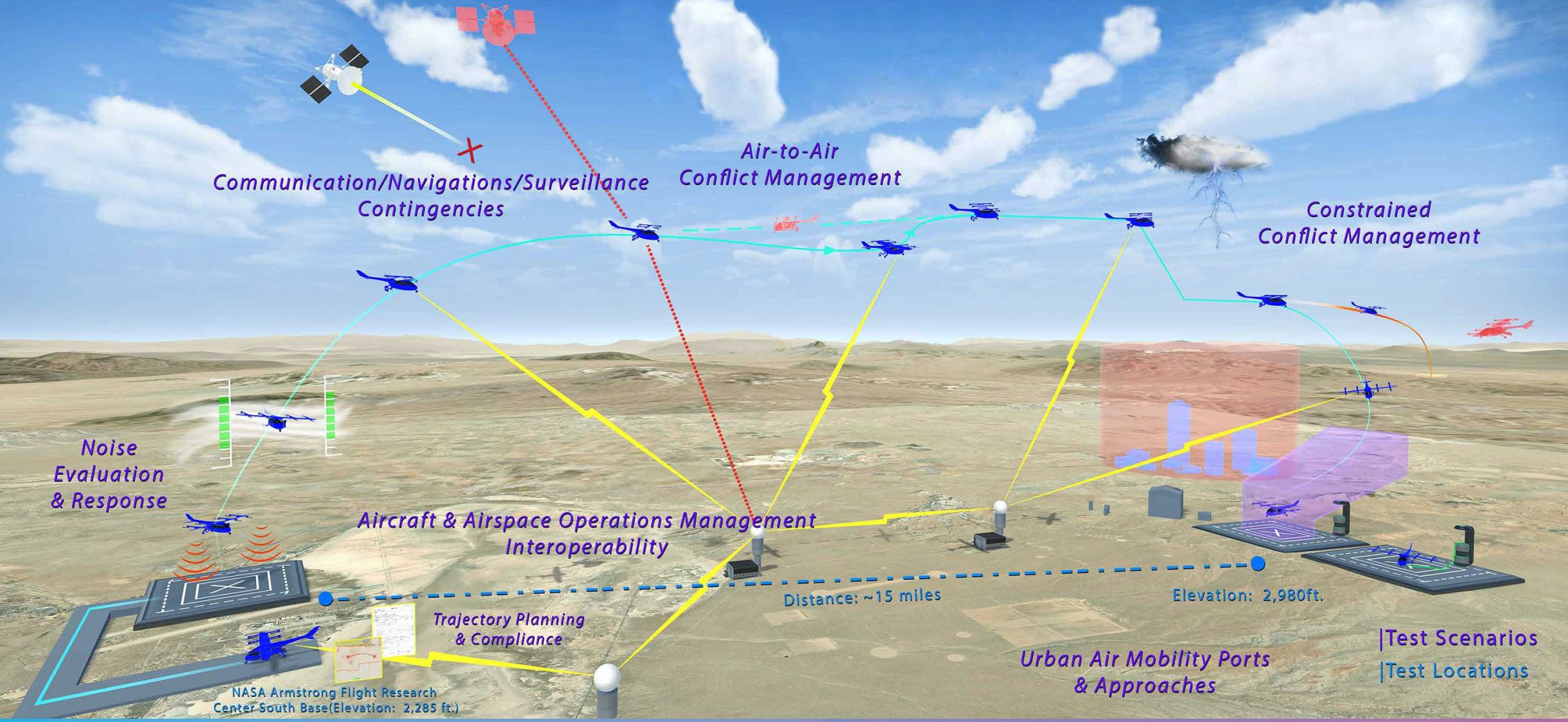 The Federal Aviation Administration (FAA) just officially turned the page on its Integrated Pilot Program (IPP). On October 26, during a celebratory online three-year finale, it announced the next chapter: BEYOND—"BVLOS Expanding Your Operations Needing Drones." And BEYOND is just one of many ongoing unmanned aircraft system test and evaluation (T&E) programs propelling the commercial UAS industry skyward.
So, what lies ahead in the T&E space?
Look Back to See BEYOND
The FAA has taken a crawl-walk-run approach to UAS integration into the National Airspace System (NAS). If the IPP was the crawl, BEYOND is the walk. BEYOND will focus on:
BVLOS: Repeatable, scalable and economically viable BVLOS operations.
Benefits: Analysis and quantification of UAS societal and economic benefits.
Public Support: Collection, analysis and engaging community concerns.
Beyond this (no pun) we know very little about what appears to be a continuation of IPP. Eight of the nine original IPP Lead Participants will continue their work in BEYOND:
1. Choctaw Nation of Oklahoma, Durant, Oklahoma
2. Innovation and Entrepreneurship Investment Authority, Herndon, Virginia
3. Kansas Department of Transportation, Topeka, Kansas
4. Memphis-Shelby County Airport Authority, Memphis, Tennessee
5. North Carolina Department of Transportation (NCDOT), Raleigh, North Carolina
6. North Dakota Department of Transportation, Bismarck, North Dakota
7. The City of Reno, Nevada
8. University of Alaska-Fairbanks, Fairbanks, Alaska
9. The city of San Diego has dropped out due to funding constraints.
IPP test and evaluation has helped clear the path for BVLOS operations, operations over people and package delivery. As noted in my February-March column, as a result of the IPP, the FAA recognized the Choctaw Nation of Oklahoma as the first tribal government public aircraft operator. "This was one of many firsts for the Nation, as it was also the first and only tribal government selected as an IPP Lead Participant," according to James Grimsley, executive director of advanced technology initiatives with the Choctaw Nation of Oklahoma. The Choctaw team has equally big plans for BEYOND, including a continued collaboration with Oklahoma State University to conduct UAS weather research to improve UAS safety. According to Grimsley, the Nation will also continue to work with Bell Flight and other industry partners to advance opportunities in the development of cargo-carrying UAS and advanced air mobility (AAM) systems.
All Leading Participants also affiliate with industry partners independent of the FAA. Could your company land such a deal? BEYOND may be the newest program in the T&E space but there are many more ripe for the picking. Here's an exploration of 10 top prospects for partnering: 
FAA/Designated Test Sites: FAA Test Sites will exist until September 30, 2023. Congress directed the creation of this 5-year program in the FAA Modernization and Reform Act of 2012 (FMRA 2012), extended it for two more years under the FAA Extension, Safety and Security Act of 2016 (FESSA 2016), and added four more under the FRA 2018. Six sites were originally selected to support NAS integration; a seventh was added in 2016:
1. Oneida County/Griffiss International Airport, New York, managed by Northeast UAS Airspace Integration Research (NUAIR) Alliance as the New York UAS Test Site (NYUASTS)
2. New Mexico State University
3. North Dakota Department of Commerce or Northern Plains UAS Test Site (NPUASTS)
4. State of Nevada, managed by the Nevada Institute for Autonomous Systems (NIAS)
5. Texas A&M University Corpus Christi, as the Lone Star UAS Center of Excellence and Innovation (LSUASC)
6. University of Alaska Fairbanks, as the Pan-Pacific UAS Test Range Complex (PPUTRC)
7. Virginia Polytechnic Institute & State University, the Mid-Atlantic Aviation Partnership (Virginia Tech/MAAP).
The T&E for these sites include detect and avoid (DAA), command and control, airworthiness, BVLOS, UAS Traffic Management (UTM), counter-UAS and AAM, to name a few. 
Some of the test sites have deep connections with the BEYONDers. North Dakota DOT, for example, is lashed up with NPUASTS. Together, they have launched Vantis, a statewide infrastructure network to support BVLOS ops. While the FAA is not seeking additional test sites, industry can engage with those sites directly.
FAA/Alliance for System Safety of UAS through Research Excellence (ASSURE): ASSURE is part of the FAA's Center of Excellence (COE), mandated by Congress in 1990 and validated through the FMRA 2012. Its members include a swath of public and private entities, with a core of leading academic institutions across the U.S., Canada and the UK. ASSURE partners engage with three FAA UAS test sites, lead four FAA research centers, and have seven airfields and a large UAS fleet. Research focuses on similar topics as the test sites plus others such as human factors, noise and spectrum management. The ASSURE website includes a long-standing request for information (RFI) on DAA, one of many ways to link up with ASSURE.
FAA/UAS Unmanned Traffic Management Pilot Program (UPP): The FESSA 2016 authorized the UTM Pilot Program (UPP). Phase I concluded in late 2019 and focused on the capabilities required to support UTM operations. The FRA 2018 added more objectives to the program, which comprises Phase II, focusing on T&E of Remote Identification (RID) tech and ops in collaboration with NASA, FAA Test Sites, industry stakeholders and BEYOND (former IPP) participants. The FAA selected MAAP and NYUASTS as the test sites for this.
FAA/Partnership for Safety Program (PSP): The FAA launched the PSP on July 1, 2010 through the Air Traffic Organization (ATO) and National Air Traffic Controllers Association (NATCA) to address operational safety problems in the NAS by identifying and mitigating risk. FAA Order JO 7200.21 (CHGS 1-2 ) governs the program and provides a framework to establish Local Safety Councils. Building local relationships could open doors!
NASA/FAA/Urban Air Mobility (UAM/AAM) Grand Challenge: NASA has unique authorities under The National Aeronautics and Space Act, 51 U.S.C. § 20101 et seq. (Space Act). It contains an other transaction authority, which NASA leverages to fulfill wide-ranging program requirements through Space Act Agreements. As part of NASA's AAM project with the FAA, it has entered into agreements with 17 aviation companies to conduct developmental testing (DT) as part of an AAM Grand Challenge (GC). The list is impressive, and includes Bell, Uber, Boeing, AirMap, AiRXOS…
The first Grand Challenge is slated for 2022 and will focus on: 
Developmental Flight Testing: Industry partners will fly a vehicle to demo key integrated operational UAM scenarios.
Developmental Airspace Simulation: Industry partners will test their UTM services in NASA-designed airspace simulations.
Vehicle Provider Information Exchange: Industry partners and NASA will exchange information with the intent to prepare that partner for possible flight activities on a test range.
NASA is seeking additional industry partners and proposals for the Vehicle Provider Information Exchange.
Federal Labs/Tech Transfer and Transition (T3) Authorities: T3 is the way the federal government, including the Department of Defense, links technologies with the marketplace, and ultimately, the mission. Companies may want to tap into the billions in federal lab research and development dollars, through joint research projects, personnel exchanges, licensing opportunities and more.
Non-Federal Institutions: As illustrated by ASSURE, we know that many non-federal academic research institutions are excelling in T&E; dig deep into their websites and find ways to engage. For example, the University of Denver Unmanned Systems Research Institute (DU2SRI) has an impressive list of collaborations with national and international universities and organizations (https://du2sri.du.edu/people/collaborators/). Dr. Kimon Valavanis leads the Center and is eager to forge new partnerships.
In addition to universities, non-profit organizations also dwell in T&E. Take Northeast UAS Airspace Integration Research (NUAIR) as an example. NUAIR is collaborating with the NYUASTS to develop New York's 50-Mile UAS Corridor. Andy Thurling, chief technology officer for NUAIR, said that New York state has long championed development of UAS business and technology, investing more than $50 million to date. According to Thurling, "You can see the whole 'NY Drone Ecosystem' described in detail at UASCentral [http://uascentral.com/]. At NUAIR, we have both broad and deep experience with UAS and flight testing to appropriately scope a flight test campaign to meet the customers' and FAA requirements."
Do It Yourself (DIY): Jonathan Daniels, a retired Army officer and aviation expert with more than 20 years of military and civilian experience in unmanned systems, was the inaugural technical director for the Nevada UAS Test Site, CEO of the only ASSURE Industrial Partner in Southern Nevada and launcher of the first commercial U.S. droneport in 2015. He suggests that some companies don't need to be constrained by the fear of missing out because they are not part of the formal programs: with the right test range and FAA operating approvals, companies can perform a wide spectrum of commercial operations. According to Daniels, "Your aircraft simply needs to be airworthy and have the right regulator permissions to perform your desired mission."
With regard to airworthiness, Daniels explained, there are three potential approval routes: (1) a waiver of airworthiness for routine commercial work under 49 USC 44807; (2) a special airworthiness certificate or (3) a type certificate. Without waivers, Part 107 provides the flexibility for only the most basic entry-level operations. True aerial work such as Part 135 package delivery requires type certification. A recent FAA determination that UAS with no occupants on board may be type certificated as a ''special class'' of aircraft under § 21.17 (b), coupled with standard-setting organization ASTM International's new Practice for Showing Durability and Reliability Means of Compliance for Unmanned Aircraft Systems from ASTM (F3478-20), will assist UAS manufacturers with overcoming that hurdle.
Advanced Drones Vectoring Autonomy Nationwide for the Commercial Economy (ADVANCE): I made this one up, but isn't it a great acronym and the logical follow on for the FAA's BEYOND? The vision, as Daniels put it, would be "AAM with crash dummies." As he explains, BEYOND participants will likely prove use cases for AAM aircraft with cargo aboard. The next step: "Prove you can do flights without hurting a human being and then eventually you can start doing flights with humans aboard."
The Sky is the Limit
Many amazing T&E opportunities are out there. Former FAA attorney and now counsel at the law firm Crowell & Moring LLP in Washington DC, Mary-Caitlin Ray: "In terms of 'plugging in' to the network of FAA UAS integration programs, industry stakeholders should keep in mind that these programs do not exist in a vacuum. The PSPs, the Test Sites and the former IPP [now BEYOND] create a network of public and private sector entities, each with its own specific role, that work together to collect huge amounts of data on all aspects of expanded drone operations." While some programs are not accepting new participants on a rolling basis, there may still be opportunities for industry stakeholders that are not current participants to partner with entities that are involved in those programs.
Partner we must because UAS programs are the pathway to AAM. Are you ready for the revolution? Let's fly!