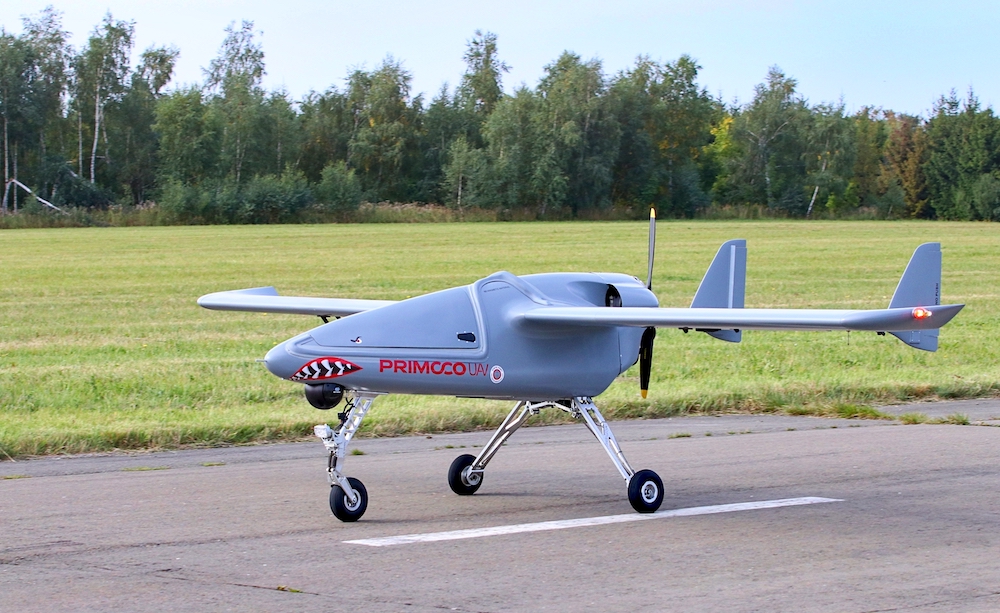 Primoco UAV SE, the Czech company, and the Army of the Czech Republic successfully tested the Primoco UAV One 150 unmanned aerial vehicle (UAV) focused on verifying battlefield communication systems and optical reconnaissance sensors.
From 6 to 9 September 2021, the military training area Libavá hosted the testing of the Primoco UAV One 150 for the benefit of the Czech Army, focused on the verification of communication systems to support battlefield communications and optical reconnaissance sensors. The aircraft was operated under the company's civilian licence, but was equipped with military communication systems and an electro-optical reconnaissance unit based on the selection of the Czech Army. The aim of the tests was to familiarize the specialists of the Army of the Czech Republic with the aircraft itself, as well as to verify the performance and characteristics of the communication and reconnaissance systems.
The One 150 aircraft with a maximum take-off weight of 150 kg was equipped with special radio and data communication equipment in the form of a radio station from L3 Harris and ANW2C datalinks from Persistent Systems, selected by specialists of the Czech Army, which are compatible with established types. During flight operations over the military training area, the aircraft in day and night conditions provided retransmission of communications from individual ground stations that were not in direct line of sight to each other, and also performed reconnaissance and identification of pre-prepared targets. The test results have shown that the aircraft can reliably operate as a key airborne element of the manned network concept and enable the Army to deploy a secure communications system in virtually any area regardless of terrain conditions or ground infrastructure. The proof was a functional and high-quality connection over a distance of tens of kilometres, which ensured both voice and data transmission and remote control of robotic systems used in the Czech Armed Forces.
The final day of the testing was personally attended by the Chief of General Staff, Army General Ing. Ales Opata, and Chief of Staff Lieutenant General Ing. Miroslav Hlaváč, who were briefed on the progress of the tests and also on the unmanned aircraft and its operation system, including a ground demonstration of the first military aircraft One 150M, which is already registered in the military aviation register of the Ministry of Defence. During the demonstration, the Chief of the General Staff was particularly positive about the capabilities of Czech industry: "Czech suppliers, who can effectively and quickly address our requirements even in emergency situations, are key for the Czech Army. I welcome the opportunity to work with the Czech aerospace industry, including Primoco UAV, as it is beneficial to both parties, and this test demonstrated that. The trials of the communication systems have been completely fulfilled and show that the concept of developing communication systems based on ad-hoc MANET networks adopted by our army is the right way. Another important feature is verifying that the strategy for the development of command and control systems has been chosen correctly and its expected expansion of the use of air communication elevates the capabilities of the army as a whole to a new level."
Presenting the aircraft to the General Staff delegation, the CEO of Primoco UAV SE said: "We are honoured to cooperate with the Czech Army. Its members did a perfectly organized job in preparing and conducting the tests. The tremendous experience of the military personnel during this exercise has allowed us to gain valuable insights that will help improve the One 150M aircraft to better meet the needs of modern armed forces. I consider it important to mention that our company provided only the operation and piloting of the aircraft, but the operation of the systems on board was handled by members of the Czech Army. I would like to thank General Abbot for the opportunity to organize such trials. Just the fact that the Army of the Czech Republic follows the development of the capabilities of domestic industry, and at certain times wants to test these capabilities, testifies to the fact that its specialists follow global trends and are constantly working on ways to increase the capabilities of the corps."