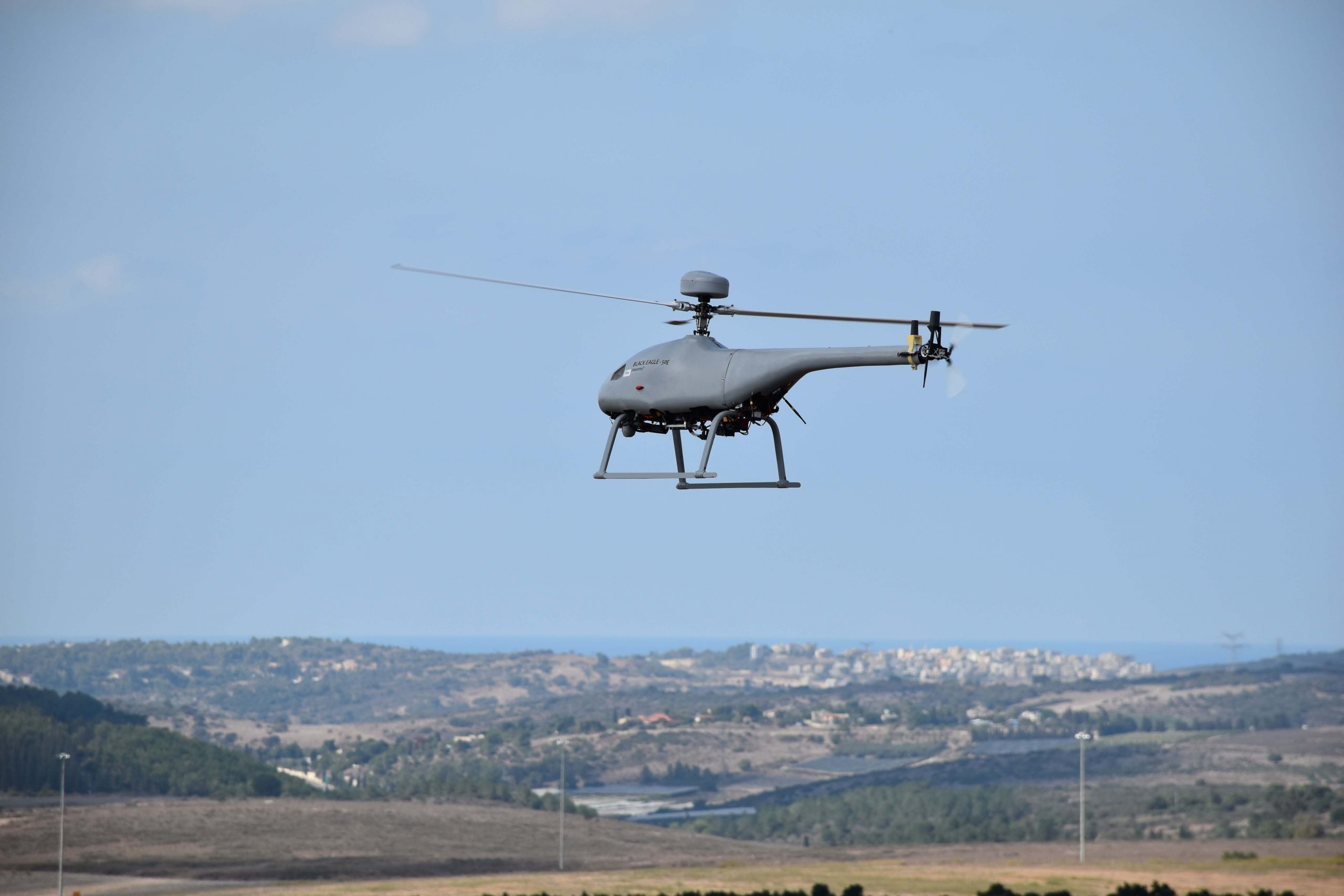 Steadicopter has released an unmanned helicopter that's powered by an electric motor instead of gas.
The new RUAV Black Eagle 50 Electric, described by the Israel-based company as a first, has a maximum takeoff weight of 50 kilograms and a useful load weight of 30 kilograms, comprising payload and batteries. It's capable of up to 2 hours of flight time.
Like Steadicopter's Black Eagle 50 gasoline-powered solution, the electric version features vertical take-off and landing capability, long hover durations, and mission sensor suites that can take on both day and night mission scenarios. It can be deployed for both civilian and military use cases, Steadicopter Sales & Marketing Director Noam Lidor said, including maritime ISR, search and rescue, border patrol, security, research and development, special testbed, and oil and gas applications.
Because the new system is based on the Black Eagle 50 fuel powered RUAS, Steadicopter was able to use the existing airframe, Lidor said, and maximize the available space by removing the fuel engine and its supplementing components.
"The most important advantage [of an electric system] is the operational flexibility now given to the user's discretion," Lidor said. "This, of course, is also linked to the ease of use and maintenance of electric powered systems with a more efficient 'logistic trail' versus fuel-powered systems."
With the Black Eagle 50 Electric, Steadicopter has put the focus on "true mission versatility," Lidor said. There's a near-to-zero logistic trail because there is no need for additional launch and recovery equipment. That means the unmanned helicopter can take off and land from anywhere, and hover for long durations to enable "continuous field-of-views and stationary flight for a wide variety of operational profiles not possible with other configurations."
The electric system also opens up "new operational scenarios," Lidor said, particularly in the maritime domain as well as high altitude operations.
The Black Eagle 50 Electric is powered by dual-electric propulsion. There's no need for fuel storage, making it easy to maintain, environmentally friendly and safe. The fact the system is electric reduces its carbon footprint, Lidor said, as well as noise pollution.
"The Black Eagle 50 Electric has been developed in response to the need of the company's customers worldwide for an electric VTOL aircraft, which can still be used in many varied missions, both in terms of being able to carry advanced payloads, and through extended time in the air," Lidor said. "This is a truly multidomain, multimission and multisensor system, coupled with all the benefits of a covert, easy-to-maintain, highly versatile electrically-powered system."