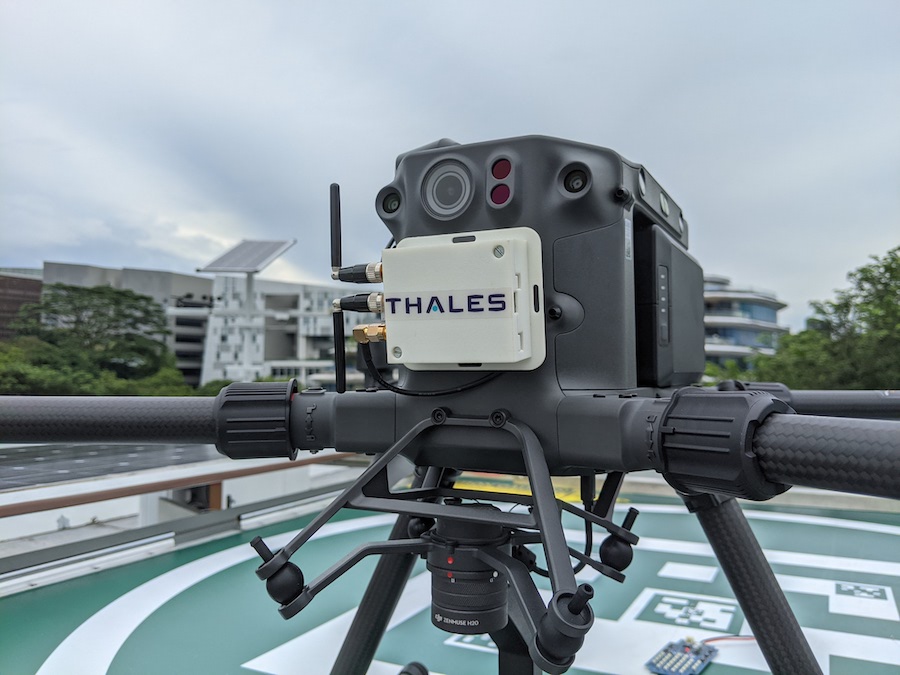 Late last year, Thales and H3 Dynamics tested a real-time autonomous drone flight monitoring system in Singapore.
H3 Dynamics' DBX autonomous drone charging box was tested in an urban environment with a drone electronically registered and identified using Thales' Remote Identification tracker, according to a news release. The UAS was monitored in real time via the Thales UAS Airspace Management solution to enable beyond visual line of sight (BVLOS) operations.
This development is expected to accelerate the adoption of IoT technology to manage Singapore's complex urban airspace. The solution can help UAS operators and others precisely monitor unmanned traffic in dense urban areas, securely and in real time.
Singapore start-up H3 Dynamics has been working with government and corporate clients on the end-to-end digitization of various maintenance and monitoring processes. One of the first use cases involves imaging high-rise building facades using HD and thermal camera drones.
Anticipating scalability challenges, H3 Dynamics developed autonomous charging shelter systems and drone data hubs, with some already installed in Singapore and other locations for initial testing. This end-to-end solution seamlessly links with the unmanned traffic monitoring technology from Thales.
The Thales Remote Identification tracker weighs less than 70 grams and features Network remote ID function through LTE and Direct Remote ID function through Wi-Fi/Bluetooth. It allows authorities to register, identify, monitor and track drones in real time. It is the visible asset of a complete IoT ecosystem featuring cloud-based web server access and a mobile application so operators also can track their own fleet of UAS in real time. All communications are end-to-end cyber-secured.
The demonstration showcased real life and stress test flight scenarios, including geofencing and mission deviations.
"For the first time in the world and in a live test conducted in Singapore, Thales and H3 Dynamics integrated autonomous drone docking stations with real-time drone tracking, and a world-class unmanned air traffic control system capable of being deployed today," H3 Dynamics Founder and CEO Taras Wankewycz said, according to the release. "The broad coverage of Thales digital aviation capabilities, tied to our remote mission control and aerial data acquisition systems, places the combined system at the edge of drone technology and demonstrates the true potential of safe BVLOS operations."