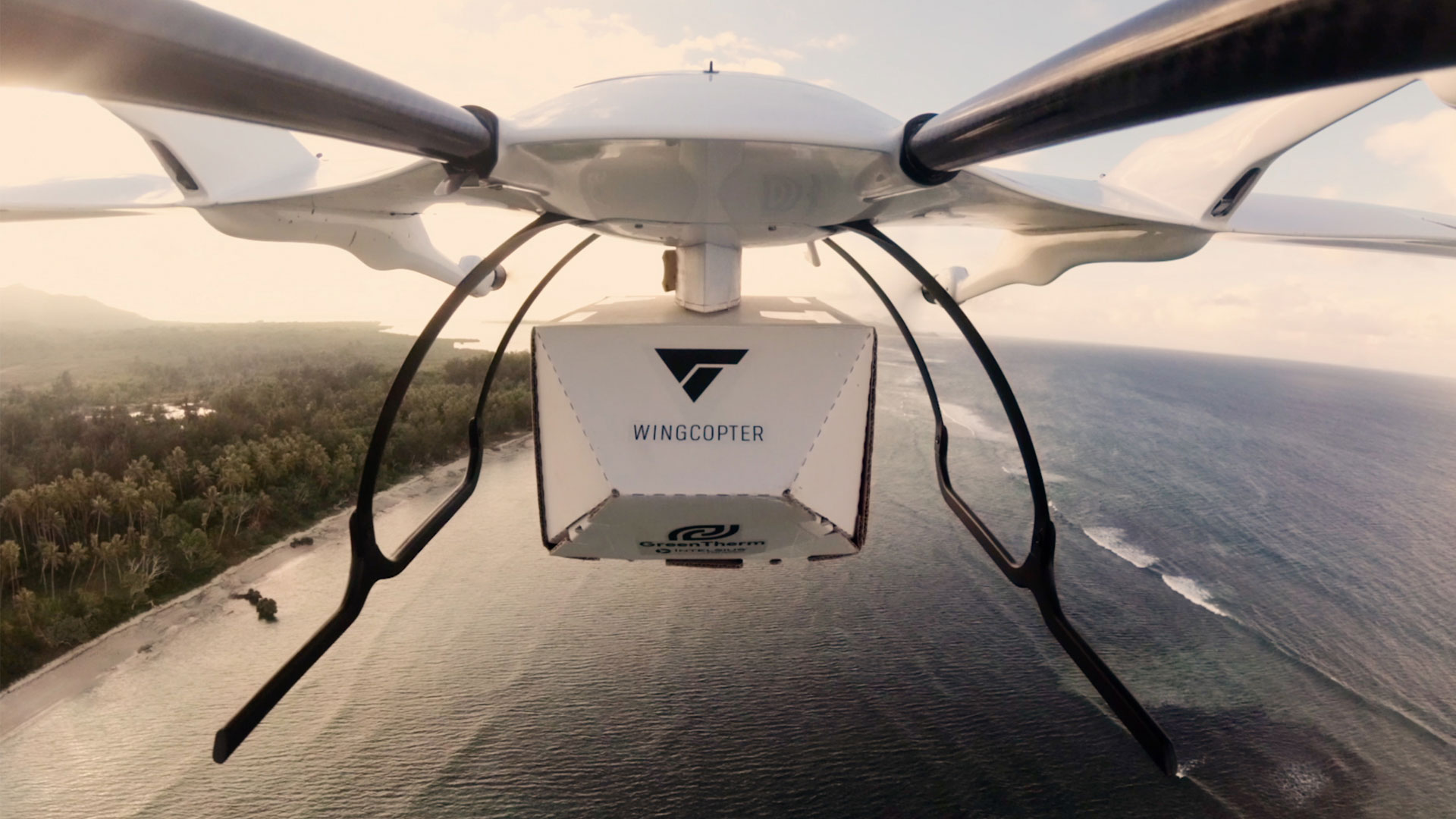 German-based Wingcopter recently secured $22 million in Series A funding, which the company will use to strengthen its position in drone-based logistics—particularly for health care related applications, including distributing COVID-19 vaccines.
The Wingcopter 178 Heavy Lift UAS, the company's current model, can deliver cargo up to 120 kilometers, according to a news release, and accurately lowers packages through a winch mechanism. The delivery drone also can land at its destination and then return to its origin with a new payload.
With the funding, Wingcopter is working to release the next generation of this UAS, which is described as a "game-changing" delivery drone. There are also plans to expand drone-delivery-as-a-service offerings.
Part of the capital raised will be used to set up partially automated serial production at Wingcopter's new headquarters in Weiterstadt, Germany, a 77,500 square foot facility. This will allow for a rapid ramp up to mass production of the drones.
The financing round was led by Silicon Valley-based Xplorer Capital, a key investor in autonomous technologies, and Futury Regio Growth Fund, a Germany-based growth capital fund focusing on investments in globally scalable business models. Futury Ventures and Hessen Kapital III also participated in this financing round.
"Our team is driven by tackling the world's challenges through scalable innovations," Wingcopter CEO Tom Plümmer said, according to the release. "This chapter of our journey is dedicated to setting up logistical highways in the sky that leapfrog traditional means of transportation. Poor infrastructure has always been a barrier, especially for health care provision, impacting billions of lives—a situation further exacerbated by COVID-19. With the support and powerful networks of our investors we are taking a huge step closer to fulfilling our vision of creating efficient and sustainable drone solutions that improve and save lives everywhere."
Wingcopter also recently started a long-term COVID-19 response project In Malawi called Drone + Data Aid. The company is working with Deutsche Gesellschaft für Internationale Zusammenarbeit (GIZ) GmbH on behalf of the German Federal Ministry for Economic Cooperation and Development (BMZ) to improve health care supply chains. As part of this, Wingcopter partnered with UNICEF'S African Drone and Data Academy to train local youth how to operate drones.