Eventually, drones will perform tens of thousands of missions a day, providing benefits to consumers who will have goods and medicines delivered straight to their doorstep, as well as to companies that will routinely use the technology to improve safety for their workers while also enhancing efficiencies and saving money.
While we're taking steps to get to that point, there's still a lot that needs to be done to make this vision a reality, said Herbert Williams, of the Office of Science and Technology, Executive Office of the President. Williams was among panelists Todd Graetz of BNSF Railway, Greg Agvent of CNN, Basil Yap of the North Carolina Department of Transportation and Matt Edwards of State Farm who kicked off the last day of the Commercial UAV expo on Wednesday. The group discussed their successes and frustrations, as well as what they see as next steps during the Expanded Operations panel. Jay Merkle of the FAA moderated.
"We want to operate at a much larger scale," Williams said, and to safely keep "exploring the boundaries of the technology today."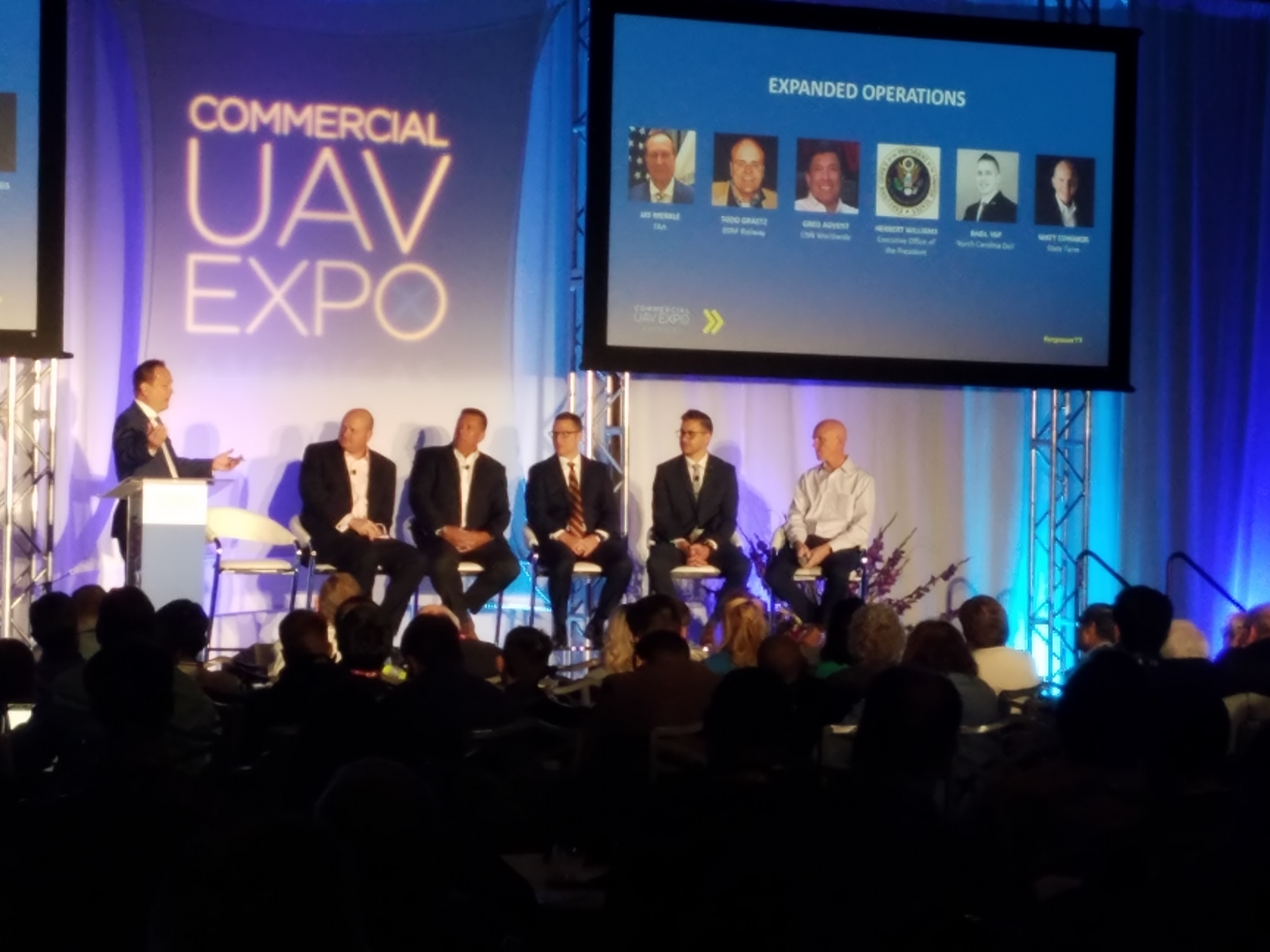 Panelists talked about their experience with expanded operations, which included CNN's waiver to fly over people, BNSF's beyond visual line of sight (BVLOS) operations to inspect railways, State Farm's waiver to fly BVLOS and over people anywhere in the U.S., and North Carolina's medical drone delivery program at WakeMed Hospital.
A lot has been accomplished in 2019, especially through the UAS Integration Pilot Program (IPP), which finishes up in 2020. Panelists see a big year ahead as everyone works toward solving the main challenges keeping drones from meeting their full potential, including command and control, remote ID and the creation of a unmanned traffic management (UTM) system, all of which will help make routine BVLOS operations possible. When that happens, drones will be deployed on a much larger scale.
During this year's show, attendees also had the chance to sit in on panels that covered a variety of topics including construction, energy, surveying and mapping, and remote ID. Next year's expo is scheduled for September 15 to 17 at Paris Las Vegas.