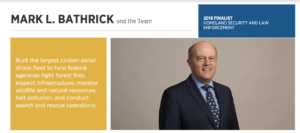 The Sammies, known as the "Oscars" of government service, are a highly respected honor with a vigorous selection process. Voting continues for the 2018 Sammies People's Choice award, and Mark L. Bathrick, Director of the Office of Aviation Services (OAS) in the Department of the Interior (DOI), is among the finalists for the top honor.
Named for the Partnership for Public Service's late founder who was inspired by President Kennedy's call to serve in 1963, these awards align with his vision of a dynamic and innovative federal workforce that meets the needs of the American people. Bathrick is up for the award after the unmanned aerial vehicle program created and overseen by the director of the Interior Department's OAS played a critical role in battling wildfires in 2017.
As of June 1, the field of candidates was narrowed to the top 12 vote getters in the People's Choice poll. Those interested in participating in the selection process can read the finalists' profiles to learn about their accomplishments, then vote for their top picks using the poll here.
You may vote for as many finalists as you want, and you may submit your votes once per day. The field will be narrowed to four on June 21, with the voting closing on July 9. The winner will be announced on July 19.
The Partnership is a nonprofit, nonpartisan organization whose mission is to help make the government more effective, and the Sammies honorees represent the many exceptional federal workers who are doing just that—breaking down barriers, overcoming huge challenges and getting results. Whether they're defending the homeland, protecting the environment, ensuring public safety, making scientific and medical discoveries, or responding to natural and man-made disasters, these men and women put service before self and make a lasting difference.
Samuel J. Heyman believed that "the future of our nation quite simply depends on the quality of our government." The Sammies are the Partnership's way of showing the world the many ways our government is making our country better, safer and stronger.
UAVs and Firefighting
Bathrick and his Team are a 2018 Finalist for their efforts in Homeland Security and Law Enforcement. Their profile (below) explains the important role drones played as fires raged in Oregon in 2017.
Finalist Profile
As fires raged in the Oregon's Umpqua National Forest in August 2017, the infrared video camera on an Interior Department unmanned aerial vehicle spotted a previously undetected blaze that threatened a hydroelectric power plant, homes and a government ranger station.
The smaller fire, likely set off by a windblown ember, was contained before it got out of control, averting an estimated $50 million in potential damage. This event was one of many recent success stories stemming from drones dispatched at 71 wildfires in 2017, part of the UAV program created and overseen by Bathrick.
During the past decade, Bathrick has built the government's largest unmanned aerial vehicle fleet outside the Department of Defense, deploying 312 drones that flew nearly 5,000 times over public lands in 2017. Besides fighting fires, Interior's drones have been used to support everything from dam and pipeline inspections to wildlife and vegetation surveys, volcano research, wild horse roundups, and search and rescue missions.
Bathrick, a former Navy Top Gun fighter and test pilot, built the program from the ground up, initially acquiring surplus drones worth $25 million from the Pentagon at no cost and starting operations with 208 flights in 2010.
Along the way, Bathrick established flight protocols and a state-of-the-art pilot training program. He has overseen the certification of 200 pilots involved in natural resource management activities in 32 states, and secured Federal Aviation Administration approvals for unique operating flexibilities. He implemented strict safety measures, addressed privacy concerns, reached out to communities to explain drone operations and introduced the technology across many of the department's bureaus.
"Mark's program at Interior is the gold standard for civilian use of unmanned aerial vehicles in government," Phillip Hall, who heads the drone initiative at the National Oceanic and Atmospheric Administration, said in the profile on thePartnership for Public Service website.
"He has brought his aviation background and leadership to the program, successfully dealing with significant challenges regarding training, acquisition and cybersecurity," Hall said. "He is on the leading edge of policy development and has made the unmanned aerial vehicles extremely useful to his organization."
AUVSI President Brian Wynne said Bathrick has "successfully integrated a new technology to enhance the capabilities of government. He has focused on solving problems and saving taxpayers an enormous amount of money. In the case of wildfires, he has helped save lives and property."
The unmanned aircraft, fitted with video cameras, infrared heat sensors and other equipment, can deliver high-resolution images and data to the computers manned by pilots on the ground.
During forest fires, the drones have given firefighters a tactical advantage by improving their surveillance and reconnaissance capabilities, and enabling them to detect hotspots, position crews, identify escape routes and enhance safety. Bathrick and his team are now experimenting with new, larger drones to assist in fire-suppression operations. Unlike manned aircraft, the drones can fly at night and in heavy smoke.
Drones have been used for at least 20 different Interior Department functions, including counting thousands of migratory Sandhill Cranes that occupy marshes and grasslands in Colorado's Monte Vista National Wildlife Refuge; inspecting parts of Devils Tower National Monument in Wyoming to determine whether hiking trails were safe to use; monitoring illegal dumping in the Mojave Desert; and determining if pollutants were seeping from abandoned mines in various parts of the West.
Harry Humbert, the Interior Department's deputy assistant secretary for public safety, said Bathrick excels at "collaborative leadership" and consistently has made the case that important tasks can be done more efficiently, at a lower cost and more safely in some cases, with the use of unmanned aerial vehicles.
Bathrick also has worked to develop sound policies and understand how the drone technology can best be used to serve the public, said Mark Gibson, president of NUAIR Alliance, a not-for-profit corporation that oversees unmanned aircraft testing.
"One word describes Mark and that is 'effective,' '' Gibson said. "He gets things done in a well-reasoned way. He not only has had a significant impact at Interior with the use of this technology, but across the entire government."