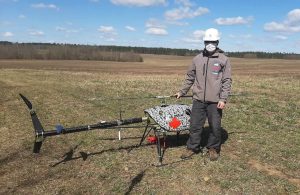 UAVOS recently completed a test of its cargo delivery UHV-170 unmanned helicopter, successfully delivering critical humanitarian aid.
The UVH-170 flew a "highly automated" route from a vendor to a destination and back, flying 62 miles across pre-selected pathways in 1.7 hours, according to a news release. The cargo, weighing 17.6 pounds, was delivered without the need to land or for a ground control station on the receiving side.
The unmanned helicopter has a line of sight (LOS) data link and a satellite communication data link to support beyond visual line of sight (BVLOS) flights.
UVH-170 is "designed for commercial operations and immediate air response, emergency relief under demanding conditions and tight timescales." Its high standoff distance makes it well-suited for humanitarian and disaster relief missions.
The solution has a maximum take-off weight of 99 pounds, a payload capability of up to 22 pounds and flies at an altitude of less than 8,200 feet at a maximum speed of 74 mph.
"As we have seen during the trials, the customers can derive significant benefits from the use of the UVH-170 UAV," CEO and Lead Developer Aliaksei Stratsilatau said, according to the release. "As a robust VTOL platform, the UVH-170 does not require any additional take off or recovery equipment, which makes it perfect for delivery to remote areas."