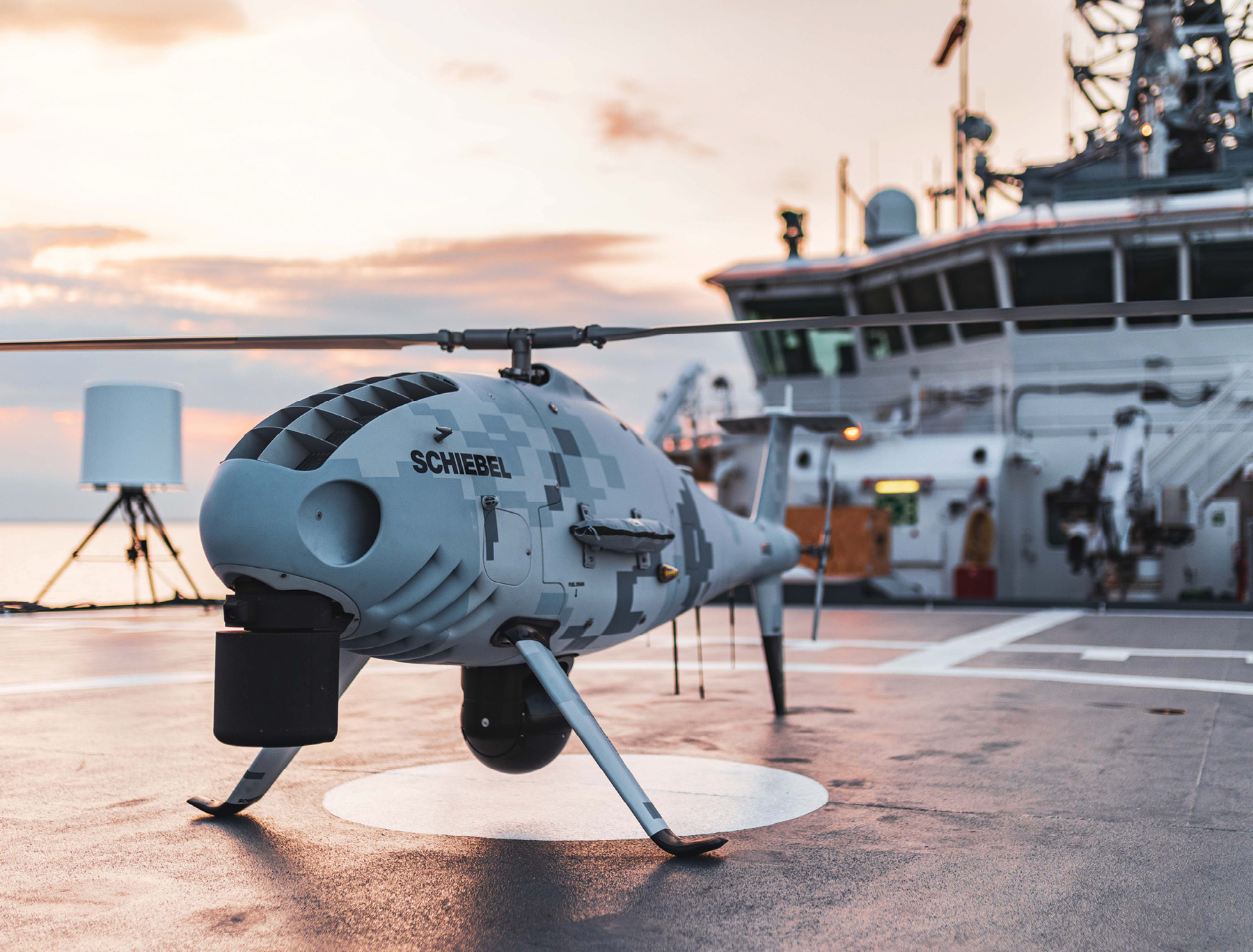 Drones carrying smaller sensors with more sophisticated capabilities are performing a variety of military and civil ISR missions.
Deploying drones for Intelligence, Surveillance and Reconnaissance (ISR) missions has been part of military operations for years. Systems have taken to the skies for long-range persistent surveillance, intelligence gathering and combat operations, typically carrying EO/IR (electro optical and infrared) sensors. Now, the sensors, as well as the systems, are getting smaller even as their capabilities are expanding.
A soldier can pull a nano drone out of his or her pocket and send it to gather intel about what's around the corner. There's access to high resolution, full motion video via small unmanned aircraft systems (sUAS)—not just large drones like the Predator—and the ability to add other sensors to the payload if the mission calls for it. Artificial intelligence (AI) and machine learning are being incorporated as well, making it possible to efficiently identify specific objects of interest—an advancement the U.S. Coast Guard is using to intercept drug traffickers traveling by boat.
"Drones have countless use cases in both the civilian and military market, as they are extremely versatile systems," said Major General (Ret.) Hagi Topolanski, vice president of Haifa, Israel-based Elbit System's ISTAR division, UAS business unit. "This versatility results from long endurance time, ability to cover large areas and the ability to use a number of sensors simultaneously. Historically, the majority of unmanned systems were used in classical ISR missions by using electro optical payloads. This is changing today, as the platforms are becoming more sophisticated and the sensors are improved and miniaturized."
HIGHER RESOLUTION, SMALLER SOPHISTICATION
With Insitu's ScanEagle UAS, everything revolves around full motion video, Director of Defense Payloads Dave Anderson said. Soldiers can use these videos to tell if someone is holding a shovel or a rifle, so they know if they're looking at a farmer who isn't a threat or an enemy who is.
These days, military clients are demanding even higher-resolution video, Anderson said. They want to know what mood that farmer is in, his hairstyle and what kind of phone he has.
"Delivering what we delivered just a few years ago is not enough," Anderson said. "The clearer the image, the more they're able to understand what's happening on the ground so they can discern what should be done."
The high-resolution imagery also provides details such as when it was captured, its geolocation and which aircraft it came from. Insitu can sharpen video, draw out specific aspects and create mosaics.
The biggest change for drone ISR in the military rests with technological advancements that allow for smaller systems and smaller, more sophisticated sensors, said Dave Duggan, president, precision engagement systems for Melbourne, Florida-based L3Harris Technologies.
"These smaller drones are able to do a lot more for ISR than was possible 10 years ago or even five years ago," Duggan said. "And the benefit is these systems are lower cost and easy to operate. You can buy more of them and can operate them from areas where it's difficult to have larger drones."
David Kroetch, vice president UAS Solutions for FLIR Systems, has noticed a miniaturization of sensors across all business verticals, including military. Historically, 100-pound sensors would have to be flown on large aircraft, but that's changed. Sensors of all types, whether imaging, gas or radio relay, are shrinking. Flying them on smaller drones, military users don't need big runways to get them to the battlefield; today's systems are small enough to fit in a backpack or even a pocket.
Visible light sensors were the first to shrink, Kroetch said, mostly because of their prevalence. Now, nonvisible light sensors are getting smaller as well. Wilsonville, Oregon-headquartered FLIR can deliver a thermal sensor with 20 or 30 times zoom optics in a package that can be put on a long-endurance drone. This makes it possible to complete ISR missions at night, and to see details visible light sensors can't provide.
"It's easier to see a bad guy in a thermal image," Kroetch said. "You can see his thermal signature as opposed to trying to pick out someone in camo hiding in a bush."
In the past, soldiers would be sent on foot to complete over the hill surveillance or wait for a large UAS to become available. Now, an operator can pull a small drone out of a backpack and complete the mission in an hour or less. This change in operations allows soldiers to keep their eyes on the target versus trying to talk over the radio and describe what they're seeing, Kroetch said. Instead of calling in coordinates if they need air support or using voice communication, they're sharing imagery.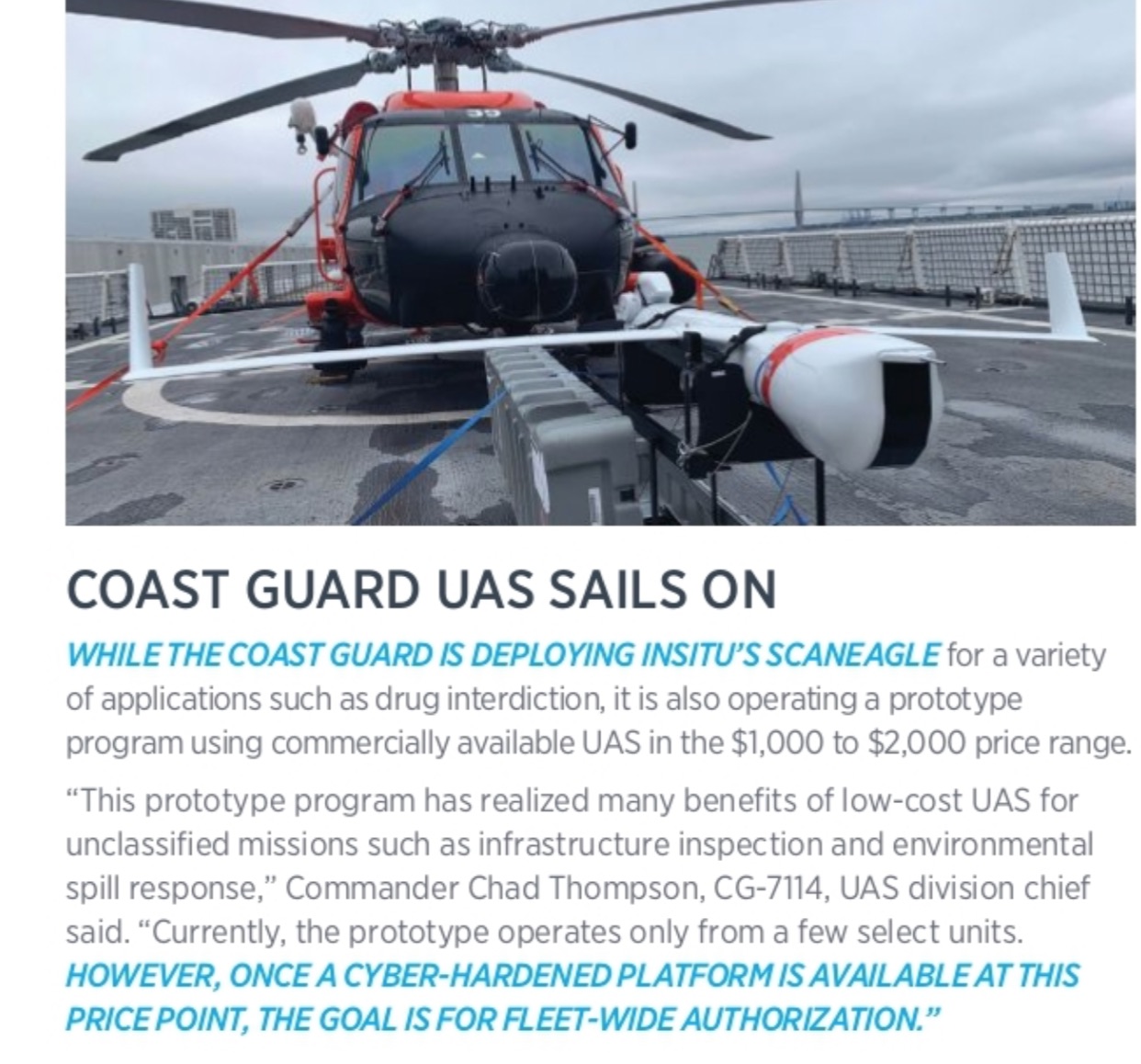 INSIDE THE TECHNOLOGY
sUAS can fly a variety of sensors for ISR missions, including classical narrow field of view EO/IR cameras, new high-end terrain dominance sensors, radar for land and maritime missions, and electronic warfare (EW) sensors, Topolanski said. One of the biggest trends he sees is the switch from classic EO payloads to terrain dominance payloads.
"In the past, traditional electro optical systems were limited in terms of the field of view and provided the ability to observe a relatively small area at any given moment," Topolanski said. "The advancement in technology gives us the ability to offer new sensors such as the Skeye systems that can cover large areas [up to 80 square kilometers] with constant electro optical coverage in real time. This opens the door to many new applications that were technologically impossible in the past."
EO/IR sensors are still the most prevalent, Duggan said, with L3Harris offering a variety of options through its Wescam series. The line provides everything from large 25-inch sensors that can see far away when placed on larger aircraft to 8-inch sensors that can be mounted on sUAS. High-res optical sensors are also becoming more popular and enable drones to collect a wide array of imagery, recording it or passing it via data links to ground stations.
The EO sensors are outfitted with long lenses, said Jon Damush, senior director of new business ventures for Boeing NeXt of Manassas, Virginia, so they have a narrow field of view and the ability to zoom in. That means they can be far away from what they're looking at but still capture the necessary detail.
Many different optical sensors can be integrated into a package and mounted on gimbals, Duggan said. An operator in a control station can access the gimbals through software and move them so they're pointing in the best direction to collect imagery.
The gimbal offers stabilization, which is especially important on smaller drones because they typically produce lift using a set of propellers that causes vibration, Damush said. Cameras must be protected from motor vibrations and turbulence, which can be done with a gimbal or through computer vision and computation processes.
Infrared and thermal cameras are also popular sensor options for ISR, Damush said.
"You see thermal used in a lot of military applications," he said. "It's really good at telling you if you're looking at a living thing versus a non-living thing because it detects heat. It's also good at penetrating weather conditions because it senses temperature."
There are three types of infrared sensors: long-wave, mid-wave and short-wave, Kroetch said. Long-wave is good to measure heat, while mid-wave and short-wave are better in environments with fog or haze. Larger gimbals flown on bigger systems can carry more than one, which can be useful for military applications.
These days, most systems are multi-payload, Anderson explained. Full motion video is the core capability, but there's almost always another sensor onboard to provide additional intelligence. This could be electronic warfare, radio emission and synthetic aperture radar (SAR) to help discern moving objects.
"The trend is to continue to add more and more to the aircraft," Anderson said. "Imagine looking at the video but also having other forms of intelligence to discern that you're looking at who you think you're looking at, not just somebody who looks like him and dresses the same way. We don't want to just trust our eyes and full motion video. We need other forms of intelligence as well."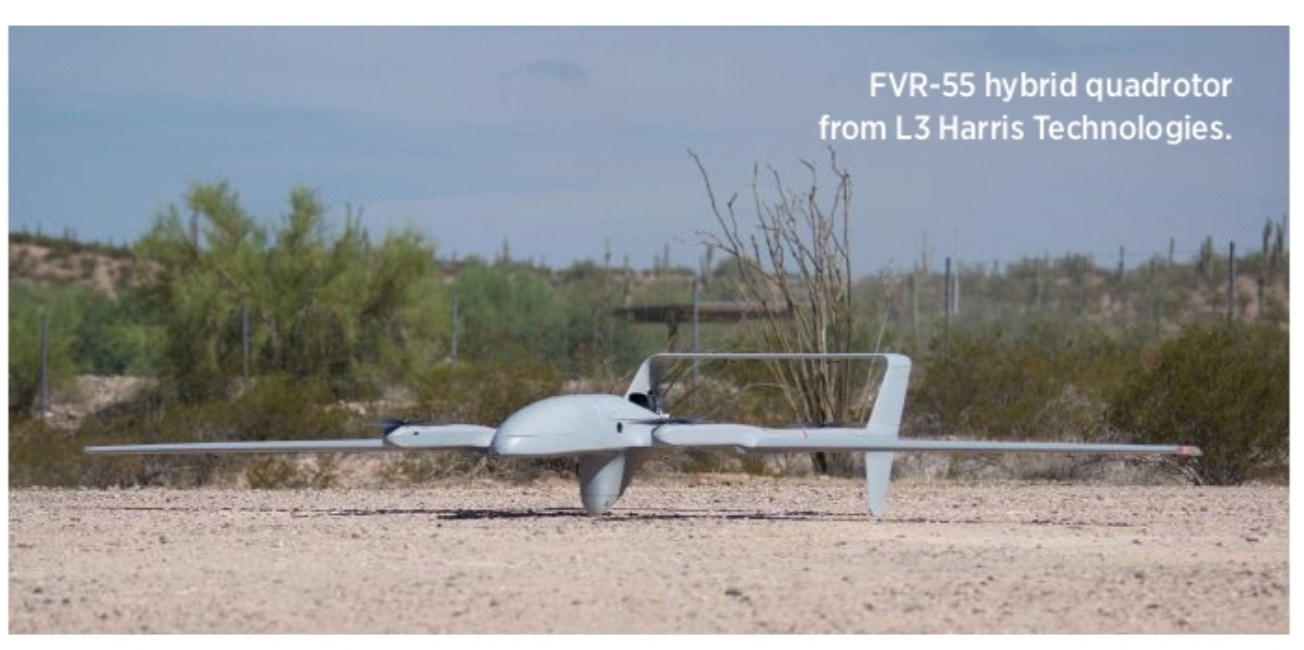 ADDING AI
Integration of artificial intelligence (AI) and data analytic systems is also more prevalent, Topolanski said. This becomes important as the amount of data generated from single platforms constantly increases.
The key is to not just provide data but to also provide intelligence, Kroetch said. Instead of someone having to look through the imagery, AI detectors can automatically draw a box to highlight objects such as vehicles or a person hiding in a bush.
"The GPUs that were originally designed for gaming and making good 3D graphics also turn out to be good for AI and neural networks," Kroetch said. "The way this technology works is by training it. It needs to see examples of what it's looking for. So not just people sitting at picnic tables but people hiding behind bushes. It needs to see tanks and pick-up trucks. The system learns to recognize these things."
Insitu offers visual detection and ranging (VIDAR), which Anderson describes as like having someone in the back seat pointing objects out to you. Using AI and machine learning, ViDAR sifts through data and highlights anything that seems interesting, like an unexpected boat traveling at high speeds across the ocean. The operator receives a prioritized list and can click on specific areas for a closer look—without having to search through all the video.
The U.S. Coast Guard has successfully used the ScanEagle, equipped with ViDAR, to support missions executed by its National Security Cutter (NSC), including defense readiness, living marine resources, migrant interdiction, search and rescue (SAR), and marine environmental protection, said Jeff Bishop, CG-9313, sUAS for NSC program manager. One of the most successful, however, has been the interception of drug runners attempting to move large amounts of narcotics across the ocean.
"The UAS has played a vital role in the joint federal mission to stem the flow of illicit narcotics entering the U.S. via the maritime nexus by increasing the cutter's efficiency and effectiveness in this endeavor," Bishop said. "Primarily, ScanEagle on the NSC provides surface search capability, full motion video to the host NSC and extension of communication ranges. Additionally, it has the capacity to provide supplementary sensor payloads as mission requirements dictate."
The system has completed more than 1,000 flight hours and assisted in 30 interdictions, with 75 suspected narco-terrorists detained. That has resulted in the seizure of more than 50 kilograms of illicit narcotics valued at $680 million.
The ScanEagle's ability to remain aloft for extended periods and the system's full motion video, which can be taken day or night, "significantly increases the NSC commander's situational awareness and consequently allows the commander to make better-informed tactical decisions," Bishop said.
SEVERAL SENSOR SOLUTIONS
Change detection and obtaining better situational awareness are examples of how both military and civil markets are deploying UAS for ISR missions, said Neil Hunter, business development director at Austrian-based Schiebel.
"With ISR applications end users are usually looking for detection and tracking," Damush said. "Is there something here that we can track or count? Most of the visible camera use cases are less about gleaming derivative data and more about watching or recording things."
PROJECT ROUNDUP
SCHIEBEL IS PROVIDING THE EUROPEAN MARITIME SAFETY AGENCY (EMSA) with surveillance services via its CAMCOPTER S-100 UAS. Since last year, the aircraft has assisted Croatia with maritime Coast Guard functions including SAR, monitoring and surveillance, ship and port security, vessel traffic, environmental protection and response, ship casualty assistance, and accident and disaster response.
The system, a long-endurance VTOL rotary UAS that can be launched from ships and other small areas, is equipped with an L3 Wescam EO/IR camera gimbal, an Overwatch Imaging PT-8 Oceanwatch payload and an Automatic Identification System (AIS) receiver.
"Croatia has had some challenges with illegal immigration from Africa. They've been deploying the CAMCOPTER from a manned airfield and flying that aircraft over the sea looking for people coming across in small boats," Hunter said. "They're alerting authorities on the ground through a livestream from the ground control station."
SCHIEBEL IS ALSO WORKING WITH UK COMPANY BRISTOW, Hunter said. Bristow, which provides the HM Coastguard Search and Rescue Helicopter Service, is looking into incorporating the CAMCOPTER into SAR missions.
Last year, Schiebel demonstrated the drone's capabilities onboard the Norwegian Coast Guard's KV Svalbard. The CAMCOPTER worked with a manned Sea King helicopter in a simulated man-overboard operation. The UAS transmitted images to the operational room on the KV Svalbard and to a land-based control center. Using information captured by the drone, the manned helicopter executed the rescue, illustrating how manned and unmanned aircraft can work together during SAR missions.
ELBIT'S HERMES 900 STARLINER, A MEDIUM ALTITUDE LONG ENDURANCE (MALE) multi-payload drone, is being deployed for maritime patrol missions by the European Union (EU).
"The Hermes 900 is equipped with a maritime patrol sensor suite that includes EO/IR, maritime patrol radar, AIS and distress signal receiver," Topolanski said. "The system is used to surveil the coasts of the European Union in a number of countries, in various missions that include coastline monitoring, illegal fishing monitoring and cooperation with local coast guard agencies missions."
WAKE ENGINEERING'S FULMAR UAS PLATFORM, which uses UAV Navigation's autopilot, is deployed by the Spanish army and other militaries for ISR missions, UAV Navigation Chief Technology Officer Miguel Ángel de Frutos said. The marinized UAS offers 6 to 12 hours of endurance and is launched via catapult. Because of the movements experienced at sea, this requires high precision, which is achieved through mobile one RTK technology. The fully autonomous system lands in a fixed net, often on a moving vessel.
"It's mainly used for field operations but also to provide rapid information to ground forces," Ángel de Frutos said. "They are able to mount the system with an EO/IR camera, launch from the catapult and use it for operations like border patrol."
THE FUTURE
As military and civil markets build up more trust in sUAS, their use will increase, Hunter said. Eventually, they'll be on every ship and in every soldier's backpack.
And not only will there always be various class sizes for different ISR missions, these systems will start working together, Kroetch said. For example, a large UAS might fly a long distance to drop a mid-sized drone that then deploys a ground robot to complete a task, making it possible to safely get behind enemy lines and then leave undetected.
Duggan sees a day where drones will be used more than manned aircraft for ISR military applications. The capabilities of the software and the sensing technology continue to advance and is proving to be a safe, reliable solution that can enhance efficiencies and even save lives.
"Instead of having to put a man in a cockpit and fly for hours on end you can put a sensor on a drone and pretty much fly 24/7," Duggan said. "Five or 10 years ago it would have been very hard to run artificial intelligence algorithms in real time on a drone. Today you can do that. You let the processors on the drone do the hard sifting and data analysis. The operator gets the result of that analyzed data and can make faster, more effective decisions. That's going to continue to drive the use of drones in the military."